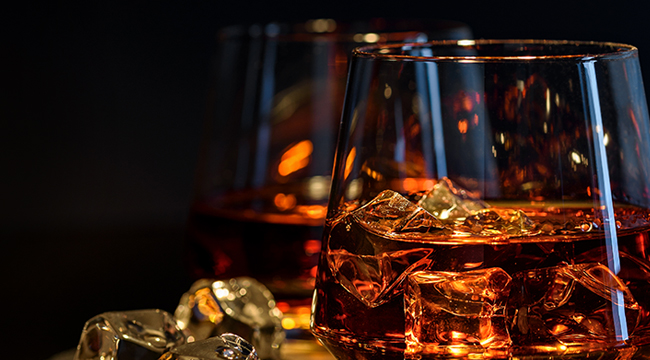 A nice glass of aged rum is a treasure. The sugarcane distillate takes on a depth of wood, spice, and mellowness the longer it stays in the barrel. Once that barrel is cracked, a great rum transports you to the beach on the back of a sea breeze.
Today we're talking about one hell of a spirit — a drink that works wonders on its own or mixed into a cocktail. Luckily, high-end rum is fairly cheap when compared to high-end brandy or whiskey. So getting the best bottle of rum won't cost you too much coin. All of this stuff is tasty, complex, and will warm your soul with every sip.
Let's dive in and pick the best expensive bottles of rum to help you keep a little swashbuckling pirate/ tropic summer vibe going through the winter.
Donlon Shanks Amber Rum
As the spirits movement grows, distilleries are starting to pop up all over the country. Out in Oregon, Cannon Beach Distillery is making some magic happen with black strap molasses. Their Donlon Shanks Amber Rum is a lovely bottle of the brown stuff — if you can get your hands on it.
The rum has a silky texture that starts out a bit nutty with an oak-forward spice. Then there's a buttery caramel sweetness and texture with a hint of vanilla in the background. That combination is the perfect mix of rum flavors and feels.
Mount Gay Extra Old
Barbados' own Mount Gay is a powerhouse rum distillery. Their line of rums are always a win from the bottom up. Their Extra Old (XO) is dynamite in a bottle with big ideas and flavors coming together to delight your senses.
The rum starts off with a fresh ginger spice that gives way to an oak vanilla and cinnamon burst. Next, you're met with a tropical fruit background with a sharp pineapple feel and banana smoothness. This one is a tropical breeze on a sunny day right after a hard rain.
Don Q Gran Anejo
Puerto Rico's Don Q swings for the fences with their Gran Anejo. This is a big rum with huge flavors that'll leave you floored (and happily drunk).
The rum starts off with a laser beam of dark molasses that opens a bridge for smokey pipe tobacco, tropical fruits, raisins, barrel char, and allspice. Then the vanilla comes in at the end, with the woody oak and ties the whole glass together in a brilliant sweep of flavors. This is a great sip of rum.
Flor De Cana 18 Year Old Centenario
Nicaragua's Flor de Cana makes a serious rum for serious rum lovers. Their 18-Year-Old Centenario is a big step up in complexity, flavor, and overall subtlety in booze.
Expect a nice rush of spices right up front: cinnamon, allspice, and clove dominate. Next, you're going to get a roast nut essence alongside charred oak, cacao nibs, buttery toffee, and a real sense of allspice. Slowly, that gives way to the oaky vanilla, bringing a subtle end to a big start. It's cool, easy, and delicious.
Ron Zacapa Sistema 23 Solera
Guatemalan Zacapa has a distinct warmth to it that's more like a muggy rainforest than a Caribbean beach — in the best way possible. Their Ron Zacapa Sistema 23 Solera is a blend of six to 23-year-old rums that hits the perfect balance of delicious and quaffable.
The rum has hints of oaky vanilla, dark chocolate, apricots, roasted almonds, and the faintest notes of rich pipe tobacco. Then comes a soft brown sugar sweetness that's like a velvet blanket. This is amazingly smooth and tastes wonderful served over a rock or two in a glass.
Plantation XO Barbados 20th Anniversary
Back in Barbados, Plantation is killing the rum game with their Extra Old 20th Anniversary bottle. This is the rum lover's rum. It's everything you want from rum in one handy bottle.
The rum is aged in bourbon barrels in Barbados and then shipped to France to age in cognac barrels in a wholly different climate. This is good. It starts out buttery; almost creamy. It's not so much dairy cream as it's coconut cream with the svelteness of banana and guava coming through. Then there's sweetness like buttery caramel with cloves and allspice cutting in. Finally, the charred oak takes over and brings this one home.
Richland Single Estate Old South Georgia Rum
This is a fascinating and delectable rum from Georgia. This is small batch rum made with sugar cane grown only a few steps away from the stills and barrel rooms. It is truly a "single estate" operation — which is very rare these days.
The rum stands up to the best of them. There's a caramel sweetness that feels almost like the first taste of a butterscotch candy. Then, surprisingly, there's a ripe berry burst under all that buttery sweetness. It's fascinating and delicious. Next comes the hints of almonds, charred oak, honey, and vanilla. At the very end, there's this whisper of raw sugar farm funk that'll raise an eyebrow in a very good way.
Ron Diplomatico Single Vintage
Venezuela's Diplomatico is consistently putting out some of the best rum on the market. Their line shines from the bottom to the top. Generally, their bottles tend to be blends of three, four, five, and longer aged rums from various stills. Their Single Vintage is a straight from the source, single barrel rum that shines so bright you might need sunglasses on when you drink it.
The rum starts out bold and super smooth with a concentrated molasses sweetness that's underpinned with candied ginger and dried stone fruit. Then comes the allspice, nutmeg, and clove bursts followed by fresh orange zest that's slightly bitter. This is a big drink that will take your rum drinking game up a whole level.
El Dorado 21 Year Old Special Reserve
Guyana's El Dorado is another rum that deserves plenty of space on your home bar shelf. Their 21-Year-Old Special Reserve is a massive rum with a seriously deep feel. This is the big leagues.
The rum hits you with a buttery dark chocolate and Christmas cake spiciness with the distant echo of pipe tobacco smoke. Next comes the sweetness and earthiness of dried grapes, the tartness of black currants, and almost creamy macadamia nuts. Then there's more. Hints of nutmeg, cinnamon, deep fried banana, and rosewater come through at the end. This is one of the most complex and delicious rums on the list and worth every cent of the $100 it costs.
Appleton 21 Year Old
Where El Dorado 21 Year Old goes big, Jamaica's Appleton 21 Year Old goes subtle and reserved. Don't let that fool you. This is still one of the best rums money can buy.
This one starts off with a balance of nuts, orange marmalade, vanilla, dark chocolate, and a spice that's more black pepper than Christmas. Next, you'll feel a smooth wave of sweet stewed red fruits, raw sugar, oak, and cacao nibs. In the end, there's this warm feeling as that peppery spice lingers against the sweet sugars.
It's dramatic and comforting at the same time. It's also absolutely brilliant.