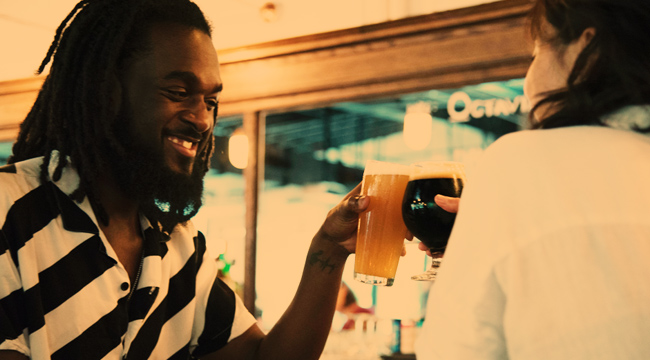 Fall is officially in full swing. This is the season where hefty imperial stouts and clean and crisp lagers dominate. As the weather starts to ebb towards winter you'll need a good beer by your side. That means it's time to drink some big beers with big flavors.
Below, we've compiled a shortlist of some of the best beers being released and hitting markets this October. Some of these are easier to find (with larger distribution); some you'll have to travel for and do a bit of sleuthing to uncover. Either way, a good beer is always worth the trouble! Happy hunting!
MOTHER OF DRAGONS — BREWERY OMMEGANG
Smoke and fire come together in Ommegang's latest Game of Thrones collaboration. Mother of Dragons is a blend of smoked porter and Belgian kriek. It's bold and brash and has some serious depth. The first note you get are sweet cherries covered in dark chocolate with a deeply roasted malt and echoes of smoke. Then there's a rush of sour cherry, milk chocolate, and a svelte creaminess that gives way to an almost inexplicable dry finish. This a powerful beer with a depth that's as engaging as it's delicious.
BLOOD ORANGE SAISON — UPSLOPE BREWING COMPANY
Out in Boulder, Colorado, Upslope is releasing their super fun and funky Blood Orange Saison this month. The beer has a distinct yet mild yeast funk with a strong pink peppercorn spice and bright citrus aromatic burst. There's a nice dry edge here, alongside very light hints of malt sweetness.
It's a complex beer that screams out for a funky cheese pairing with some fatty roast duck. Comforting fall feels all the way.

CALIFORNIA CRAFT LAGER — MISSION BREWERY
Straightforward lagers are making a killing in the craft beer world. This is mostly because we love to drink lager more than any other beer and, finally, microbreweries are taking note of that fact.
California Craft Lager is a seemingly simple lager that nails the style. There's a clean and clear hoppiness that balances nicely with a subtle maltiness. This is a very easy beer to drink again and again.
ECLIPSE IMPERIAL STOUT — FIFTYFIFTY BREWING
FiftyFifty's Eclipse line is a big beer that hits hard (it has an eleven percent ABV). The stout is aged in oak bourbon barrels — giving it a real complexity that runs deep. There are clear vanilla and oak essences here that lean slightly sweet, yet maintain some sharp edges. That's followed by a distinctly roasted coffee burst and very light creaminess.
There'll be a pretty big variation depending on which "wax" covered bottle you find. Each year they barrel their beers in various barrels, each of which adds a wholly unique dimension to the final product. In the end, they're all great.
OAKSPIRE BOURBON BARREL ALE — NEW BELGIUM
Speaking of barrel aging, New Belgium just released their Oakspire Bourbon Barrel Ale. This little gem was aged with char and oak from Knob Creek Whiskey. That process turns the ale into a mellow and slightly sweet drink that leans heavily towards vanilla smoothness and toffee sweetness. Then there's an ever-so-slight hint of dried fruit and smoke lingering in the background, making this one super complex and delicious.
This is the perfect six-pack to have next to a backyard fire pit.

MOSAIC PROMISE — FOUNDERS
The combination of Mosaic hops and Golden Promise malt make for a tasty beer that's very easy to drink. Mosaic Promise from Founders out in Michigan keeps this ale simple, making for an easy glass of suds that satisfies above all else. The slightly bitter hops balance the sweet barley malts in a way that makes this one shine brightly.
Overall, it's easy to kill a whole six-pack of this on a rainy fall afternoon.
NO HERO — EVIL TWIN BREWING
Denmark's Evil Twin brews their No Hero in Connecticut. So, technically, this is a local American craft beer. Yes, it's a year-round beer but we'd argue it's best sampled this time of year.
Semantics aside, this oatmeal stout is a complex and delicious example of the style. The dark beer has a clear and concise essence of dark cocoa, toffee, prune, caramel, very dark roasted coffee, and hints of soy sauce all in a creamy body. This is a big beer with a lot going on — all of it good.
JUBELALE — DESCHUTES BREWERY
We know, we know. Christmas feels like it starts earlier every year. What can we say? Good beer is good beer and this wintery ale is being released right now. So, why not drink it while it's fresh?
Jubelale is a dark ale with a beautiful combination of dark chocolate, buttery toffee, dried fruits, and mellow holiday spices (think cinnamon, ginger, allspice, and nutmeg). This is the perfect beer to drink with all the fatty roasts and spicy desserts you'll be eating until 2019 dawns.

INTERNATIONAL PICK OF THE MONTH: HOFBRÄU FESTBIER — HOFBRÄUHAUS MÜNCHEN
Oktoberfest is winding down in Munich. This is your last chance to drink some of the seriously delicious lagers made specifically for the autumnal festival. Hofbräuhaus in Munich brews an outstanding Festbier for all your Oktoberfest beer cravings. Generally, each Hofbräuhaus will brew the recipe on site so you should be able to find this one more easily in the U.S.
Overall, this is a clean and smooth lager with a nice crisp nature. The hop bitterness is mild and the sweetness of the bready malts never overpowers. This is just an expertly crafted full-bodied beer that's sure to put a smile on your face.