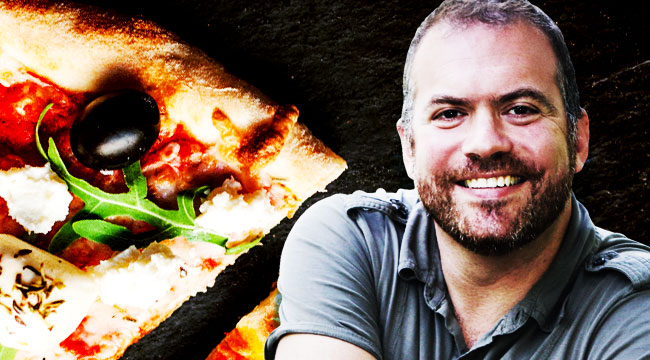 Colin Caplan is a pizza guru. His deep love of his hometown, New Haven, Connecticut, has morphed into a deep love of all things pizza. Caplan's so entrenched in the pizza scene of New Haven that he authored the book Pizza in New Haven in 2018 and co-produced a documentary called Pizza, A Love Story this year — both love letters to the brilliant pizza scene around Wooster Street in New Haven.
Today, Caplan runs food tours in New Haven through his Taste of New Haven tour company. He's also the mind behind New Haven's Apizza Feast, which is popping off September 13th this year. The festival celebrates the deep Italian-American heritage of the city, once the most densely populated Italian city in America, and the varied and delicious pies that community still produces.
Still, as much as Caplan adores his home-style pies, he knows there's a whole world of pizza out there to be savored.
"I had to leave the comforts of home to recognize the value of what I'd grown to love," Caplan recalled last week as we shared a White Clam Pie in a booth at the iconic Frank Pepe. Next, a classic tomato apizza — pronounced "ah-BEETs," Caplan informed me — arrived and we dove in. Caplan's enthusiasm for pizza was palpable as he talked about the nuance of dough raisings, tangy sauces, and unique toppings in the same enthralled and reverent tones that a priest uses to speak of the divine.
As the beer flowed and more apizza was eaten, the convo turned to Caplan's favorite pies across America and this list was born. Is it heavily weighted toward New Haven-style pizza? Absolutely. Was that expected? 100%. Let's dive in!
Sally's Apizza — New Haven, CT
I can easily list my top 10 favorite pizzerias all located in the New Haven area. But my favorite of all is Sally's Apizza — coal-fired, charred, thin-crust apizza in a true pizza parlor setting with all the color and cadence of a family dining room. Started in 1938 by local pizzaiolo Frank Pepe's nephew Salvatore Consiglio, Sally's became a favorite of Frank Sinatra, the Clintons, and more recently Barstool Sport's chief Dave Portnoy.
The pie to get is a plain tomato pie with garlic, that is a simple red sauce pie with grated Romano cheese and small bits of garlic. This magical pizza has a thin, crispy, chewy and spongy crust, a naturally sweet and tangy sauce, and the perfect balance of garlic and grated cheese. There is no need for that veil of mozzarella when the gates of pizza heaven have opened your taste buds to this holy moment. This pizza from Sally's is the first pie I'd tell anyone to try, and it would also be chosen as my last meal.

John's of Bleeker Street — New York, NY
One of the most frequent questions I get as a tour guide is what is the difference between New Haven and New York pizza? The answer is a lot! For one thing, there's not just "one" New York style of pizza. My favorite kind is the closest to New Haven-style and is considered to be a very traditional New York style of pizza.
The best I've tried so far is at John's of Bleeker Street, started in 1929 by John Sasso after he took over a pizzeria founded by of one of the original NYC pizzaiolo, Filippo Milone. The pie I go for there is the plain pizza, done in the New York thin crust tradition of sauce over cheese. By far, the crust is the most remarkable part of the pie. It's chewy and crispy and slightly charred by coal. The pizzeria itself is an experience being a traditional pizza parlor with wooden booths and a relaxed homey vibe.
Regina Pizzeria — Boston, MA
There are really good reasons to go back to Beantown. I set out to Boston's North End to find Regina Pizzeria, founded there in 1926 by Luigi D'Auria. Once inside I sat at the bar and felt at home with the casual atmosphere and the large brick oven within sight.
As a simpleton from New Haven, I ordered a half plain with no mozzarella and a half mozz. I like to try the sauce and grated cheese as a baseline for any pizzeria. This was a stellar pie that had a nice chewy thin crust, tangy sauce, and a level of mozzarella that reminded me of how we top pies in my hometown. I would recommend this pizzeria for any pizza lover.
Piece Pizzeria — Chicago, IL
In the land of the Deep Dish Pizza, it is amazing how many varieties of pie can be found throughout the Chicago area. The one I go back to is Piece Pizzeria in Wicker Park, started by former New Havener Billy Jacobs in 2001. The place is open and airy with lots of action happening all around.
Here in the midst of Chicago's cosmos of amazing culture and cuisine, Piece makes New Haven-style pizza and one of the best pies I've had outside of the Elm City. It's gas ovens and quality recipes fuel its wide popularity, helped by its award-winning brewery, all under one roof. With my roots and Piece's simplicity, I would suggest the New Haven-style which delivers the plain tomato pies I know and love.
Pizzeria Bianco — Phoenix, AZ
The farther I venture into America's heartland away from the traditional old Italian enclaves of the East Coast the more I realize how vast and varied a country we have. During a visit to one of the continent's driest spots, it was an amazing relief to find the oasis named Pizzeria Bianco in Phoenix. Started in 1988 by Bronx native Chris Bianco, this master pizzaiolo has helped raise the bar for artisan-style pizza and prove that really good pizza can be made in the Valley of the Sun.
After a customary wait for a seat midday, I ordered a pie that really stood out, the Rosa. It's a meld of Parmigiano Reggiano, rosemary, onion, and the surprise taste explosion, pistachio. This thin-crusted white pie cooked in a wood-fired brick oven opened my mind to what pizza could be and how it could taste.

Tony's Pizza Napoletana — San Francisco, CA
This is one of the most fascinating cities I know, where trends and ideals begin, and great journeys end at the Pacific Ocean. While California pizza, in general, is about the quality of ingredients and toppings, there is one pizzeria that gives a full education of the pizza experience.
Started by award-winning pizzaiolo Tony Gemignani, Tony's Pizza Napoletana began in 2009 in the North Beach Little Italy neighborhood. Here he makes multiple styles of pizza in different kinds of ovens. Gemignani's New Haven Lou pie is cooked in a wicked hot coal-fired oven and adorned in ingredients that I will translate into the New Haven dialect: mozzarella di bufala (friggen wader buffalo muzz), ricotta (rigawt), spinach, garlic & crushed red pepper (fawgeddabouit) — which of course means you must try it!
Surly Pizza Upstairs — Minneapolis, MN
https://www.instagram.com/p/B0bpVrNl3Us/
The land of the first shopping mall has produced a vast brewery full of adventure and taste. Surly Brewing Co. opened Surly Pizza Upstairs in 2018, hiring chef Ben Peine who was inspired to bring New Haven-style apizza to town. This pioneering venture brings this wood-fired, thin-crust pizza style to the Midwest.
Besides the awesome craft of each pie, they named each pizza to reflect TV characters. The one that stood out the most to me was the Walter White. Yes, it's a white pie and yes it's addictive. Also, this pie is based on one of my go-to pizzas at Sally's Apizza in New Haven. It's made with thin-sliced potato, charred onions, rosemary, Parmesan, and oregano. Pair that with a great Surly brew and that's a wrap.
Double Mountain Brewery — Portland, OR
A city of great urban culture and progress, Portland is also surrounded by pristine wilderness and a really sophisticated food and drink scene. My buddy Scott's wedding took me up the Columbia River in nearby Hood River, OR and I was surprised to find a great New Haven-style pizzeria. Double Mountain Brewery is a hidden gem begun in 2007, with an annex in Portland, offering great beer and stellar wood-fired, brick oven, thin-crust pizza.
My oh-so-humble taste buds were super pleased to bite into the charred, crispy, and chewy crust with a well-balanced tomato sauce and creamy, salty mozzarella on their Plain Cheese pie. Topping off this great pizza experience is the quality of their beer and the open-aired atmosphere throughout the establishment.
Nick's New Haven Style Pizzeria — Boca Raton, FL
South Florida is an amazing mix of tropical paradise and cosmopolitan fervor, no better contrasted between the Greater Miami metro area and Everglades National Park. It is here in this melting pot of northerners, and migrating birds, that I found some damn good pizza.
Nick's New Haven Style Pizzeria is a vestige of the thin-crusted, coal-fired apizza of it's former New Havener owner, Nick Laudano, who founded the pizzeria in 2011 in Boca Raton, FL. Later opening in Coral Springs, FL, the pizzeria dwells in an unassuming shopping plaza and sports an open bar experience. They feature old photos of New Haven and the city's soda of fame, Foxon Park Beverages, which you'll find in nearly all New Haven-style pizzerias.

White Pie — Denver, CO
The Mile High City is a mecca for young and old, a vortex of culture and cuisine, and home to some great pizza. White Pie, started by brothers Kris and Jason Wallenta in 2017 in Denver's Uptown neighborhood, delivers a passionate take on this thin crust, wood-fired, charred pizza.
I love that they went super East Coast Italian with their Fuggetaboutit pizza: A red pie with garlic, grated Romano cheese, Greek olives, and oregano. This simple pizza simulates the essence of the pies I know from home and its flavors combine to make it robustly unique and worthy to try.