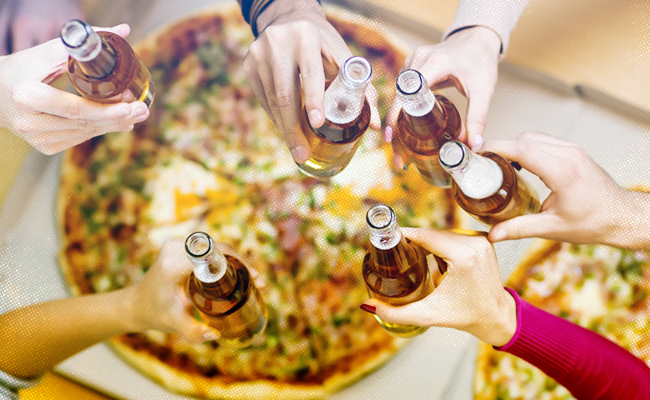 Pairing beer with pizza is a tale as old as time. A cold mug of suds with a slice goes down all too easy. The thing is, there are seemingly endless amounts of beer these days and countless permutations of pizza styles and toppings. That means picking the perfect beer to pair with a pizza can be a bit of a head-scratcher.
There's really no hard and fast metric here. This is a list of ten types of pizza (by region and iconic toppings) and beers we love to drink with them. That's it. It's a jumping off point to pair a great brew with a great pie.
So, with all of that in mind, let's pair from pizza and beer!
THE NEW YORK SLICE + PLINY THE ELDER
Ah, the New York slice. There's nary a piece of pizza that is more quintessential. It's cheese, tomato, and bread and it rules the streets of New York. It's always a safe bet to stick with plain cheese so no one will be offended by anchovies or too much garlic — and just in case Macaulay Culkin decides to drop by.
Pliny The Elder is a good counterpoint to the simplicity of the NY slice — sometimes the best pairings are simple with the complex. Pliny The Elder is a strong double India pale ale that's hoppy as hell with nice hints of citrus. Watch out for the eight percent ABV on this one. The bottles are big and the alcohol content is high here so, maybe share a bottle with a friend.
PEPPERONI PIZZA + BROOKLYN EAST INDIA PALE ALE
The pepperoni pizza is the most popular pizza order across these United States. Given that there's a certain level of savory, spice, umami, and grease involved in every slice of pepperoni, you'll need something that's both cooling and sharp.
Brooklyn East India Pale Ale is just that beer. It's a smooth IPA that's great for beginners looking to get into the beer style. It offers a great chance to take the edge off the spicy meat as the mild hoppiness compliments the chili spice and heaviness of the meat and cheese.
MUSHROOM PIZZA + TRAPPISTS ROCHEFORT 8
The third most popular topping for all Americans is the humble mushroom. Mushrooms add a funky, meaty edge to any pie and always blends well with plenty of cheese, and what doesn't, honestly???
Trappists Rochefort 8 is the perfect beer to match the funkiness of the mushroom. The Belgian classic is a strong ale with a floral nose that will bolster the umami and funk of any mushroom pizza like a walk through a forest in the spring.
TAVERN PIE + ELYSIAN SUPERFUZZ
There's a brilliant little hole-in-the-wall pizza joint in the Pacific Northwest called Water Front Pizza. The best selling pizza is called Everyone's Favorite. It's a large sourdough base topped with pepperoni, mushroom, pineapple, and black olive with hard mozzarella, parmesan, and a semi-sweet tomato base. It's a great representation of the tavern pizzas you'll find all over the Pacific Northwest — that is, a pizza with the kitchen sink on it. It's delightful.
Elysian's Superfuzz is the perfect Pacific Northwest beer to go with Pacific Northwest pizza. The orange infused pale ale pops with every sip. The maltiness and bitter hops balance out wonderfully and make for the perfect accent to a heavy-duty slice of pizza.
NEAPOLITAN MARGHERITA + BIRRA MORETTI LA ROSSA
The pizza that started it all is growing in popularity in the USA. So don't be surprised if the Super Bowl Pizza Party you go to has one or two Margherita pizzas. It's a simple blend of fresh mozzarella, San Marzano tomatoes, and fresh basil. It's the holy trinity of pizza toppings and the grandmother of all pizzas worldwide.
Birra Moretti La Rossa is the best choice to enjoy this Italian treat. Moretti's La Rossa is a nice red malty beer with a hint of spice that will complement the Italian overtones of the Margherita. The beer itself is deceptively light but very strong (7.2 percent ABV), so it'll get you drunk pretty fast if you're not careful.
COSTCO SUPREME PIZZA + PBR
Costco's pizza is the down and dirty pizza you know you love. The mega-grocer is legitimately one of the bigger American pizza chains — it's hard to beat $1.99 for a slice and a drink. They also sell whole pies ready to eat or bake at home. So the likelihood of meeting and eating a Costco pizza on Sunday is strong. At the end of the day, it's a cheap pizza that gets the job done.
PBR makes the most sense here. The Costco Supreme has green bell peppers, onions, mushrooms, sausage, pepperoni, olives, and cheese and still manages to be fairly benign in the taste category. So why not keep with the average nature and pick an "easy" beer like PBR. It's a crisp, light lager that also gets the job done. There's also the added benefit of the price. You won't break the bank stocking up on PBR.
HAWAIIAN PIZZA + COCONUT HIWA PORTER
Before you come @ me bro, Hawaiian pizza (invented in Canada by a Greek guy) is a legit pizza. It wouldn't still be on menus if everyone hated it as much as they claim. So, lets pair the cheese, acidy and sweet pineapple, and savory ham with something actually from Hawaii.
Coconut Hiwa Porter is a strong ale that uses actual toasted coconut and has a nice hit of hop. The coconut in the beer pairs nicely with pineapple — think piña colada. The dark and mocha hints of the porter overall make sense with the sweetness of the pizza and offer a nice compliment to the whole pie.
CHICAGO DEEP DISH + REV PILS
The Bears don't have to be in the Super Bowl to enjoy a great deep dish pizza. This gut-bomb layers on the cheese, sausage, pepperoni, tomato, dough, and adds a few black olives for sh*ts and giggles at the end. There are veg options, but it's Super Bowl Sunday, live a little!
Rev Pils is the Chicago local beer that belongs with Chicago's iconic pie. Revolution Brewing is the juggernaut of Midwest beers. Their Rev Pils is the perfect, light accompaniment to the heavy pizza they like to eat in the Windy City. The pils is crisp, mildly hoppy, and lower in alcohol (not PBR low so don't go too nuts by shot-gunning a whole six-pack, though).
DETROIT-STYLE PIZZA + FOUNDER'S PORTER
If you haven't tried a Detroit-style pizza yet, go out right now and eat one. They're the freakin' best. The thick, spongy crust with crispy edges, the spicy pepperoni disks, the thick layer of melted white cheese, and the ever-so-slightly spicy tomato sauce on the top of it all is magic in pizza form. Ordering a few or whipping up some yourself is a win any day.
Founder's Porter is the ticket here. Big pizza needs a nice big beer. The slightly higher ABVs (6.5 percent) will give you that heady high. The roasted coffee and chocolate notes are the perfect counterbalances to the heavy spice of the pizza. This is a super smooth beer that'll have you reaching for another slice of bomb pizza after every bottle.

BROOKLYN STYLE FROM DOMINO'S + COLD SNAP
Let's face it, we eat a lot of Domino's. So, if you're ordering from the big D, make it a Brooklyn Style pie. For our cash, this is Domino's best offering. The pies are the perfect dimensions of thin but not too thin, generously topped, and baked to chewy perfection. It's hard to argue with these pizzas.
We are still in the depths of winter so why not settle into a nice Cold Snap from Samuel Adams with your Brooklyn-style pie. The beauty of this white ale is the smooth texture that has a hint of spice on the backend. This is a quaffer that's easy to pair with any pizza. Grab a sixer, pop open that pizza box, and dig in.