In a travel landscape focused on hot lists and what's new, it's easy to forget the classic, tried and true travel destinations. Take London, for example. It's old, relatively unchanging, definitely not easy on the budget, and pretty much a known entity. But does that make it any less awesome? Absolutely not.
The city has a deep history around every corner, an amazing and very multicultural food community, a killer art scene, bustling theaters, and amazing pubs. Of all these, the pub is where London truly stands out. There's just something magical about a cozy pub on a rainy spring day with a fire crackling in the corner, warming you up as you sip on a nice pint of ale. Or on summer's day with the windows thrown open and people pouring out onto the streets, chatting, pints in hand as the summer sun sets on the Thames.
In fact, looking at the world as a whole, London just might be our best city to get a drink in. There are so many pubs, bars, taverns, breweries, and clubs that boiling them all down to just ten seems somewhat mad. But, here we are. After nearly two decades of research (this writer had his first pint in London back in 2000), it's time to stake our claim with a clear set of old stomping grounds and new watering holes. These are the pubs that are a "must stop" if you have 12 hours, 12 days, or 12 months in London. If you love beer, good conversation, and a tasty pub food, you won't be disappointed.
NOTE: This list could easily be 100 pubs long. But we'll have to settle on ten for the sake of brevity … and our sanity. Oh, and let's just go through this with the knowledge that, yes, all of these places have excellent beer available on tap and in bottles. "How's that for a slice of fried gold?"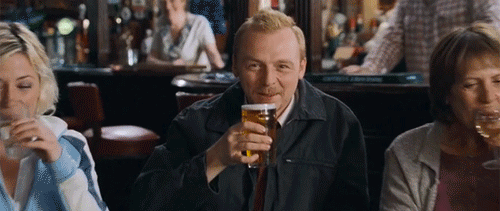 THE BARLEY MOW — MARYLEBONE
https://www.instagram.com/p/Be_ixMWjkQ7/
Just a few blocks from Baker Street and Regents Park, you'll find this classic spot for great British beer. The Barley Mow has tiny with a walk up bar, a few tables, and a few wooden doored and walled booths. The walls are decorated with the beer shields of some of the best beers Britain has to offer. The bar is often packed with post-work beer lovers and revelers alike, so don't get pissed if you don't get one of the few tables. It's worth standing at this place.
https://www.instagram.com/p/Bg7ThY9lRG6/

THE GOLDEN LION — ST. JAMES'S
Over near Saint James's Palace and The Mall, you'll find a little hole-in-the-wall pub with stained glass, dark wood, and great beer. The Golden Lion is an excellent spot to post up in if you're touring all the central sites between Picadilly Circus and Buckingham Palace. It's right in the middle of everything, with a killer plate of fish and chips and an incredibly well curated beer list.
https://www.instagram.com/p/BWIhSuRg5HI/
THE WHITE HORSE — FULHAM
The White Horse has the honor of housing huge copper tanks for fresh Pilsner Urquell. The Czech beer is trucked in weekly and pumped into the tanks so Londoners can enjoy the beauty of a fresh pint of Bohemian pilsner. That alone makes this pub worth finding. There's also a spot on pub menu that pairs perfectly with beer drinking.
Dip in and you're sure to find a young, fun crowd reveling in great beer and soaking it up with scotch eggs.
THE RAKE — BOROUGH MARKET
https://www.instagram.com/p/BfnvQ_0hqbE/
The Rake started out as a shop for local brewers Richard Dinwoodie and Mike Hill to sell their suds. Fate intervened and now the storefront is one of the best craft beer bars in the city. The tap list is often 18 to 20 beers deep and there are too many bottles on hand to list here — it did start off as a beer shop after all.
https://www.instagram.com/p/BbUrUccle5t/
THE HARP — COVENT GARDEN
The Harp is a must stop in central London. The tiny pub's patrons are often pouring out in the streets come rain or shine. The bar really does represent the best British beer culture has to offer — with well-cellared beers on tap and chill vibes in the bar. This one is a bit of a right of passage for any fan of great British beer.
THE SOUTHAMPTON ARMS — HIGHGATE
The Southampton Arms has between 11 and 12 cask ale taps from local, small British brewers highlighted daily. They also have a lot of slow-cooked meat, cider, and relaxed vibes. You can easily spend the whole day here making friends, eating delicious food, building memories, and downing amazing beer.
https://www.instagram.com/p/BgMF-4ZD06k/
THE LYRIC — SOHO
The Lyric is a tiny corner pub just off the Ham Yard and the theaters along Shaftsbury in Soho. It really is just a small pub with a small second floor with a few tables. The beer selection is spot on and well-looked after. The food is fast, tasty, and cheap (especially for this area of town). The setting is so intimate you'll definitely end up striking up a convo with a new friend. And, if you're in town for a show, this is the perfect spot for a pre- and post-show beer or three.
THE EARL OF ESSEX — ISLINGTON
The Earl of Essex is a classic pub that's all in on craft beer. There's a killer garden for lazy summer days and nights. The food is British food made with love and a few modern twists. And the beer list is one of the deepest in town. Rock up with your crew or post up solo, you'll have a baller time either way.
LONDON BEER LAB — RAILWAY ARCHES BRIXTON
Getting out of the pub life for a moment, some beer nerds have taken over the arches under the train lines to tinker and explore all things beer. The setting of the London Beer Lab is the polar opposite of a cozy pub. You'll feel like you're in a mad scientist garage that's been turned into a beer lab/haven. There's always something amazing being brewed here. Don't miss out.
BIG CHILL — BRICK LANE
Big Chill in Brick Lane has a couple great things going for it. First, it's in Brick Lane where some of the hippest digs are. There's endless street art, cooler-than-thou boutiques, and a market full of delectable street food that hits every corner of the globe. Big Chill also has a copper tank of fresh Truman's Raw Pilsner — a local analog to the fresh Pilsner Urquell mentioned above. (In fact, Truman's Brewery is the backbone of Brick Lane and its resurgence.)
Big Chill isn't a classic beer bar by any stretch. It's a club with DJs, foosball, a big patio, and a lot of revelers having a great time. Eat some rad tacos, drink some fresh beer, and make new friends. Then go and spend way too much on vinyl at Rough Trade around the corner.