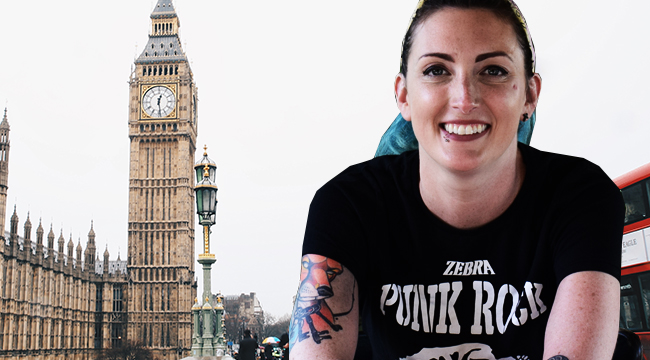 You know how to EAT THIS CITY. With top chefs as tour guides, you've learned how to scout out hot spots for breakfast and brunch, where to go for a delicious date night, and how to feast like a local liege in the cities you love. But where do you wash it all down? Do you know how to find the best brewpub? Who makes the meanest of bloody marys and the most sparkling of mimosas? What bars transport you?
You're about to find out. Welcome to DRINK THIS CITY!
Kelsey Ramage is an awarding winning, innovative, punk rocking, bartending superstar. Ramage got her start bartending in Vancouver before jumping across the pond to foggy ol' London towne.
Ramage refined her skills and ascended to that aforementioned stardom by slinging drinks at the world' best bar, Dandelyan. Then Ramage took those skills and opened up the pop up that's going to change waste in bartending with her partner Iain Griffiths called Trask Tiki. Ramage now travels the world collecting bar and restaurant waste and turning it into some of the best drinks you'll find anywhere. What's more punk rock than that?
We caught up with Ramage at the Tahona Society's cocktail competition where she was judging some of the best up-and-coming bartenders as they plied their trade with a single, sustainable cocktail. Given Ramage's time in London at Dandelyan, we had to let her guide us through the best bars, watering holes, and cocktails the city has to offer right now.
Classic Cocktail Bar
There is a reason this East London bar has become a haunt for many bartenders in the city, it's fucking great. Their menu is a constant rotation of classic cocktails that these guys research and bang out. Plus, you can easily order off-menu drinks knowing they will be perfectly balanced. There's always a curated hip-hop soundtrack on in the background. And the staff are consistently awesome to sit in front of at the bar.