Ah, pumpkin pie! It's the cherry on top of the layer cake that is Thanksgiving dinner. The ultimate finish to an epic night of eating (fight me, pecan fans!), and even though it takes a "walk with the cousins" smoke session after dinner to muster up an appetite to eat a slice of pie after engorging yourself with more stuffing than the Thanksgiving turkey itself, it's a ritual we're willing to subject ourselves to. Gladly.
If you're going to have that additional plate and risk a deep food coma — it'd better be for a pie that's worth it. Something that pairs perfectly with a scoop of vanilla ice cream.
This had us wondering: which grocery store pumpkin pie is the champ? We set out to find out by rounding up as many grocery store pies as we could find and putting them to the blind taste test. Here are the best grocery store pumpkin pies blind taste tested and ranked.
Methodology:
For this blind taste test, I rounded up pumpkin pies from a mix of national market chains and markets local to Southern California. Every pie chosen was from the market's bakery section. This is my third time ranking pumpkin pie and based on the other taste tests I've done, I decided to forgo picking up any frozen pies because… well… they always rank last.
This shouldn't come as a surprise to anyone but I'll say it anyway: frozen pumpkin pies just don't compare. They're always bad. Mediocre at very best.
After sourcing pies from Aldi, Food 4 Less, Gelson's, Sprouts, Target, Trader Joe's, Walmart, and Vons, I had my girlfriend bring me a slice of each at random with a tiny dollop of whipped cream. Let's get to the tasting!
Part 1: The Blind Pumpkin Pie Tasting
Taste 1
The pumpkin filling is very loose and watery, with an off-putting mushy texture. It's a shame about the texture because the flavor isn't too bad. It has a spicy ginger bite with lots of cinnamon flavor. The crust is a bit too salty for my liking.
Taste 2
Ooh, I like this one! The flavor is rich with cinnamon notes, a prominent clove flavor, and a hint of ginger, allspice, and nutmeg. The filling is well seasoned, this is what my tastebuds imagine when I think about "pumpkin spice."
The filling is a bit too soupy, I prefer more firmness but I can overlook it for the flavor. The crust is nice and flakey with a sweet buttery flavor.
Taste 3
The firmness of the filling is perfect here. It's soft and silky, but not wet, giving you a nice texture to chew through.
The flavor doesn't wow me, unfortunately. The spices are well-balanced, but I found myself enjoying the crust and whipped cream more than the flavor of the pie itself.
Taste 4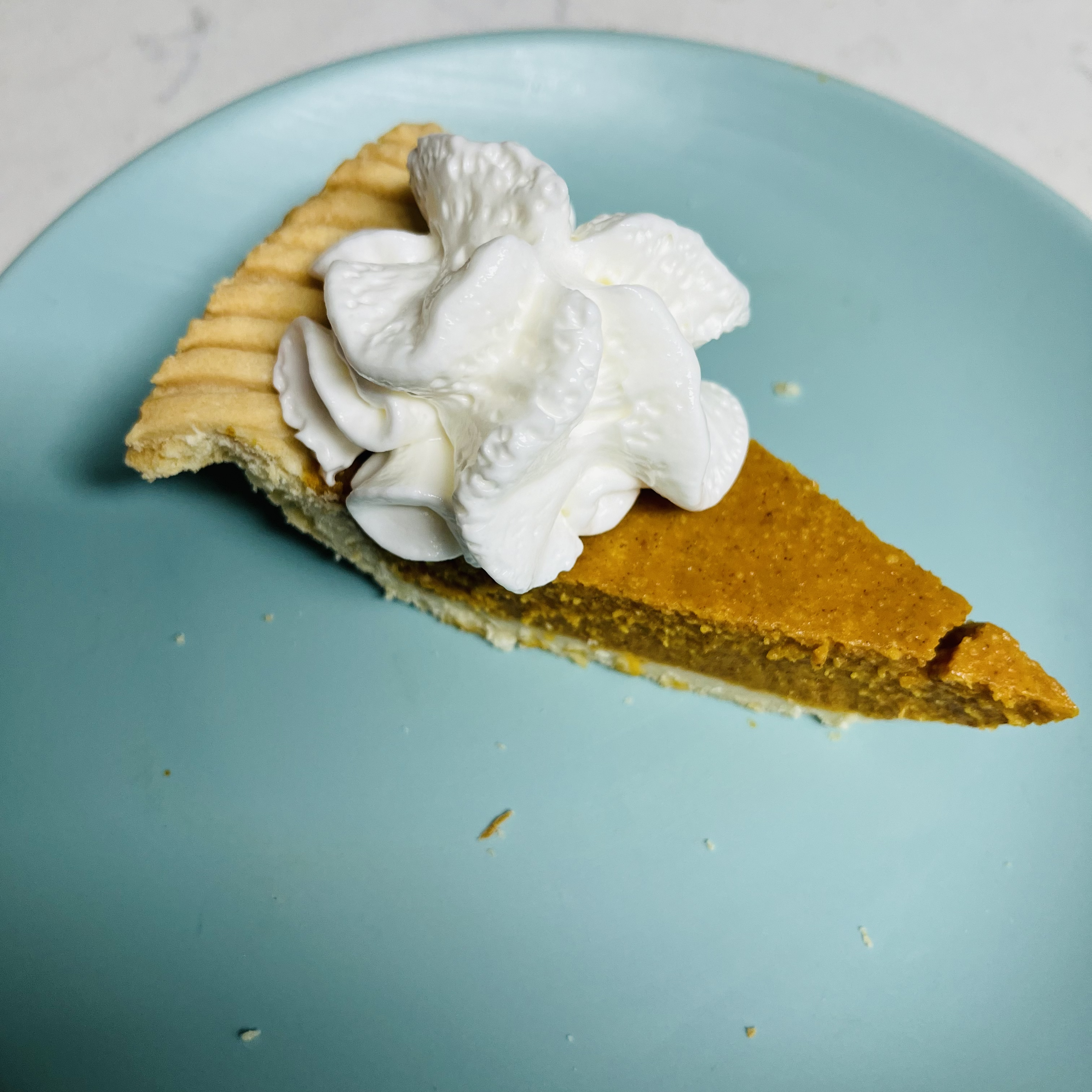 Heavy on the cinnamon, ginger, and clove here. I'm tasting a hint of cardamom and nutmeg. The consistency of the filling is perfect, this is what I'm looking for! My only real knock against this pie is the crust.
It's a bit too soft and doesn't serve as a big enough contrast to the silkiness of the filling. While I'd prefer a crumbly texture, the flavor is nice and butter-forward.
Taste 5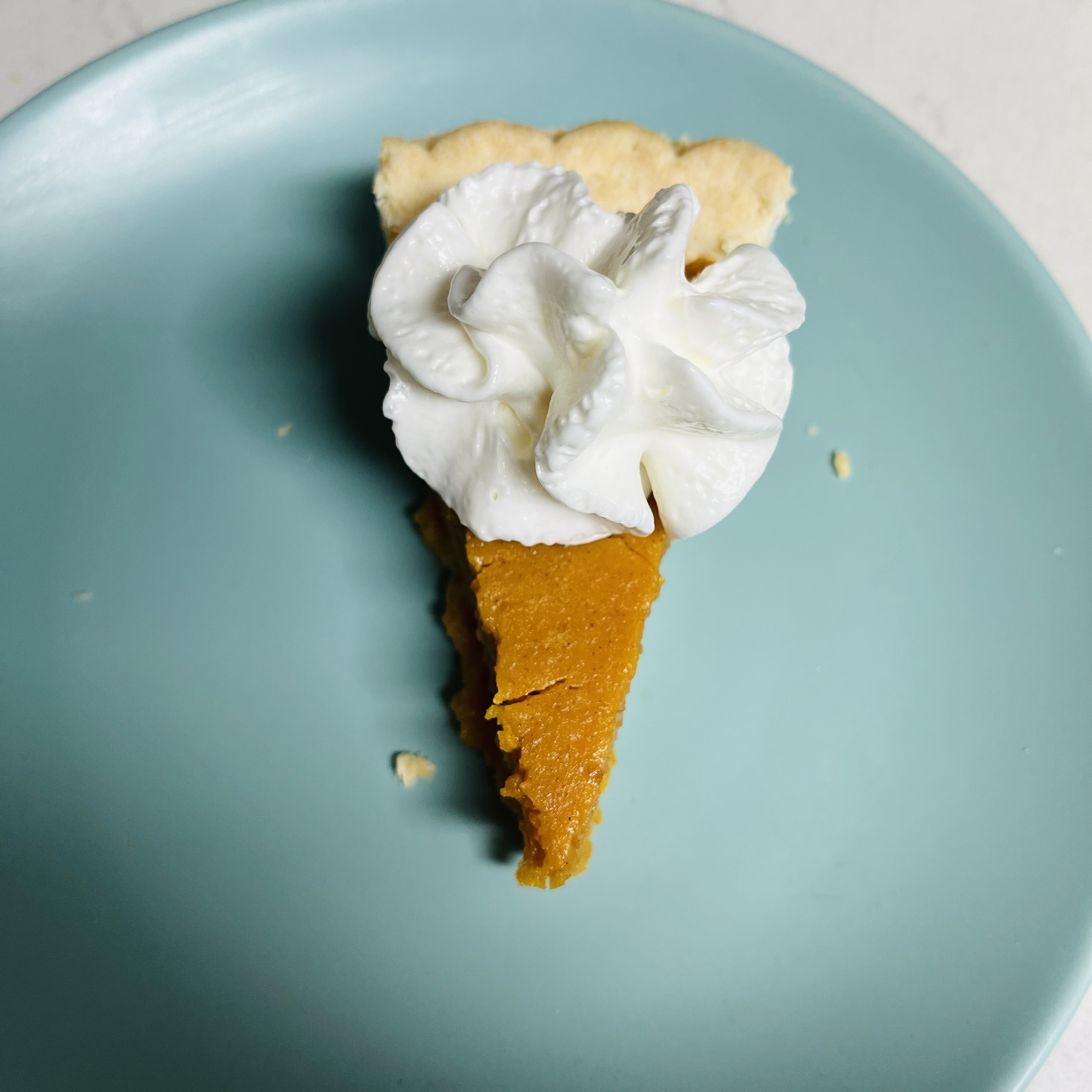 This pie is just fine. It doesn't excel in any one department, the flavor is good, the crust is nice and textural, and the filling is noticeably wet, but not mushy.
Nothing is working against it or for it. Pie should be indulgent and comforting, this tastes like it's missing something.
Taste 6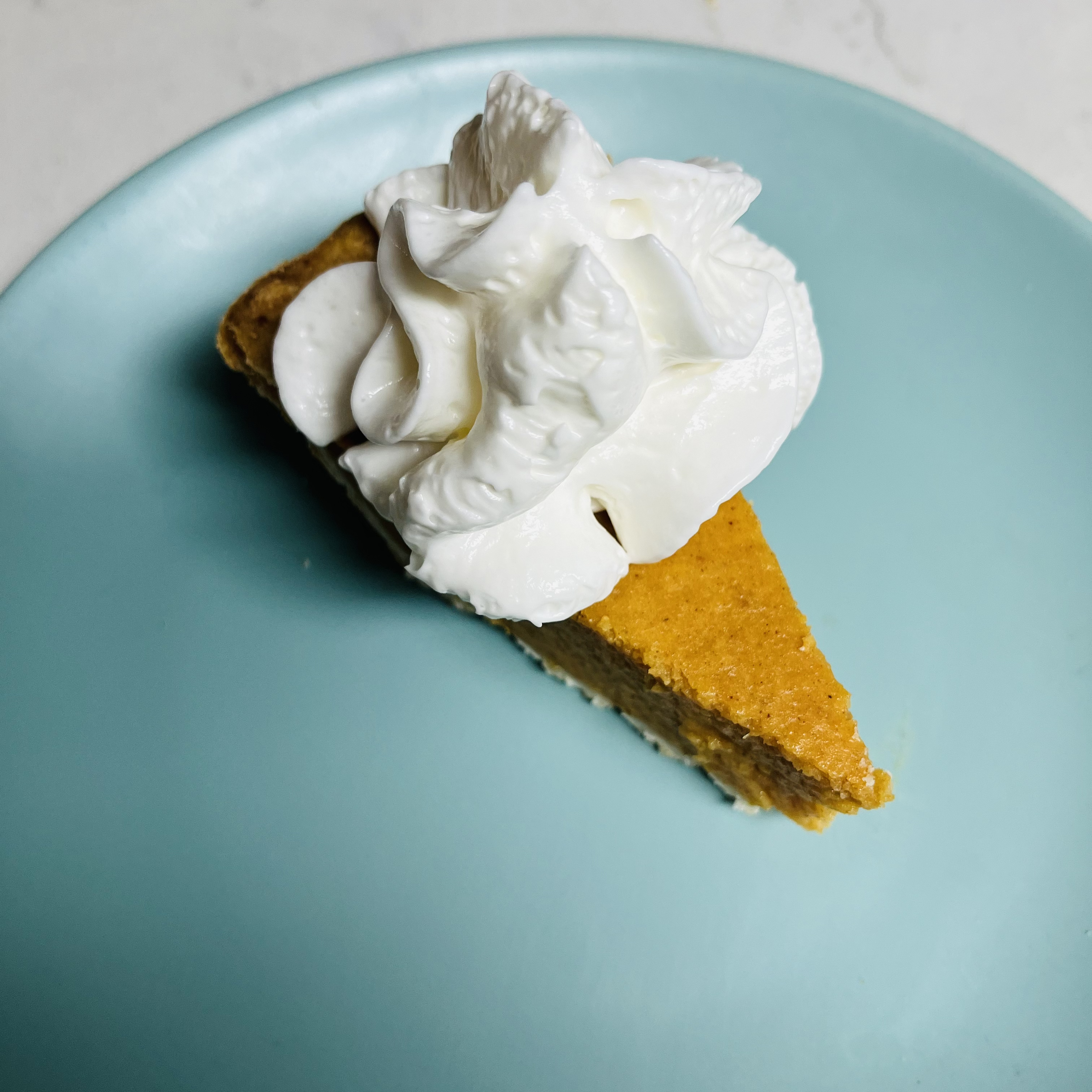 Awful. This is easily the worst pie. The filling is airy, with an almost whipped texture, and the flavor is incredibly watered down. You barely get any sense of spice here. The only thing this pie has going for it is the crust, it's flakey, buttery, a near-perfect texture.
It's a shame a crust this nice surrounds a pie this off-putting.
Taste 7
I'm a bit torn on this pie — there is a nice ginger and nutmeg prominence here with gentle notes of cinnamon and clove and a decent firmness, but the crust knocks this pie down a few spots for me. It's too soft and cake-like, it's almost softer than the filling itself, which doesn't give enough textural contrast to the mouthfeel.
Taste 8
Most of the crusts we've encountered in this taste test have been very neutral in flavor, some have a buttery finish, but for the most part, the crust is more about texture than anything else. The crust in Taste 8 stands in stark contrast to everything that came before it.
It has a noticeable sweetness to it with a perfectly flakey texture and a buttery aroma. It comes across as elevated and well-crafted. The rest of the pie, I'm not totally sold on. The flavor of the filling is decent, I'm tasting more cinnamon than anything else, but there is a bit of a ginger bite on the finish.
All in all it's a great pie, but the crust suggests it should be better.
Part 2: The Pumpkin Pie Ranking
8. Walmart — Pumpkin Pie (Taste 6)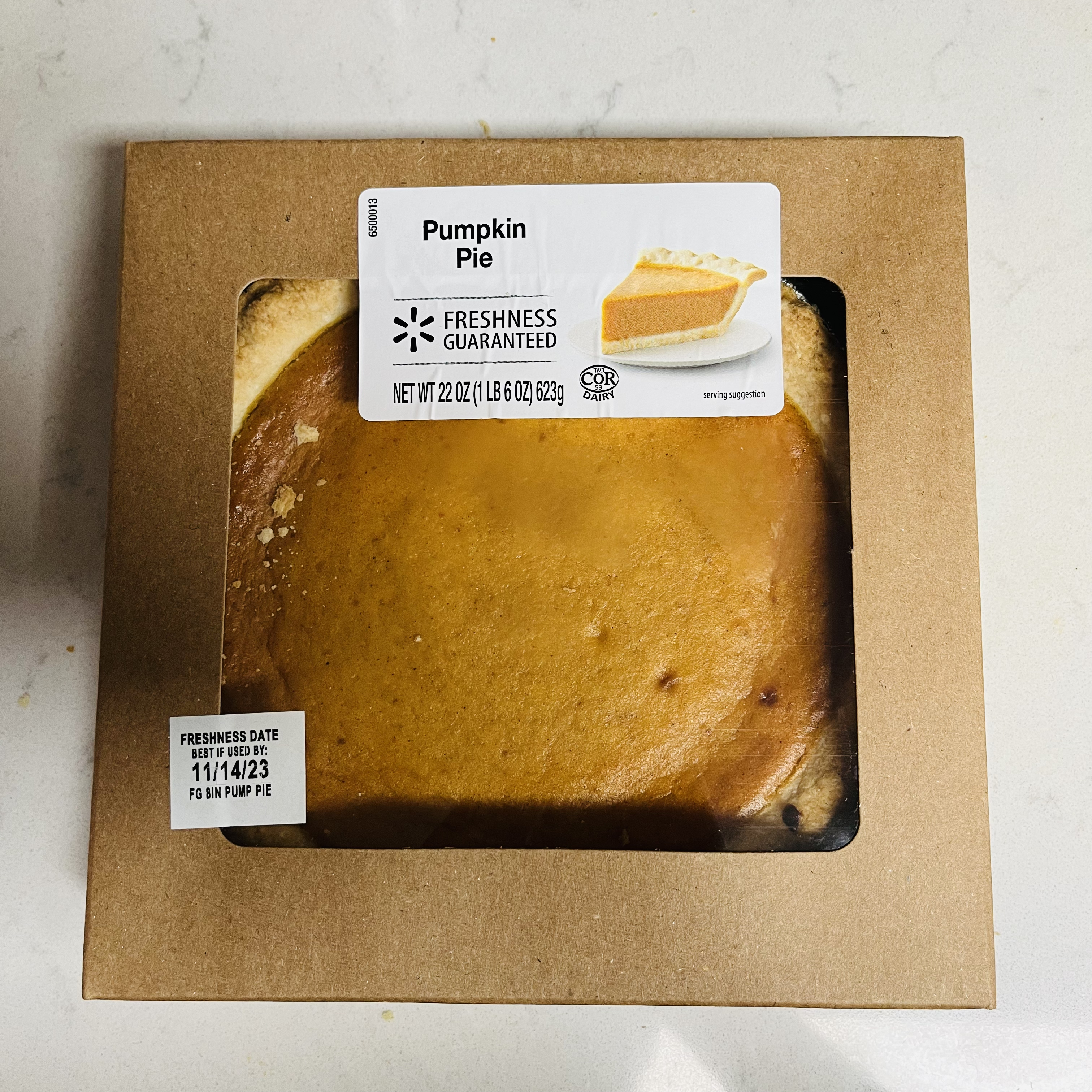 The Pie:
Not only was Walmart's pumpkin pie the weakest in this lineup, I think it's downright bad. The filling was just too whipped and airy and the flavors were too watered down, it's not worth the calories to eat this stuff.
I think it's pretty hard to ruin a pumpkin pie, and yet somehow, Walmart has done it!
The Bottom Line:
While we didn't like this pie, it was by far the cheapest at just $4.99 for a whole pie. So if you're on pie duty this year, you're pressed for cash, and you hate your family, this is the pie for you!
Find your nearest Walmart here.
7. Food 4 Less — Pumpkin Pie No Sugar Added (Taste 1)
The Pie:
"Soupy," "mushy," "wet," these are all words you don't want to hear when it comes to the texture of a pumpkin pie. Unfortunately, all of those words work when describing this pie from Food 4 Less.
This pie is advertised as having a "No Sugar Added" recipe, I wouldn't say a lack of sweetness was noticeable though. But maybe I was distracted by that awful texture.
The Bottom Line:
Too wet and mushy to be enjoyable.
Find your nearest Food 4 Less here.
6. Target — Rubicon Bakeries (Taste 7)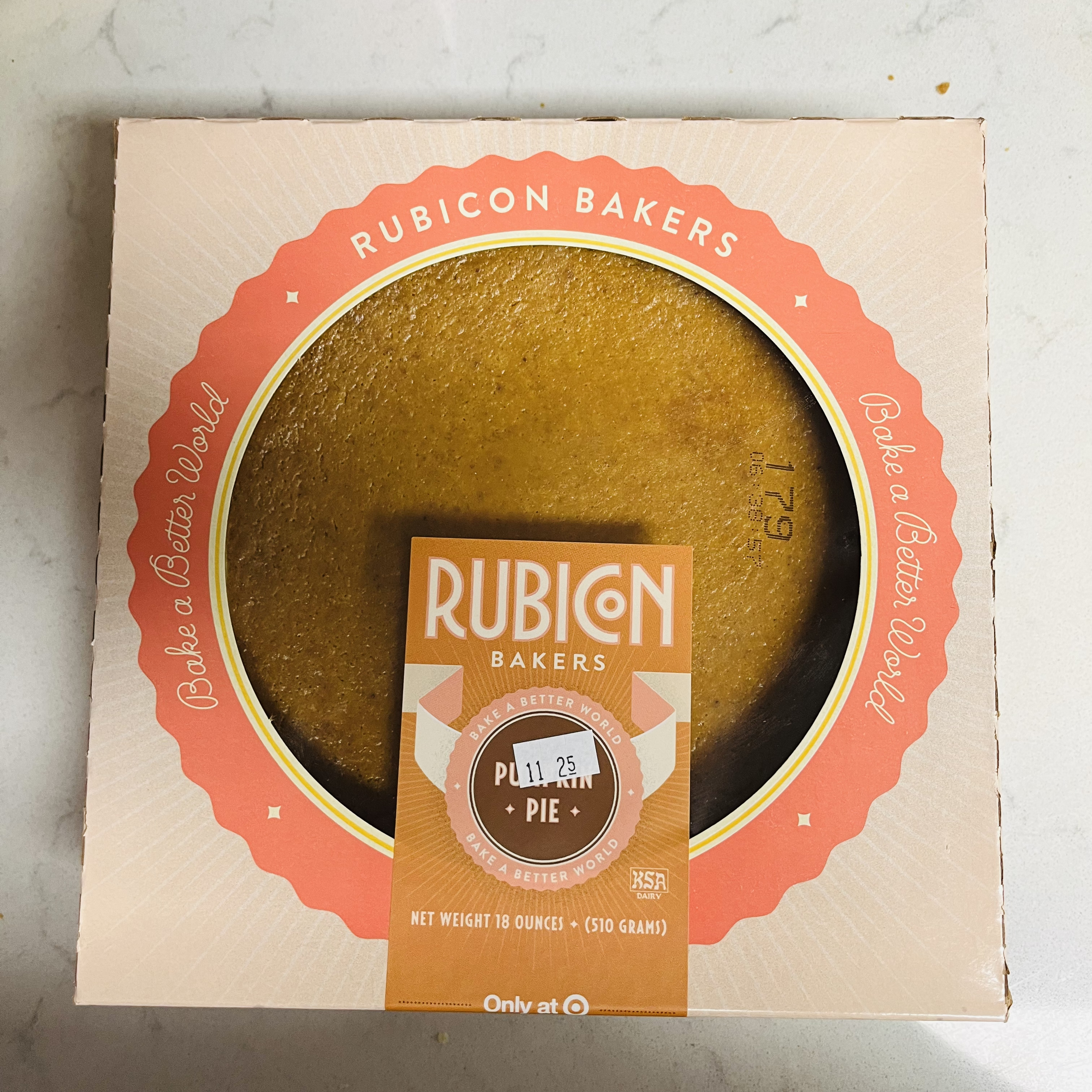 The Pie:
Last year Target's pumpkin pie was under its Favorite Day store brand, it looks like Favorite Day has been replaced by Rubicon Bakeries, and in my opinion, this pie is a noticeable step down.
While I think the firmness and flavor were good, the crust was way too soft — almost cake-like — failing to provide a good textural contrast.
The Bottom Line:
Good flavors, good texture, weak soft crust.
Find your nearest Target here.
5. Aldi Bake Shop (Taste 5)
The Pie:
Aldi's pumpkin pie is good but it's noticeably not great. It doesn't excel in any way whatsoever, the flavor is what you expect from pumpkin spice, the texture strikes a nice middle ground between firm and soft, and the crust is flakey but lacks flavor.
So if you want a fairly standard pie that no one is going to complain about, Aldi's Bake Shop pie is your best choice.
The Bottom Line:
A good fairly standard pumpkin pie.
Find your nearest Aldi here.
4. Von's — Jessie's Pumpkin Pie (Taste 3)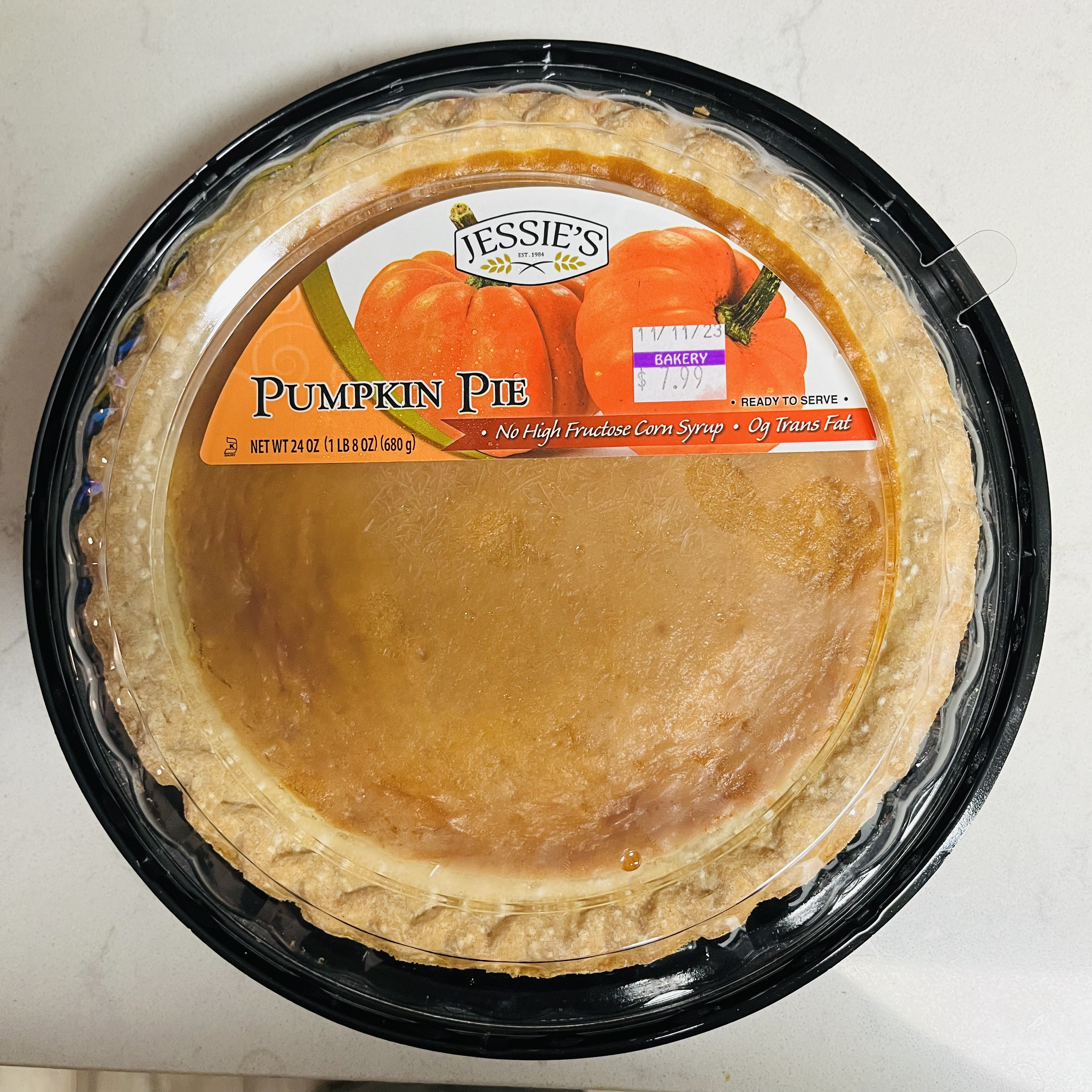 The Pie:
This pie has a lot going for it, a nice firm texture, a balanced spicy flavor, and a great crust. But unfortunately, I like the crust more than the pie itself. That's a problem!
Call me crazy, but the highlight of a pie shouldn't be the crust.
The Bottom Line:
A good texture, flavor, and a great crust.
Find your nearest Von's here.
3. Gelson's — Pumpkin Pie By Renaud's Patisserie (Taste 8)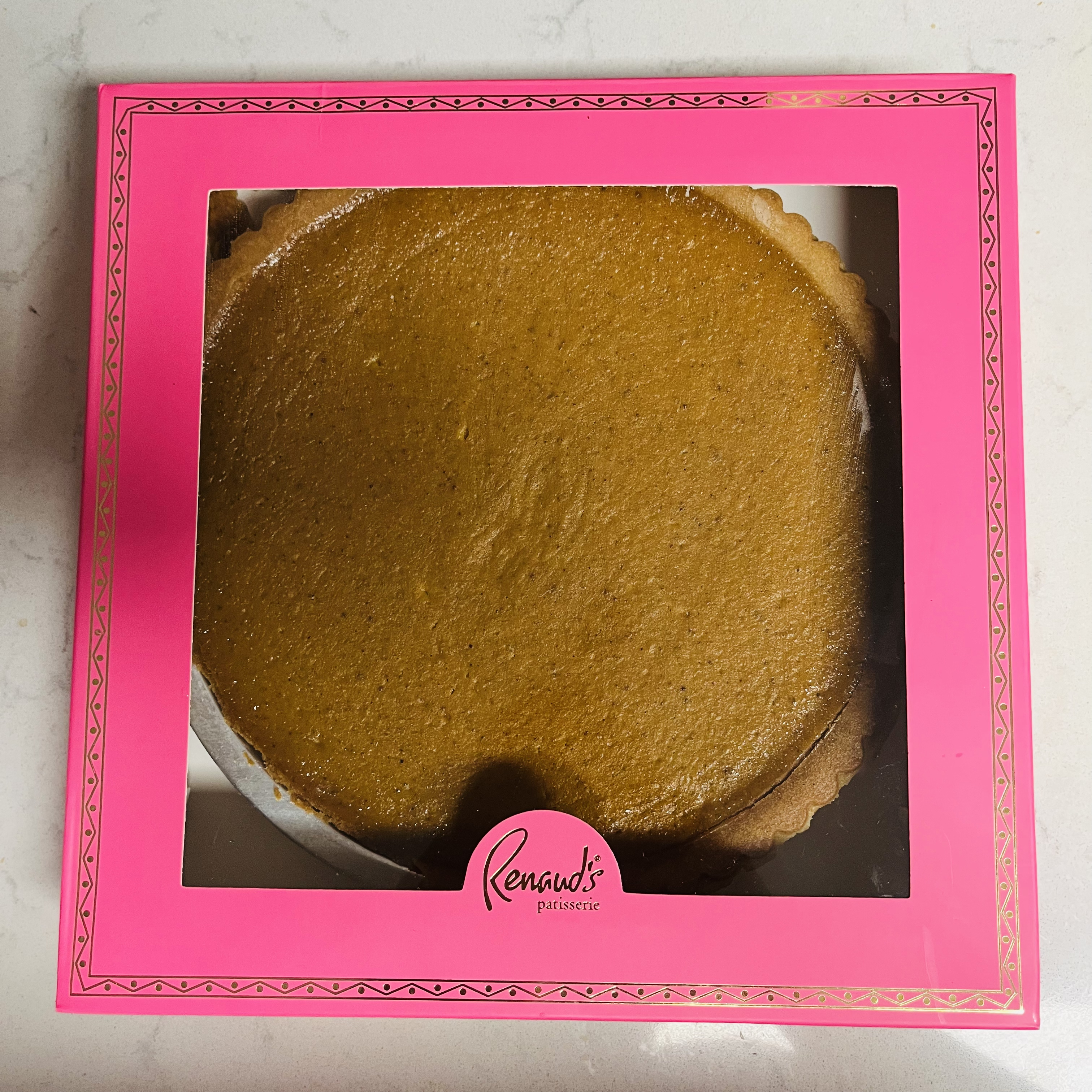 The Pie:
Gelson's is an upscale regional market from Southern California. It's so fancy that it doesn't have a traditional bakery section in the market, instead, it just has a straight-up bakery.
When I asked an employee at Gelsons if they had pumpkin pie, they said "No but they might have one at Renaud's," and directed me to the bakery in-store. So my expectations for this pie were high, especially when I saw that a single pie was $26. As I carried this pie in the elevator of my apartment building, a neighbor said 'That looks delicious!'
This is why blind taste tests are so vital. Based on the price, the packaging, and the store I bought it from, I assumed this was going to be the best pie, but under the cover of the blindfold… it just wasn't.
The Bottom Line:
Proof that beautiful packaging and high prices aren't everything. This is a good pie, make no mistake, but it's not more delicious than pies half the price.
Find your nearest Gelson's here.
2. Sprouts — Pumpkin Pie (Taste 2)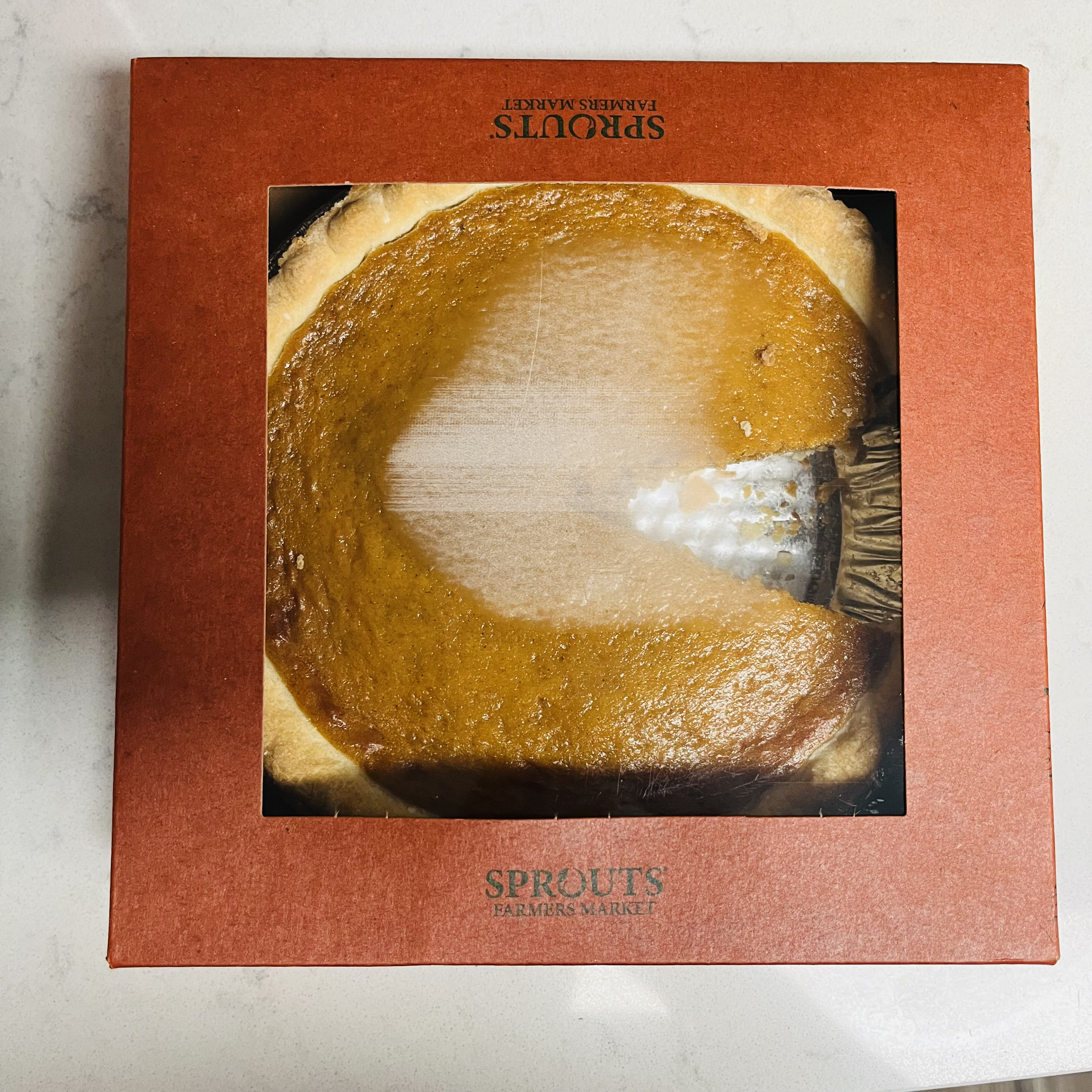 The Pie:
This pie came incredibly close to snagging the number one spot, but ultimately I had to decide against it because of the lack of firmness in the filling. From a flavor standpoint, this pie is excellent, with a very prominent cinnamon and clove flavor that just tastes like autumn to my tastebuds.
But the texture of the filling is just a bit too soft here to be a winner for me. Normally, I'd rank this pie lower based on the texture alone, but the flavor was so damn good that it bumped it up in my ranking considerably.
The Bottom Line:
An amazing flavor but the filling is a bit too soft to be a winner.
Find your nearest Sprouts here.
1. Trader Joe's — Pumpkin Pie (Taste 4)
The Pie:
We always try to include Trader Joe's in our blind grocery store tastings, and generally, the brand lands somewhere in the middle of our rankings. That's not the case with Trader Joe's pumpkin pie — this is the best pumpkin pie you can pick up from the grocery store in 2023.
The crust isn't quite as flakey as I want it to be, but it adds enough textural contrast to complement the filling. The real star of the show here is the flavor — the spices are very well-balanced making each forkful a wonderful journey through cinnamon, clove, nutmeg, and ginger.
The Bottom Line:
The best grocery store pumpkin pie currently on the market. Take it up another level by giving it a quick zap in the microwave and topping it with a nice cold scoop of vanilla ice cream. Or give it ten minutes in. the oven on a buttered pan to crisp up that crust!
Find your nearest Trader Joe's here.