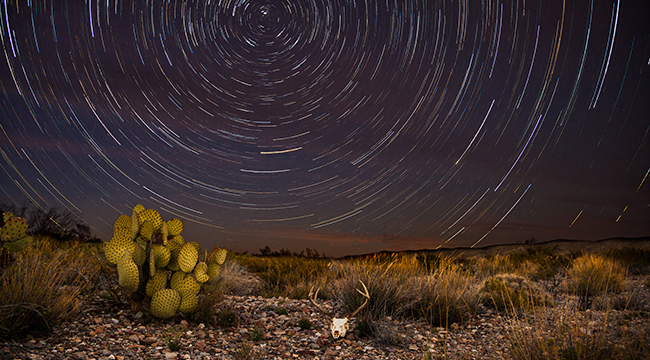 The first person to brag that "Everything's bigger in Texas" wasn't talking about Austin. The city is beloved for its small music venues, boutique breweries, and one-off eateries. All rad qualities; none associated with "bigness." They probably weren't thinking of Houston, Dallas, Fort Worth, San Antonio, or El Paso either. Each of those cities is one of the nation's 25 most populous (as is Austin), but you'd have to combine the top four to close in on New York City's size.
In fact, though many Texas cities are well worth visiting, none truly encapsulates the "bigness" of the Lone Star State. To witness that spirit in action, you have to venture into the wild. You have to sleep under a blanket of stars and hear your voice echo through ancient canyons. You have to ride a horse with the sun beating down, wipe sweat from your brow, and finish your day sipping a cold beer as a rusty-looking guitarist strums a Willie Nelson cover. In short, you need to get to Big Bend.
Big Bend National Park is all of your grandest ideas about Texas (especially South Texas) rolled together — the gritty cowboys, roaming javelinas, spice-laden Tex-Mex food, and empty, endless expanses. It's where you can ford the Rio Grande to enter Mexico for tostadas and tacos, admire the thick ribbon of the Milky Way in a Gold Tier-designated, International Dark Sky Park, and soak in a hot spring along the riverbank.
Best of all, you can do it all without much trouble or laying out a ton of cash. Here's how:
GETTING THERE
Getting to Big Bend might be the hardest part of your trip. Last year, the park ranked 130th in the entire NPS system for visitors and 43 of 61 national parks. It's five hours on the 10-West and another two and change on the 385-South from Austin, just at the edge of "long weekend" territory. If you're eager for an escape from El Paso, it's easier — a 4.5-hour shot down the 10-East and 90-East.

WHAT TO DO — HOT SPRINGS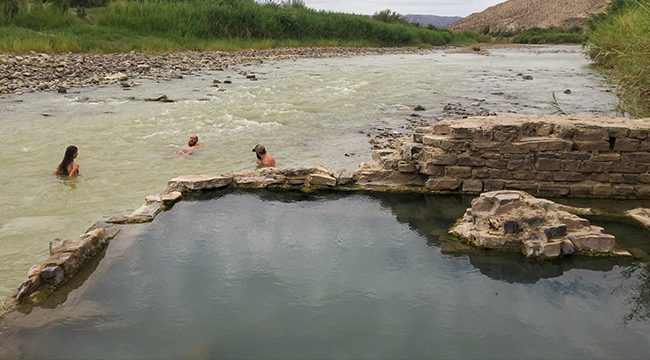 Ages ago, a man named J.O. Langford, suffering from poor health, heard about a mineral spring that could cure any illness. He raced to file a claim on the land through the Homestead Act. After curing himself, Langford created a signature 21-day treatment and built a bathhouse along the edge of the Rio Grande.
The building is long gone, but you can still do your best to emulate Langford's regimen of soaking in the 105-degree water and drinking straight from the spring. The foundations of the building create a pool — perfect for long days of lounging, with dips in the river when you can't stand the heat anymore.
Drive along a gravel road to the Hot Springs Historic District and Trailhead, then hike a quarter of a mile to the river's edge. Note that there are no facilities or services at this site.
WHAT TO DO — FLOAT THE RIVER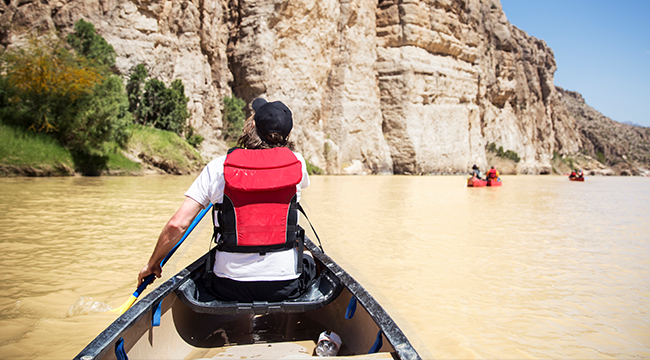 There is something special, almost mythic, about floating down the middle of a river with towering cliff walls on either side of you. Like a journey to the center of the earth. And with how hot it is in Big Bend and how refreshing a dip will sound just about every second of your trip, a float down the river is a must.
For the most part, this is a calm water adventure. There are no significant rapids to navigate in the most easily accessible canyons and even intermediate paddlers should feel comfortable without a guide. Santa Elena Canyon is perhaps the most dramatic of the five navigable canyons (there is one class III rapid to manage). Mariscal Canyon and Boquillas Canyon are more remote, revealing the massive scope of the park and its various ecosystems.
If you want a large-scale adventure, a 10-day self-guided trip down the Lower Canyons includes legit white water and some of the most remote wilderness in the entire state. If it's just not feasible to take a boat trip, rent a life vest and splash around at one of the boat launches. This will give you a chance to swim inside the canyon without having to take a tour or rent a boat.
For more details, check out:
Big Bend River Tours — 800-545-4240
Desert Sports — 888-989-6900
WHAT TO DO — VISIT BOQUILLAS DEL CARMEN
Boquillas, Mexico is all of your Western dreams come to life. It's tiny, hot. and utterly shadeless, with a mission-style church and two restaurants. For those who looking for a quiet escape (while rethinking their perceptions of the Mexican-American border), it's paradise.
To get to the village, you'll take a rowboat across the river and into Mexico for $5 (buy a ticket at the Rio Grande Village Store) or simply wade or swim. Once you reach the Mexican side, rent a horse and trot into town on horseback.
The border is currently open but the situation is inclement to change. Bring your passport or passport card for re-entry. Boquillas Restaurant serves tacos, burritos, tostadas, and other Mexican classics, but you'll need to be flexible with ordering — after 9/11, the families of Boquillas were no longer allowed to freely enter Rio Grande Village. Their closest city to buy supplies is now 167 miles away. Still, the beer is icy cold and the food has a kick, two qualities you'll crave on another scorching Tex-Mex day.
EAT & DRINK — LA KIVA
Keeping your trip to Big Bend iconic and camera-ready, this bar feels like it's straight out of a movie (it's not, though it was the site of a grisly murder). It was closed for two years but is back open now — serving food and drinks in what is best described as a mine shaft. This subterranean watering hole offers a fascinating mix of tourists keen to soak up a little Old West weirdness and locals in need of a place to party.
The result? Bands playing to a packed house (cave), plenty of drunken hookups, and a lot of tequila sloshed around. The bar is one of the most widely-known places to eat and drink in Terlingua, Texas, just outside of the park's boundaries, and though you might not get a high minded culinary experience, you will definitely leave with (foggy) memories after listening to real country tunes.

SLEEP — BASE CAMP TERLINGUA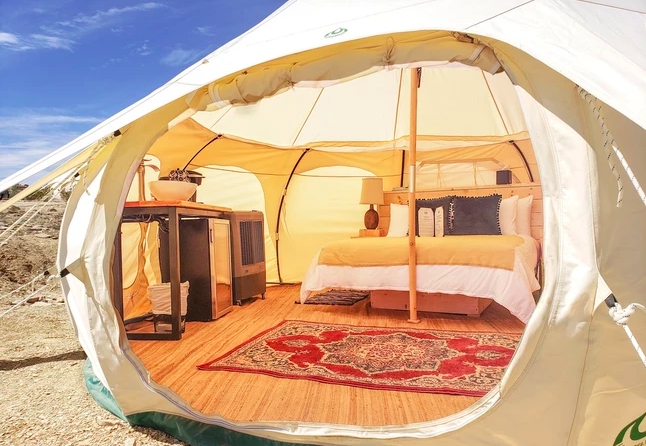 For how small and remote the Big Bend region is, it's almost inexplicably become a hub for inventive hotels, AirBnBs, and tented camps. Base Camp Terlingua is a glamping spot with bubble rooms, Sahara-style canvas tents, and luxury tipis. The bubble rooms provide a stunning view of the night sky and, as a result, are immensely popular.
Not far away, Terlingua also plays host to a very affordable tiny house, a B&B made of shipping containers, and a very solid boutique hotel much more in-line with the old west landscape than the other options.