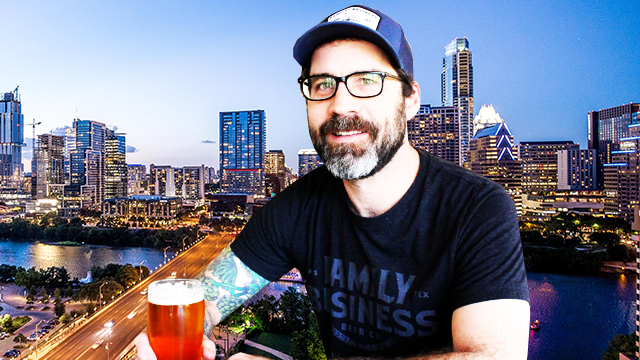 Welcome to Beer This City! If you dig Eat This City and Drink This City but have always wanted more beer-ness, then this column is for you. We're talking to brewers to get an in-depth look at the best places to pair amazing beer with exciting food in different cities around the world.
Nate Seale is a bit of the legend in the Austin brewing scene. He made a name for himself in Austin at (512) Brewing Company, took a few years to refine his skills in the Portland (OR) beer scene, and then made a triumphant return to Travis County as the head brewer of the Family Business Beer Co. in Dripping Springs.
If you find your way out to Austin this year, we recommend hitting up Family Business Beer Co.'s taproom (order The Grackle, a delightful hill country imperial stout). The joint has a welcoming vibe from the moment you drive up — with loads of picnic tables, shady trees, and an on-point food truck. Inside, wonderfully crafted brews await, touching on European classics filtered through Seale's uniquely Texan lens. And you just might bump into Supernatural star Jensen Ackles (a part owner) running a forklift on the brewery floor.
Seale has a knack for brewing up a glass of beer that draws you in, holds you tightly, and leaves you eager to try whatever else he's keen to pour. He's been deep in the Austin beer scene for a long enough spell that we couldn't think of anyone better to give us a tour of the local hotspots for a sudsy glass of the good stuff.
Classic Brewery/Taproom Experience — DRAUGHT HOUSE
There's no taproom in Austin more classic than the Draught House. It's turning 50 this year and was one of my dad's favorites as a UT student in the early '70s. In fact, it was the site of my first legal beer on my 21st birthday. It feels like a place that has just always existed, with its dark wood, dim lighting, comfy beer garden, and old-world pub vibe.
I don't remember, but they were most likely my introduction to beer that was brewed on-site.

Neighborhood Brewery/Taproom — AUSTIN BEERWORKS
While ABW is in an industrial area, it's my favorite "neighborhood" brewery in that it's biking distance from my house, and probably my most-frequented local spot. Consistently solid brews (and lots of them), a fun and inviting taproom (hanging plants inside, Astroturf out), and some of the nicest folks in the biz. Also, Unicorns and Eagles.
Beer Bar (that's not a brewery) — CRAFT PRIDE
The name is pretty accurate. Craft Pride takes pride in curating a fantastic selection of exclusively Texas-made craft beers and presenting them in a way that truly does them justice. The staff knows the beer inside and out, and the setting itself feels like it could only be in Texas. I'm someone who believes that beer is at its best when it's close to where it was made, and Craft Pride embodies that.
Dive for Beer — BILLY'S ON BURNET
Cobra Burger, punk rock jukebox, game room, Fried Mushrooms, Fried Cheese Curds, big vegetarian menu, big patio with soccer on the TV, and a ton of draft beers with a local focus, all brought to you by Billy Forrester. He's the guy behind the first legal brewpub in modern Texas history, which sparked this whole Texas craft brewing scene.
Fancy Restaurant for Beer — EBERLY
One of the most beautiful, elegant rooms in town, seriously. Eberly's beer selection is concise, but thoughtfully planned, and designed to pair with food. We recently went to install our first keg there and introduce ourselves and our beer to the staff, and the smell of wood fire from the kitchen almost made me miss my own kitchen days. Only for a second though.
Place To Eat Pizza and Drink Beer — ABGB
Central Texas basically runs on lagers, and ABGB arguably (and in terms of awards, provably), rules the lager game. Nothing (literally, nothing) goes better with lager than pizza, and their pizza game is strong. I love a good plain cheese, but their specialty pies are imaginative and delicious, and they also offer a variety of sandwiches and snacky-foods. More than anything I always get the vibe that they love what they've created, and that goes a long way.

Brewery/Taproom Run By A Friend — SOUTHERN HEIGHTS
Austin and Chris are just a couple of great guys making great beer. Their menu is constantly rotating and evolving, avoiding year-round mainstays. Their beers are always solid-to-excellent. Their taproom is no-frills, slightly industrial, but perfectly comfortable. The furniture/décor/etc. is just enough but not too much, putting beer and company first, which makes the perfect environment for hanging out and catching up. I think these guys are basically doing everything right.