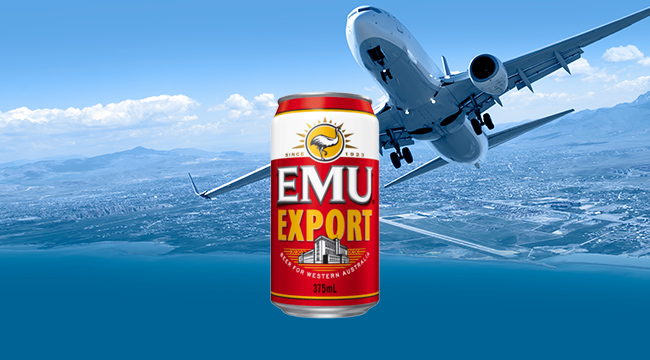 Few people enjoy lugging giant, suitcases through expansive airport terminals while they rush to catch their next flight. But an Australian man decided to take minimalist traveling to a new extreme when he decided to check a single can of beer on his flight from Melbourne to Perth. I know what you're thinking: He must have had a carry-on, but checked the beer because he couldn't bring it through security and didn't want to toss it and miss out on the malty goodness. No, his only piece of luggage was a solitary can of beer.
"It honestly just seemed like a good laugh, an idea a mate and I cooked — pretty much a meme in real life for all the export drinkers out there," the man who only wants to be referred to as "Dean" told Mashable. The checked beer was an Emu Export, a beer local to Perth and Dean decided to stow it just for the fun of it.
As expected, it wasn't completely smooth sailing (or flying) for Dean and his beloved can of beer. He actually had a bit of trouble checking the beer because the automated check-in counter didn't understand what he was attempting to check. Can you blame it? The machine is used to scanning rolling luggage and knapsacks, not 12 ounce containers of ale.
"It wouldn't register the can as a bag so I had to use some creative tray stacking to fool it into thinking their was a bag on the conveyor," he said. "Was bloody stocked when it finally went green and zoomed off."
Those who travel regularly are aware that when they check a bag, it might end up getting damaged to some degree during the flight. That just a fact people are used to. But, to Dean's surprise, his can of beer arrived in Perth undamaged. The baggage handlers must have thought the whole thing was pretty funny too because they sent the can down the chute before any of the other luggage, thus enabling it to remained undamaged and still full of sudsy brew.
So, what can we learn from this travel innovator? Well, we can throw the notion of only checking basic luggage out the window. This guy's blazed a trail to a whole new world of check items. Don't want to crush your clothes with an extra pair of boots? Check them. Want a tasty snack when you arrive at your destination? Why not check a bag of trail mix or a can of Pringles? The next time you find yourself at the airport with a brand new bottle of expensive water (or liquor), just check it. It's a much better idea than throwing it in the garbage when you get the security line. Plus, it just might make it to your final destination intact and waiting for you. You'll be pretty happy you did when you arrive. That is if your checked items actually make it there in one piece. It's a gamble we're willing to take.