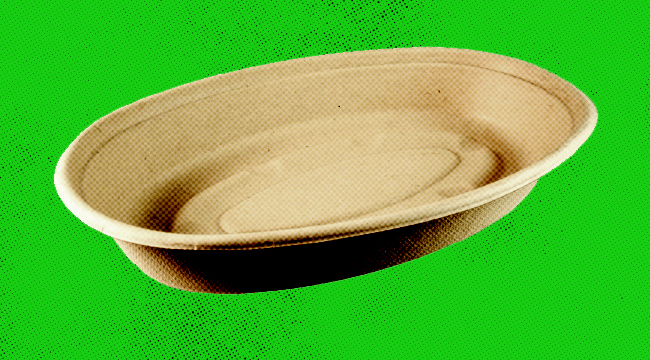 Imagine that you're sitting in a Chipotle, Tuesday afternoon, 2:27 p.m. The smell of the just cleaned table wafts through the air as a weird wordless remix of Cher's Believe plays from just loud enough to be distracting speakers overhead. You're feeling pretty good about yourself, Chipotle, after all, uses fresh and real ingredients, locally sourced and ethically farmed. Why they even serve their popular Burrito Bowls in a molded fiber compostable container. You know this because when you separate your trash there's a specific bin for compostable and recyclable materials. It feels good to know you're helping the planet one Burrito Bowl at a time, just like the Chipotle cup says.
Not so fast. According to research conducted by non-profit newsroom, The New Food Economy, those compostable bowls show evidence of being treated with PFAS, or per- and polyfluoroalkyl substances — which help the paper bowls keep their structural integrity while holding hot, wet, or greasy food but don't breakdown naturally in the environment and contain chemicals that are linked to certain forms of cancer and other adverse health effects.
The New Food Economy carefully collected and sent samples of molded fiber bowls from 14 locations of eight different New York City fast-casual restaurants (and one piece of printer paper), including bowls from Chipotle and Sweetgreen to Graham Peaslee, a Notre Dame chemist, who found that all of the bowls tested positive for high levels of fluorine, which indicates the use of PFAS. Meaning it's healthier (for you and the planet) to eat your food off of printer paper than a molded fiber bowl.
The EPA describes PFAS as chemicals that don't breakdown in the environment and have been linked to adverse human health effects like low infant birth rate, changes to the immune system, cancer, or thyroid disruption and are colloquially referred to as "forever chemicals" — which decisively doesn't sound like anything that belongs in a compost pile (or… y'know, a body).
The good news is that the worst of the PFAS have been phased out of use in the United States which would indicate that the molded fiber bowls contain newer varieties of PFAS. The bad news is these new varieties haven't been closely studied by scientists so while they may be safer, they could also be worse, or you know, the same. And since molded fiber bowls contain fluorine and are treated with PFAS, that means all of the bowls that you gleefully tossed into the compost bin in the past have actually been contaminating compost sites with PFAS, therefor contaminating crops with the chemicals that will never breakdown and outlive us all. We are our own worst enemies.
Speaking to PEOPLE, a representative for Chipotle stated, "We are committed to using safe and sustainable food packaging and only partner with suppliers who make fluorochemical sciences and food safety a top priority. These suppliers operate under strict guidelines set forth by the FDA, and have all provided Chipotle with certification that all raw material and finished pulp products fully meet regulatory requirements."
To find out more about the New Food Economy's testing and PFAS, check out the full report. The restaurants in the study included Dig, Chipotle, Fresh & Co, Dos Toros, Mangia, Urbanspace, The Little Beet, and Sweetgreen which all tested positive for varying amounts of fluorine. Is it the end of the world at these trace levels? Probably not. Is it a reminder that we entered the race for sustainability very late and we're going to have to continue growing, evolving, and getting better in a hurry as we develop new technologies and then take the time to study their implementation? Yes, it is.
Surely, these companies will go back to the drawing board to find new suppliers who are able to invent a product that doesn't require fluorine for stability. In the meantime, BYO Tupperware when eating fast-casual.