Dos Hombres mezcal is lighting up the spirits scene right now. Their Espadín Mezcal is winning award after award and their limited edition expression — Tobala — sold out pretty much instantly when it dropped, also to much acclaim. All of that is before you even get to the fact that Dos Hombres is the brand released by Bryan Cranston and Aaron Paul — partners in crime on TV and now partners in agave spirits — who both just dropped into the final season of Better Call Saul for some classic cameos.
Naturally we figured it was high time for a review. Dos Hombres launched back in 2019 with a single bottle offering of Espadín Mezcal from Oaxaca. The mezcal is a "joven" which means it was bottled straight from the still. But before we get into that, the actual mezcal is made by Mezcalero Gregorio Velasco Luis, a third-generation distiller renowned for his craft. Luis makes this mezcal from six-year-old agave gathered from the hills around San Luis del Rio, Oaxaca. Those agave piñas (hearts or "pineapples") are roasted for several days in an earthen pit heated with stones. The piñas are then mashed via a tahona (stone) method to extract the sugar-rich juices for an open-air fermentation to develop alcohol with wild yeasts. Finally, the juice is distilled on a wood fire-heated still before it's bottled as-is. This is old-school mezcal making at its best.
Since we're talking about a high-quality product from one of Oaxaca's most respected Mezcaleros, it should come as no surprise that — spoiler alert — this is good juice. It also gives a sense of pride and drive to both Cranston and Paul, who have been hitting the pavement hard promoting the brand and celebrating Luis' mezcals. I was lucky enough to catch up with Cranston in New Orleans at Tales of the Cocktail this year to try the mezcals, drink some cocktails, and get this obligatory photo with the acting legend.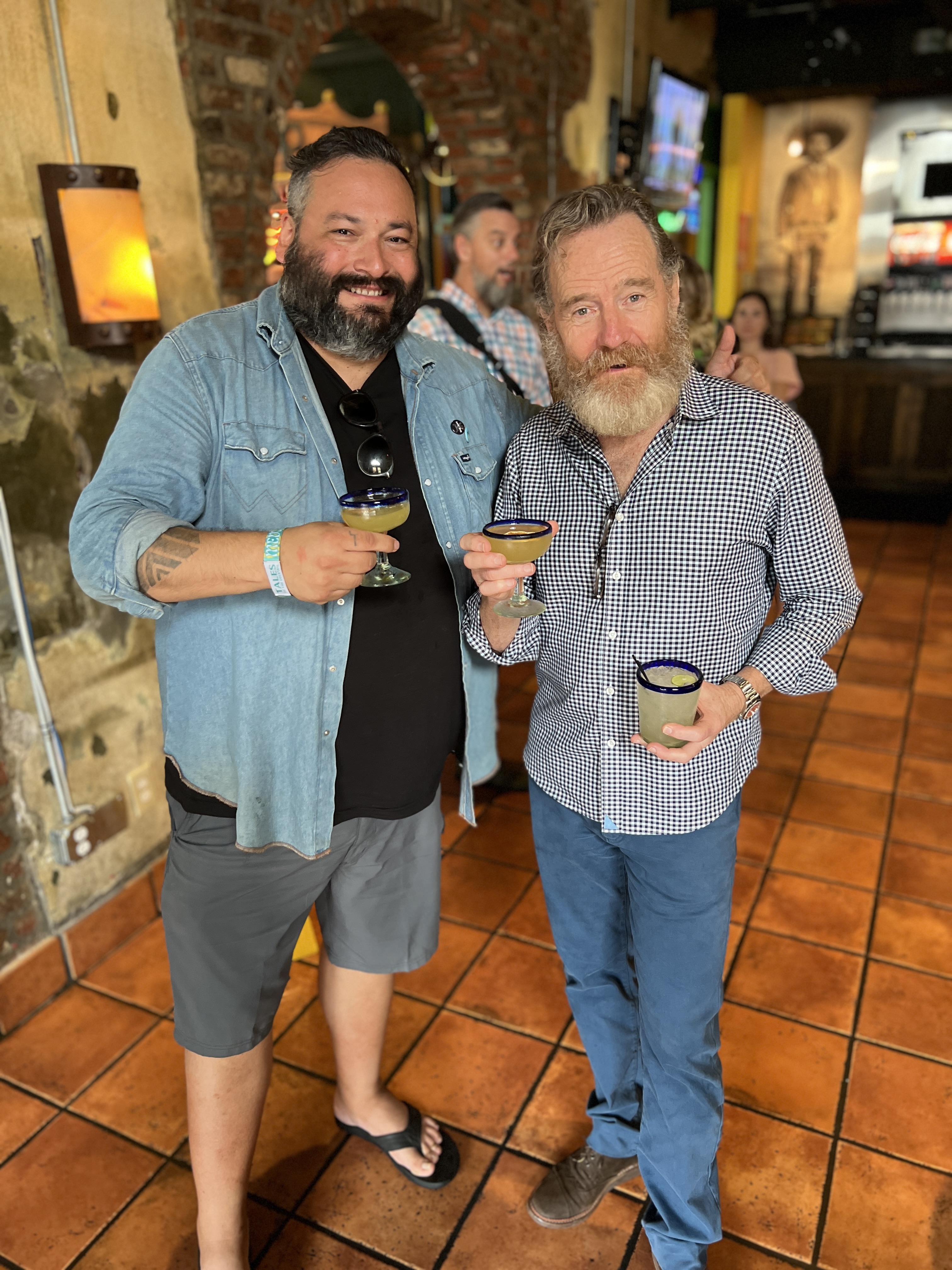 Yes, that's Walter White in a full beard double fisting two mezcal cocktails. It was a fun day. Okay, let's get into what's actually in the bottles!
Also Read: The Top 5 UPROXX Bourbon Posts Of The Last Six Months
Dos Hombres Espadín Mezcal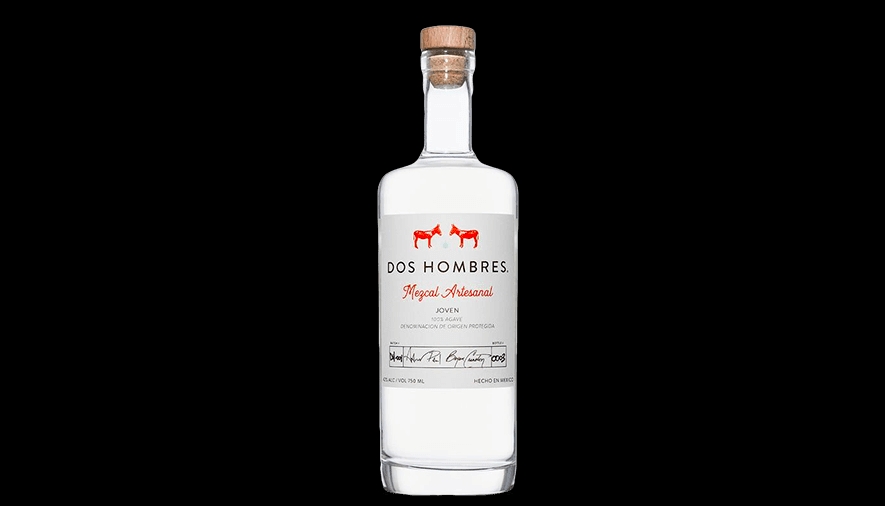 ABV: 42%
Average Price: $65
The Mezcal:
As mentioned above, this is a joven or unaged mezcal. It's made from at least six-year-old Espadín agave in a natural and old-school process from underground roasting to wild fermentation with local spring water to fire-roasted copper pot stills where it's double distilled. The hot juice goes into the bottle as-is.
Tasting Notes:
Tart green apple skins greet you on the nose with a sense of caramelized agave sugars (think burnt white sugar with a dash of aloe), dried and slightly smoked mango slices, a hint of savory sapote fruit, and a whisper of old cedar with a slightly singed bark. The palate has a bright sense that's kind of like sucking the flesh off a mango skin before a hint of soft clay dirt leads to a hint of white pepper and chewy cedar bark. The end lights that bark on fire and lets the smoke subtly settle on your palate with a sweet sense of mango and tart green apples next to a creamy twinge of savory smoked fruit with a dash more of that clay adding a deep earthiness.
Bottom Line:
This is a pretty easy-going mezcal, all things considered. It is a bit more fruity than smoky, but that's endearing. That said, that fruitiness helps this really shine in a cocktail more than a sipper. Having drunk this with some mango-forward cocktails really cemented it in my mind as a great foundation for cocktails.
Dos Hombres Tobala Mezcal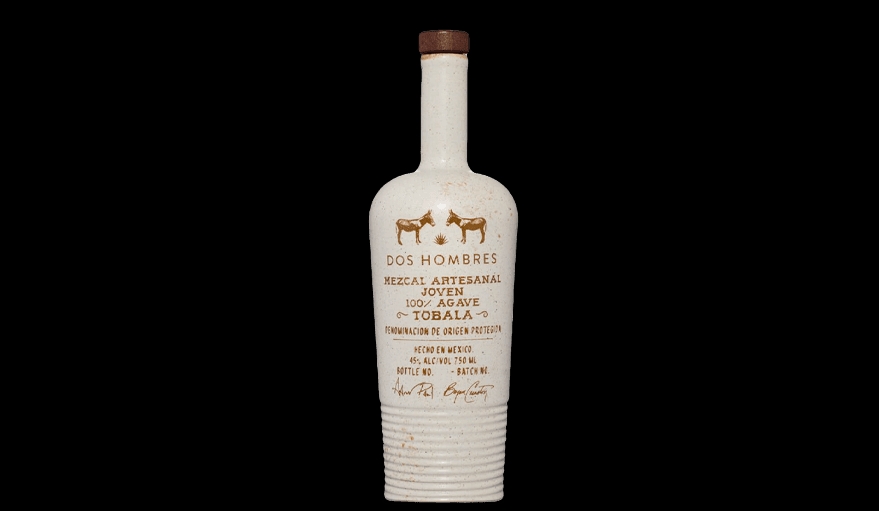 ABV: 45%
Average Price: $349
The Mezcal:
Dos Hombres very limited Tobala expression is also a joven. In this case, the mezcal is made with (extremely rare) Tobala agave, which grows in the highlands and is a lot smaller than a standard Espadín agave (about eight to 10 times smaller). The tiny size and up to 15 years of growth before harvest helps create more concentrated sugars and aromatics in the meat of the piña. That, in turn, is brought out by the slow earthen roasting and wild fermentation and carries over into the spirit coming off that old copper still, which is bottled as-is.
Tasting Notes:
There's a sense of slightly spiced plum jam on the nose (think cloves and sweet and meaty prunes) that leads towards a faintly bitter dark cacao powder with a hint of lavender or white wildflowers whispering in the background of the nose. The palate turns that cacao into an almost creamy foundation as a mild woodiness arrives with a hint of cellar mold and singed orchard wood that's just caught fire in an old backyard smoker. The end leans into the smoldering orchard wood and adds some plum skins and pits to the fire while an echo of dark spice and (slightly bitter) dark chocolate rounds out the dark and moody finish.
Bottom Line:
This is a brilliant sipper. You might want to add a few drops of water to let it bloom in the glass. You'll get a creamier sense of the dark chocolate and the bright florals will pop a bit more. A single rock will bring out some more of the plumminess, bitter chocolate verging on espresso beans, and woody spices as well.
Overall, this is a killer bottle of sipping mezcal that is worth hunting down, especially if you're looking for supple and silky sipping mezcal.