Everybody everywhere unabashedly adores two things: Ted Lasso and ice cream (seriously, tell someone you don't like either and they'll conclude that you're a monster). So it only makes sense that the two would come together and make something even more wonderful than the sum of their parts. Beginning on March 2nd, the Columbus-based ice cream brand Jeni's (who we've been fans of for a while now) will drop its official Ted Lasso collaboration flavor dubbed "Biscuits With The Boss."
If you follow Ted Lasso lore this name will immediately set alarm bells off in your head but if you haven't watched the show and you've only clicked on this article because you love ice cream (respect), let me catch you up. Every morning coach Lasso brings a small box of homemade cookies to his boss, Rebecca Welton, owner of AFC Richmond. Thus, biscuits (what Brits call cookies) with the boss. If you've seen even one episode of Ted Lasso you've probably dreamed of having a taste of these biscuits yourself and having it in ice cream form? Well, that sounds even better. (We have a recipe for these biscuits, in case you want to try them at home.)
So is Jeni's Biscuits with the Boss any good? We got our hands on a pint ahead of the release to find out.
Jeni's — Biscuits With The Boss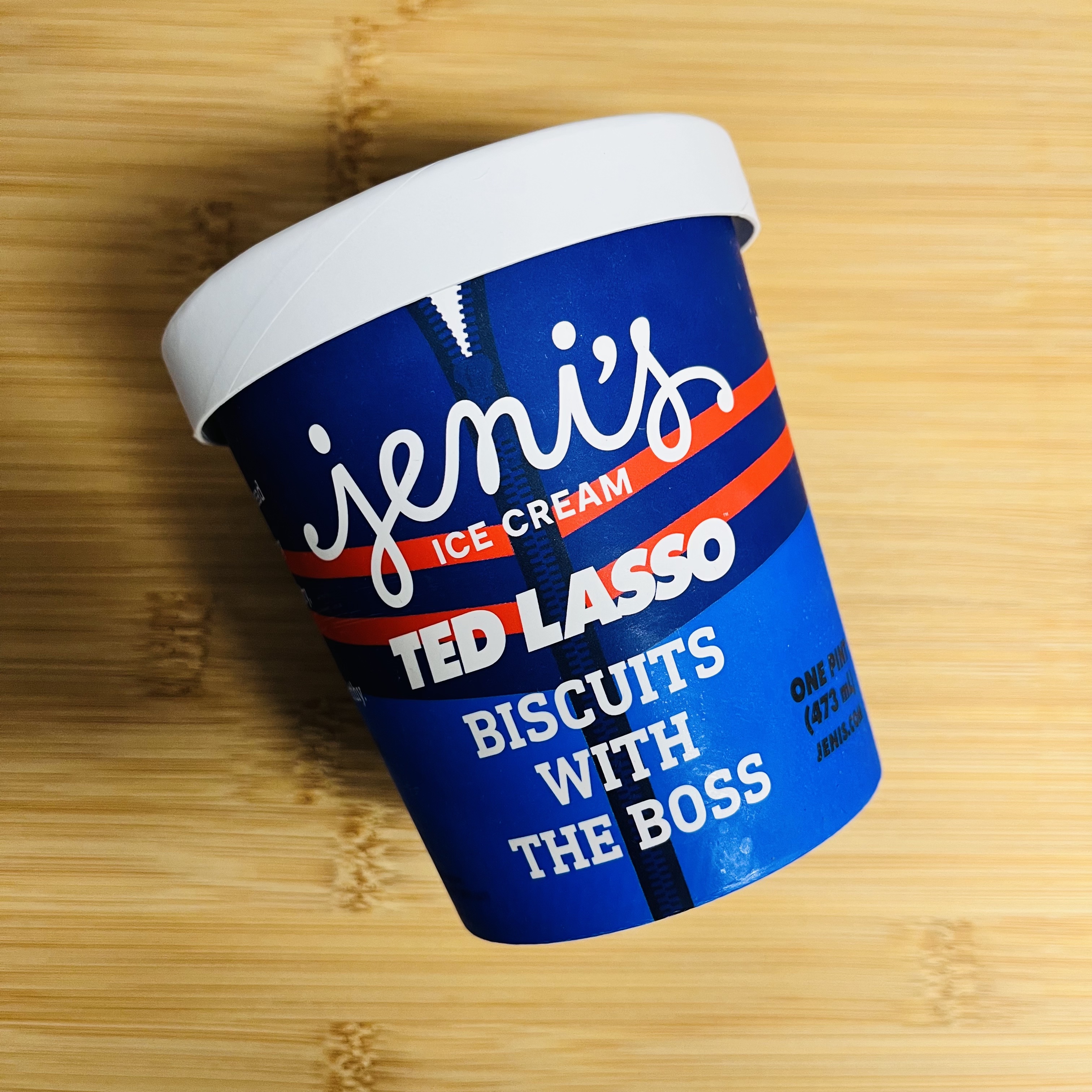 I'm a bit lukewarm on the packaging here, generally, Jeni's has the best art direction of any ice cream brand, but this jacket-zipper thing they're going for just isn't working for me. Where is the pitch? Can I get a soccer ball? Anything that speaks to the show aside from the color blue? When my girlfriend (who hasn't seen Ted Lasso) saw the pint she said "what's with this zipper, why is this ice cream trying to be sexy?" And on at least two occasions she's asked me "are you eating your sexy ice cream?" I love Ted Lasso, but never has a show been less sexy, so I feel like the packaging misses the mark — especially when there is a rich supply of iconography that could've been referenced here.
I will say that the lid — with its pink box of cookies — is much more appetizing and does a better job of paying tribute to the source material. But packaging aside, what really matters is how this stuff tastes, and now that I've tried it I can say that Jeni's knocked it out of the park.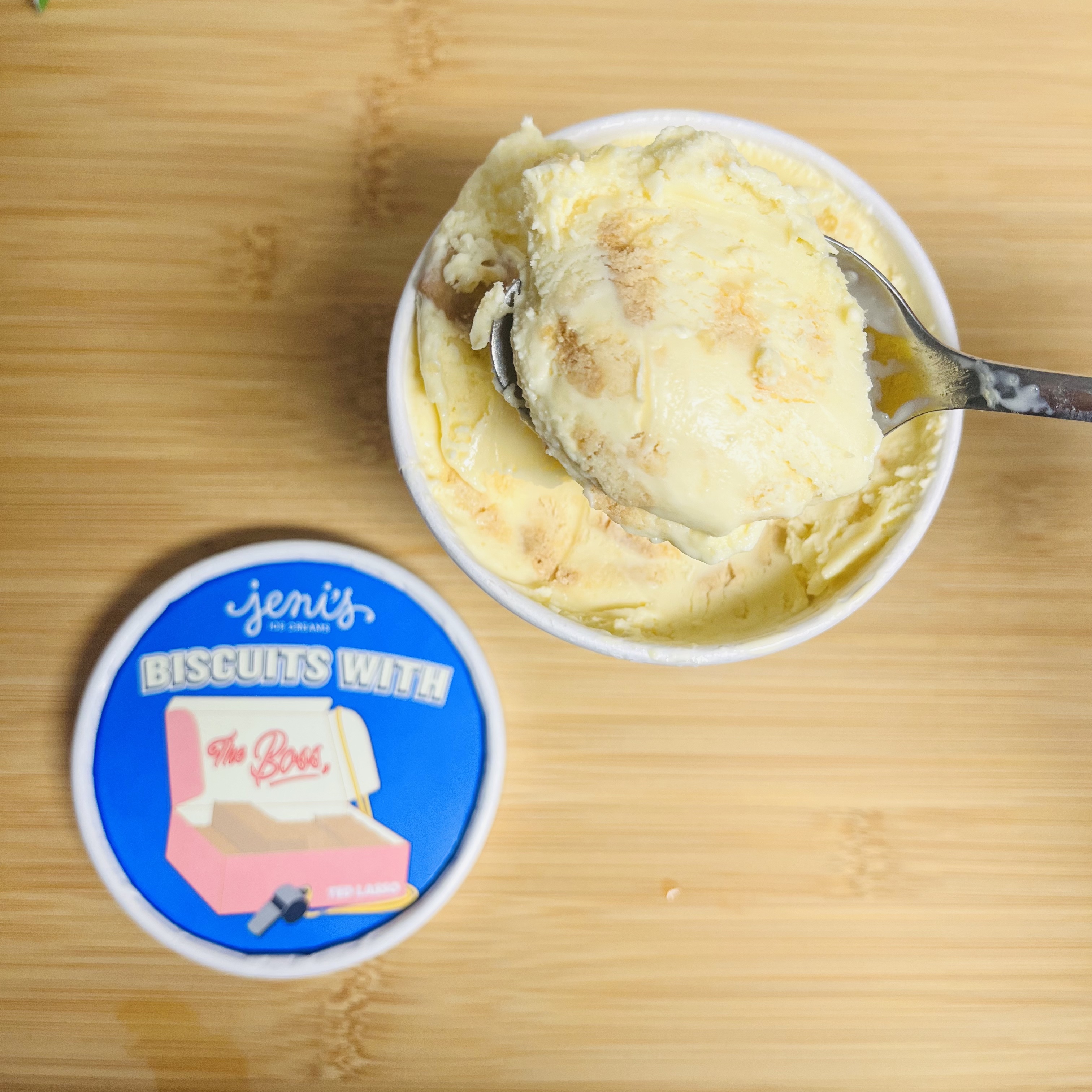 I appreciate the brand's attention to detail here, they could've been lazy and made cookies and cream ice cream, or something with cookie butter. Instead, they stayed true to the source material and made an ice cream that tastes just as indulgent as you'd imagine the cookies from the show would taste.
The ice cream is made with real shortbread cookies and butter and it makes all the difference. The flavor is intensely butter-forward, thanks to the salted butter sweet cream ice cream base and the shortbread cookie bits add a nice mouthfeel and a texture that comes across as crumbly, but still melts in your mouth the way good shortbread (and ice cream) should. The texture of the ice cream is rich and luxurious and a small serving goes a long way.
In terms of the saltiness, it's a bit intense so if you're not a fan of salty ice cream flavors this might not be for you, but if you're in that camp allow me to offer a simple hack: cinnamon. Seriously, sprinkle some cinnamon on this ice cream and it adds a whole other dimension of flavor that works as a counterbalance to the salt and brings the more rich aspects of the flavor to the forefront.
The Bottom Line:
Jeni's "Biscuits With The Boss" serves as a true tribute to the show that inspired it both in concept and in flavor. It's pleasantly salty, buttery, intensely rich, and has a great mouthfeel. To borrow a famous and relevant Lassoism, "ice cream's the best," and this flavor proves why.
"Biscuits With The Boss" hits the Jeni's website and scoop shops on March 2nd.