When it comes to gateway bourbons, it's hard to top the original Maker's Mark. It's full of vanilla, caramel, and corn-sweetness and is effortlessly easy to sip. But, the best thing about starting with bourbon from the Loretto, Kentucky-based distillery is the fact that you can step up to its other releases when your palate becomes a little more nuanced.
You can't go wrong with its Maker's Mark 46. But the true bourbon aficionados always eagerly await their second release, Maker' Mark 2020 Limited Release. This is the second offering from its Wood Finishing series. Last year, the brand launched Stave Profile RC6. It was full of toasted vanilla, sweet caramel, and mouth-watering fruit flavors. This year, at the same time the brand is celebrating the 10th anniversary of Maker's 46, it's making this new release available.
You might be unfamiliar with the term "wood finishing." In this scenario, it refers to Maker's proprietary stave finishing process. After full maturation, cask strength bourbon is filled into barrels containing specifically designed wooden staves. Then, those barrels are rested in the brand's limestone bourbon cellar. The result is a unique flavor profile created by the well-aged whiskey and the staves interacting together.
Available now nationwide, Maker's Mark 2020 Limited Release has a suggested retail price of $59.99 — a great price for what's in the bottle. It won't be available for long, so you better get your hands on a bottle while you can.
Maker's Mark 2020 Limited Release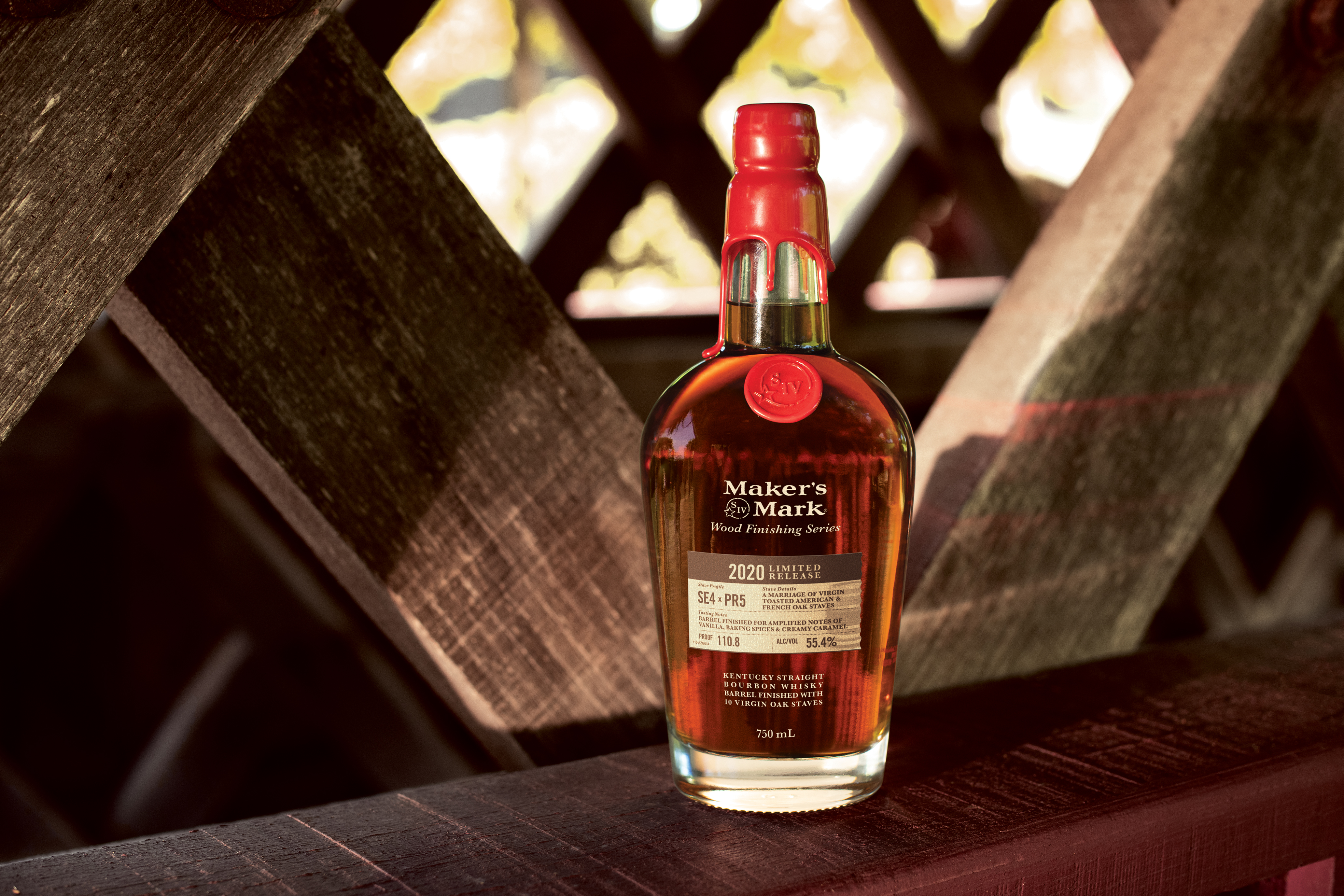 ABV: 55.4%
Price: $59.99
The Story:
Proving that you need to compare both offerings, last year's expression was created to be high in baking spices and fruity flavors. This year, the emphasis was richer, more dessert-like flavors. That's because the 2020 version doesn't use the same stave styles from the previous year. They selected the two specific staves to impart the flavors of vanilla and caramel. They didn't figure out how to do this overnight. It took more than a year of experimenting before they created the perfect balance. One stave, made from French oak, was cooked on medium heat before toasting. The other stave was made from American oak. It was cooked on low heat for an extended period of time. The vast difference in the flavor of the two offerings makes us wonder what we're in store for next fall.
Tasting Notes:
Like all great bourbon sipping sessions, it all starts with the nosing. You'd be remiss if you took a sip without first savoring the aromas of rich, toasted oak, sweet cream, and salted caramel. The first sip brings forth flavors of vanilla beans, sticky toffee pudding, and caramelized sugar with a subtle nutty backbone. The finish is long, dry, and ripe with more vanilla and caramel that ends with a subtle flourish of cinnamon.
Bottom Line:
The folks at Maker's Mark spent a long time perfecting this whiskey. You should do it justice by pouring it over a few ice cubes and sipping it slowly while you watch the world go by around you. Its September launch is well-timed because this will be your go-to autumnal dram.