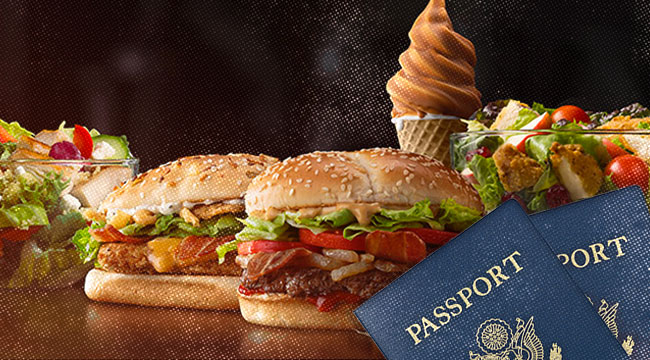 Earlier this summer, McDonald's brought some popular items from other countries stateside as part of their International Menu promotion. While we were excited about the idea conceptually, the menu left us a little unsatisfied. What we got was, well… safe.
Cheesy bacon fries from Australia and a tomato-mozzarella sandwich from Canada? C'mon McDonalds, you'll have to do better to thrive in the fast-food wars. Where was India's Hot Gold Masala sandwich or the Wasabi McNugget sauce from Japan?
Hopefully, we won't have to wait too much longer for gems like those, because the McDonald's Global Headquarters in Chicago has just announced a new international menu that features such gems as sweet potato fries and caramel dipped cones, signaling more interesting international favorites may be making their way into the American market.
McDonald's Global Headquarters in Chicago's West Loop is what is known as a "McDonald's Experience The Future" restaurant, acting as a testing ground for future McDonald's concepts. The newest iteration of the International Menu now features the following:
The Halloumi Muffin from Cyprus
Served with grilled Halloumi cheese on a toasted and buttered English muffin with slices of Roma tomatoes, lettuce, and optional bacon. But I mean c'mon — who isn't going to take that bacon?

The 1955 Burger from Germany
No, it isn't a burger from 1955, it honestly just sounds like a better burger than McDonald's is used to serving. Glazed sesame seed bun, seasoned ketchup, grilled onions, bacon, tomatoes, lettuce and a special blend of sauce. Looks like something the Ami's (what Germans like to call their American friends) might easily take to.
CBO from France
Chicken, bacon, and fried onions on a square bun with bacon and pepper-flavored cheese, two strips of crispy bacon, lettuce, and McDonald's signature CBO sauce sounds like a god damned hit. We had no idea France was sitting on the CBO, and we feel personally let down by Vincent Vega.
The Manhattan Salad from France
Couldn't find a picture for this one, but the Manhattan will feature baby kale, romaine, and spring lettuce topped with grape tomatoes, dried cranberries, and sliced apples. Toppings include your choice of grilled or crispy chicken and a small baguette and Bleu cheese. It sounds superior to every McDonald's American salad despite being called the Manhattan.
The "I'm Greeking Out" Salad from Canada
What is with international McDonald's having all the best salads? The horribly named "I'm Greeking Out" salad comes with sliced cucumbers, red pepper strips, crumbled feta cheese, seasoned couscous, herb and garlic pita chips, and sliced grilled or crispy chicken, served with greek dressing.
What do we get here in the states? The Bacon Ranch Crispy Chicken salad. Save that noise — ranch is over.
Sweet Potato Fries from The Netherlands
This is the star of the show for us. They're sweet potato fries, no extra frills, nothing. But just imagine a world where you can get a small order of regular McDonald's fries and a sweet potato version? This is the dream we want to live.

Caramel Dipped Cones from South Korea
Okay, so that isn't the Caramel Dipped Cone from South Korea but that's only because we couldn't find a single photo, which leads us to believe the caramel-dipped cone isn't actually popular in South Korea. We saw a whole lot of chocolate-dipped cones, and we saw this Cherry Blossom flavored soft-serve — a lot. In terms of what we're getting, just imagine the chocolate-dipped cone but encased in caramel.
Disappointing to say the least as far as reflecting Korea's innovative ice cream scene, but… still tasty sounding!
—
We know what you're thinking at this point: McDonald's in America seriously needs to start upping their game — clearly, they're more than capable of it. If you want to help make that reality be sure to head to the McDonald's Global Headquarters in Chicago's West Loop and order your favorites so that they make the menu items national and the rest of us have a chance to get in on the worldwide flavors too!