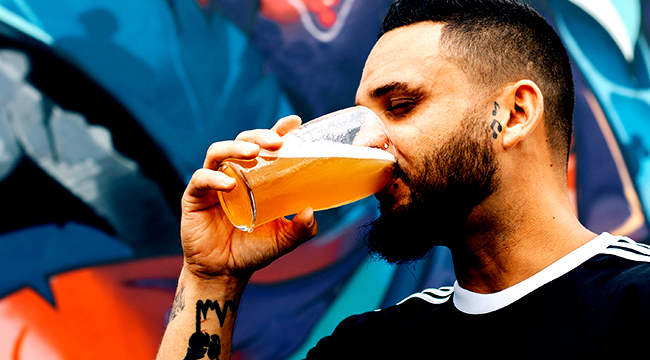 Though it seemed to take its time arriving, the summer heat has officially hit much of the country. This past weekend, temperatures rose above 90 degrees with heat indexes bouncing over 100 from Miami to Maine. The sweltering weather affected almost 200 million people.
A boiling, steamy summer day seems to naturally call out for ice cream, a swimming hole, and a few refreshing, crushable beers. But not just any beer will do. That's why we asked some of our favorite brewers to tell us which beers they like to drink when the mercury hits triple digits.
Dogfish Head SeaQuench
Jason Santamaria, brewmaster at Second Self Beer Company
DogFish Head is a brewery I've always looked up to for truly innovative beers. Their SeaQuench beer is a great gose that has just the right amount of tart and citrus to make it refreshing on a hot day.

High Water Cucumber Kölsch
Scott Francis, President, co-founder, CEO and co-owner of Santa Monica Brew Works
Cucumber Kölsch, High Water Brewing. We make a really refreshing Cucumber Kölsch, but it's only available on tap in our Santa Monica Tasting Room. If I can't make it into the brewery, I'm drinking High Water Brewing Cucumber Kölsch. Whether you're relaxing at the beach or in your backyard, this is a fine refreshing ale. Brewed with Pilsner malt, fresh cucumber, mint, coriander, and lemon peel – it'll cool you down during those dog days of summer.
Busch Light
Mike Stoneburg, brewmaster at Bluepoint Brewing Company
I'll grab some Busch deLight cans on a hot, steamy day. You're thirsty, drink three really quick. You won't be that thirsty anymore.
Ska Mexican Logger
Zack Kaplan, brewer at Bonfire Brewing
Mexican Logger from Ska Brewing. We spend a ton of time doing outdoor sports here in the Colorado mountains. This beer is refreshing in every season, and there's just nothing like cracking a cold one as you float down the Colorado River in a raft full of friends on a hot summer day.
Deschutes Pine Mountain
Carl Heinz, head brewer at Breckenridge Brewery
Any properly made, all-malt Pilsner beer like Deschutes Pine Mountain. The crisp, clean light malt character paired with assertive hoppy bitterness is more refreshing than anything else I can think of.

Dogfish Head Festina Pesche
Mark Theisen, head brewer at Coronado Brewing Company
I really enjoy Festina Peche from Dogfish Head. It has a nice subtle tartness that complements the peach. It's a classic summer beer.
Firestone Walker Pivo Pilsner
Alex Coronado, head brewer at Nap Time Liquid Creation
Probably Pivo Pilsner from Firestone Walker. It's perfect; one of the best beers I can find in America. It suits almost any mood, food, time of day. They also disappear surprisingly fast.
Anderson Valley Summer Solstice
Joe Connolly, director of Springdale Beer
My refreshing beer comes with a bit of nostalgia on top of being thirst-quenching. Anderson Valley Summer Solstice, because it tastes like orange creamsicles.
Other Half Tumbleweeds
Dean Jones, brewmaster at The Genesee Brew House
Other Half Brewing Tumblweeds Helles Lager – It's super crisp with great hop character that comes from the Saphir hops.

Bierstadt Lagerhaus Pils
Justin Baccary, owner of Station 26 Brewing
A slow-poured Bierstadt Lagerhaus Pils. I appreciate the massive effort that goes into making this seemingly simple beer. At the end of the day, I usually don't want a high-ABV IPA — I'd rather have a few of these (just don't forget to order your next round when the fresh one hits the bar).