National Ice Cream Day is today, which further proves that July is the best month of the year. Seriously, not only has National Ice Cream Day fallen on every third Sunday in July since 1984 — the entire month is recognized by the United States as National Ice Cream Month, by Presidential decree! It doesn't get any more official than that.
According to the International Dairy Foods Association, in President Reagan's proclamation of National Ice Cream Day he called on the people of the United States to observe with "appropriate ceremonies and activities." So let's — and trust me, I never thought I'd say this — listen to President Reagan and fill this weekend with some delicious frozen treats.
Here are all the best deals for National Ice Cream Day.
Baskin-Robbins — Save big on pre-packed quarts at two for $7.99 in-store only! Once you're there you'll wonder why it's so goddamn hot in an ice cream store.
Carvel — Carvel is doing a buy one, get one deal on all cups or cones of soft-serve ice cream. Perfect for friends, or you know, yourself.
Cold Stone Creamery — Joining Cold Stone's rewards program by July 20th will score you a BOGO deal on 'like it' sized ice cream. Not sure what to get? Ditch the menu and order vanilla with cinnamon, Kit-Kat, and graham cracker crust and thank me later.
Cumberland Farms — Text SCOOPS to 64827 and receive a coupon on National Ice Cream Day for a $1 off any Cumberland Farms Ultimate Scoop flavors. Not the best deal, do better next year Cumberland!
Dippin' Dots — Check with your local Dippin' Dots to find out when they plan on giving out fire mini cups of ice cream in-store. Participating Dippin' Dots will hold their giveaways during a two-hour window.
Godiva — Godiva boutique stores nationwide will offer a buy one, get on 50% off deal on soft serve and parfaits all National Ice Cream Day long.
Graeter's Ice Cream — Graeter's stores will be offering $1.49 single dip sugar cones to celebrate what happens to be the brand's 149th birthday! That's some old ice cream.
Halo Top Creamery — Using the Bumble app (Bumble Date, Bumble BFF, and Bumble Bizz) match with Halo Top for your chance to win a coupon for a free box of Halo Top Pops. Halo Top will be giving out 5,000 coupons on both the Bumble app and the Halo Top Website. Pop flavors include Strawberry Cheesecake, Mint Chip, Peanut Butter Swirl, and Chocolate Chip Cookie Dough. Coupons are redeemable at select national retailers worldwide.
Johnny Rockets — Johnny Rockets is giving out free milkshakes with your purchase of an entree on National Ice Cream Day. Nothing like a burger and a shake in a '50s themed fast food joint!
My/Mo Mochi Ice Cream My/Mo Mochi is teaming up with Uniqlo for an in-store pop-up celebration at select Uniqlo stores in New York, Los Angeles, San Francisco, Washington D.C., Boston, Seattle and Chicago and will be giving out free mochi!
We need more mochi-related ice cream offers on ice cream day, to be honest, so this is a win. Flavors will include sweet mango, ripe strawberry, and vanilla blueberry — guests will also be able to purchase My/Mo Ice Cream points filled with pillowy mochi bits!
Check the flyer for specific participating locations.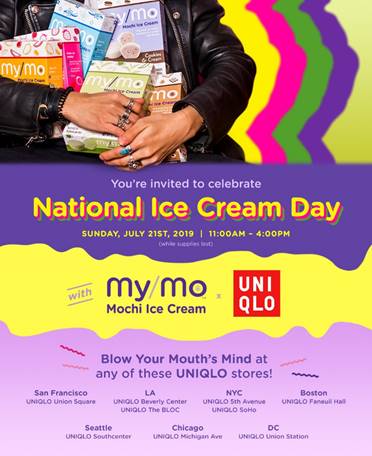 PetSmart — Your dog doesn't have to miss out on National Ice Cream day, take your pup into PetSmart on July 20th or the 21st to receive a free dog-friendly ice cream treat and biscuit. Don't eat it, it is for your dog.
Pressed Juicery — Pressed Juicery locations that offer "Freezes" will be selling them for the discounted price of $2 on National Ice Cream Day. Plant-based soft serve ice cream? I mean, for $2 we guess we're down.
Whole Foods — Prime members will receive 35 percent off on all ice cream at Whole Foods Market from now until the end of the month. Hooray!