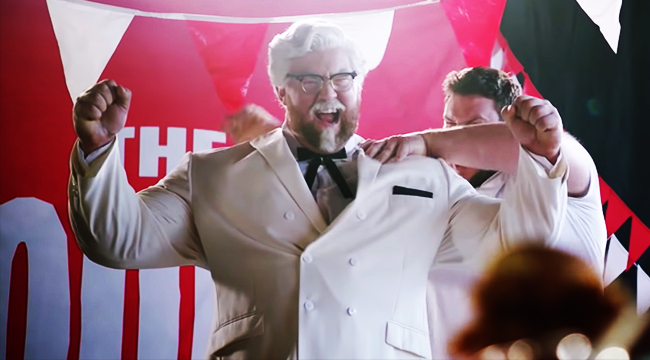 Have you ever just gotten the urge to drag a 700-ish pound cart of KFC sandwiches across the floor for 50 meters? Well, if you have, you and Hafþór Júlíus Björnsson, the actor who plays "The Mountain" on Game of Thrones have something in common. Okay, so maybe he didn't just feel like it, per se, but he is joining the ranks of other celebrities like Reba McEntire, George Costanza, Norm MacDonald, and Jim Gaffigan who have taken the challenge to dress up like Colonel Sanders for a KFC commercial. Unlike those other notable figures, though, the 6-foot-nine, 418-pound Björnsson is going for the world record of… dragging a bunch of Double Crispy Colonel KFC sammies across a floor while costumed to earn the title of the "Double Colonel"? Sure. Whatever.
Björnsson is seen clad in white from head to toe (including the hair and mustache), pulling a cart of sandwiches arm-over-arm from a seated position in a the never before accomplished challenge, only after hilariously giving his life story (in a thick Icelandic accent) about growing up in Kentucky to "become a strong man." The gag is that Björnsson actually holds the title of World's Strongest Man and is the first person to have won the Arnold Strongman Classic, Europe's Strongest Man, and World's Strongest Man all in the same calendar year. Maybe it's a double-gag because the dude definitely doesn't have the body of someone eating tons of fried chicken.
The ad gets a little weird — as most colonel ads do — but it's fun enough. Still, if KFC wants to see this character really be relevant again let's get a little diversity in the mix!