Phil Rosenthal has an insatiable hunger for life! Across the 33 episodes of his excellent Netflix travel show, Somebody Feed Phil, the Emmy-nominated actor, writer, and director has explored five continents and 38 cities around the world. He doesn't seem to be stopping anytime soon.
"It's a big world out there, somebody's got to eat it!" Rosenthal tells me over a Zoom call one unseasonably cold LA morning in February after returning from a recent trip to the UK to promote his new book, the perfectly titled Somebody Feed Phil The Book.
The book — already a New York Times bestseller — shares behind-the-scenes stories from the first four seasons of the show, scripts from Rosenthal's video calls with his family, and 60 of the most fan-requested recipes from famous international chefs and local legends. The book is one-part celebration of the show and one-part greatest hits cookbook. Meaning it has a little bit of everything for everyone, whether you're a super fan of the show and Rosenthal's feel-good humor or just coming for all the food porn and want to take a stab at taking making the recipes yourself without buying an expensive plane ticket.
We spoke with Rosenthal about the book, asked him to reveal his favorite food destinations (and his favorite foodie city), and talk about how he feels about fast food. He also shared the most requested recipe from the book to get you started on your culinary journey. The recipe in question, Braciola all'Arturo, comes courtesy of Da'Atutro's Ernesto Ballarin, who was covered in season two's "Venice" episode. In the episode, Rosenthal referred to it as "the world's best pork chop" and considering it's a fried pork cutlet, we're inclined to believe him.
Check out the interview below and hit the recipe at the bottom of this page!
PART I — The Interview
Tell me about Somebody Feed Phil The Book.
Oh, well this is a book, it's kind of a hybrid of sorts. It's the companion book to the show, with my essays and writing about how the show got started and how we make the show, and a lot of behind-the-scenes photos that my brother, the producer, has taken on the road. And then it's a fantastic cookbook because 60 of the most requested recipes from the audience, from the best chefs in the world that we've met, are in this book.
And they're all tested and this is how you can make them in your home kitchen.
I just wanted to ask some questions about your travels in particular. And I know this is going to be kind of a tough question to answer for somebody who's been to so many places. But what are some of your favorite food destination cities?
Well, Italy wins for some reason. I don't know why, because I've now been to several places. But for me, maybe it's because it's one of the first places I ever went when I was in my early twenties and I just fell in love with the people. I always say, everywhere you look is beautiful there. Every bite of food is delicious, and everyone's hugging and kissing you. So what's not to like?
But I've, I've just been to Paris again and that is a knockout of a city and a place. And the food is also phenomenal. Also, I'm in love with Spain. I love every place that we go. I love Thailand. The food in Thailand, some of the food there, has been some of the most spectacular I've ever had in my life. There was a crab omelet that I'll never forget. There was a bowl of Khao Soi in Chiang Mai that I will never forget. It also was a dollar, which is my second favorite price.
So one of the great things about travel, in addition to being the most mind-expanding thing we could do in life, is that you find things. Let's take food for example, food you can find in the United States again. You get turned on to a dish, like Khao Soi for instance. It's at most Thai restaurants. You can find it. You would never know to order it, but if you go to Thailand and have this fantastic thing, now you know to order it when you're in a Thai restaurant in the United States. So it makes your life better for the rest of your life.
Right. Right. I know that one of your mottos is "food is the great connector." Obviously, you've proven that in the show.
Thanks.
Can you make the case for why is it so important for people to expand their horizons and get traveling in order to experience new things? Why is that such a vital thing that everybody needs to do? I know that you famously pushed Ray Romano to travel.
That's right.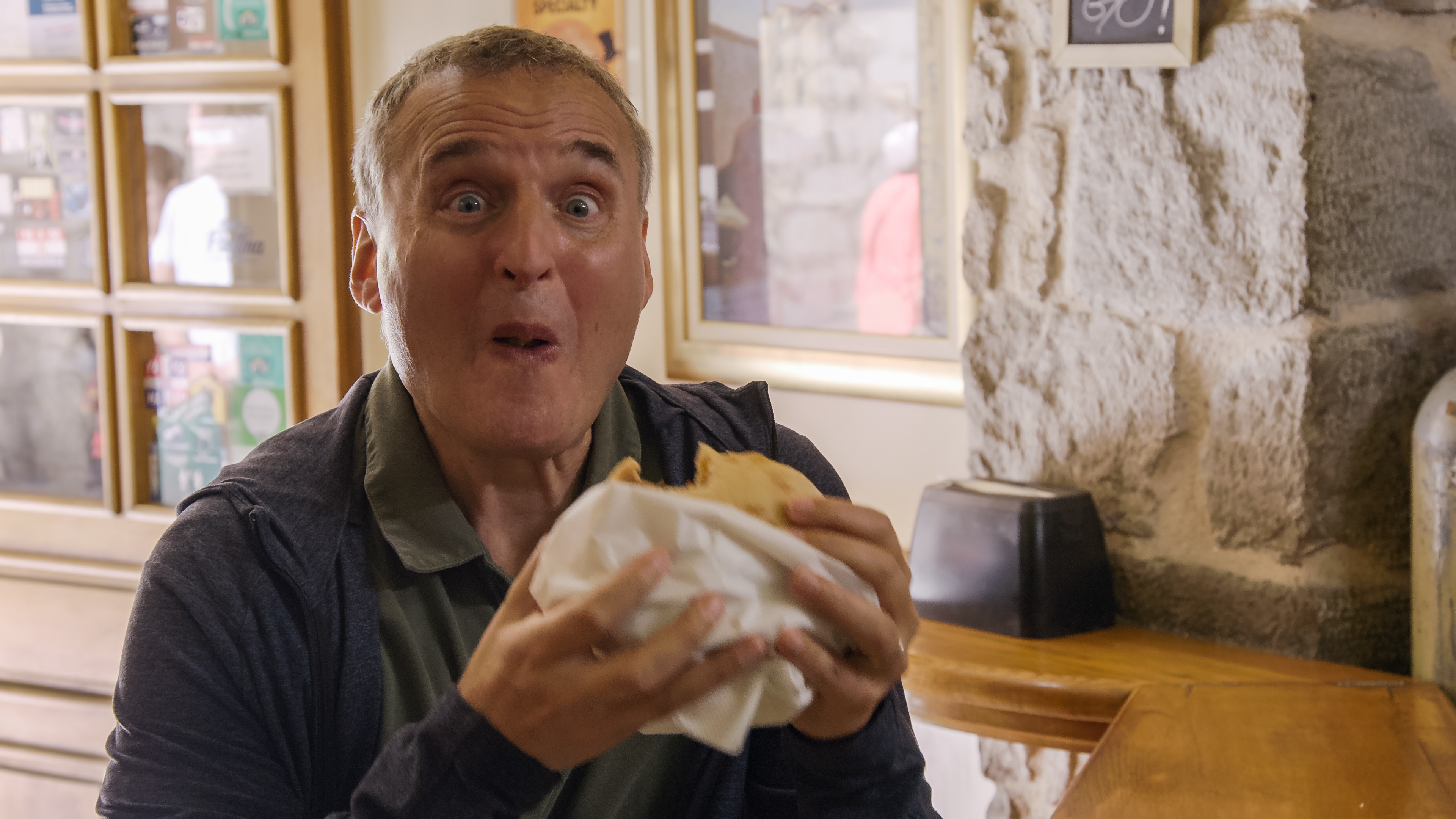 What kind of advice you would give to somebody who might be as apprehensive as Ray once was?
Yes. Well, first of all, to answer the first part of your question, why is it important? 'Cause I think the world would be better if we all could experience a little bit of other people's experiences. I think maybe we wouldn't have the problems that we have in this country if people were a little more open-minded. Two-thirds of Americans don't even have a passport. And I just think if they were exposed to other people from other cultures, they would see that they have nothing to be afraid of. Right?
When you share a meal with someone, you're already on common ground because we all gotta eat and it's something that we all enjoy doing. I've never met a culture that doesn't love eating. In fact, every culture that I meet says that they eat more than any other culture. "Oh, if you come to my Chinese mother's house, she'll never let you out of the house without killing you with food." Same with Italian people. Same with Greek people. Same with Chinese. Korean people. We're all the same in that way.
And why is that? Because it's the way to show hospitality and it's something that we naturally must do anyway. And it's one of the most relatable things. I always say food is the great connector, and then laughs are the cement. If we share a laugh, then, over the meal that we're having, now we're friends and we'll eat again.
If people who are nice people, and I think the world is mostly populated with nice people, they just don't get on the news as much as the not nice. But it's important for nice people to go to represent niceness in the world. And of course, what you put out is what you get back. I literally think it would make the world better. All you have to do is take that baby step out of your comfort zone, and that's where the fun is.
And in terms of pushing people out of that comfort zone?
You get them to take baby steps. During Covid, we couldn't go anywhere. So how did I travel? I traveled through the menu on my phone. I would look up a menu of an ethnic restaurant, let's say that I hadn't tried before. A whole cuisine that I never tried. It doesn't cost anything to look. So you look: Oh, what's this Peruvian place? I never had Peruvian. Oh, they have chicken and rice. You like chicken and rice? Yes. So try it. Oh, it's delicious. Maybe I'll try something else from there.
Now maybe Covid is over, I go to the restaurant. You meet the owner. Now you've fallen in love with it, and then the next thing you know, you're in Machu Picchu. That's how it works. That's from looking at the menu on your phone. That's all I'm asking of people. Try something, try it. Just try it. Because what's the worst that can happen? We're not children. The worst that can happen is I didn't care for it. So you don't have it again. But at least you tried it. And the journey, just like everything else in life, the journey is its own reward.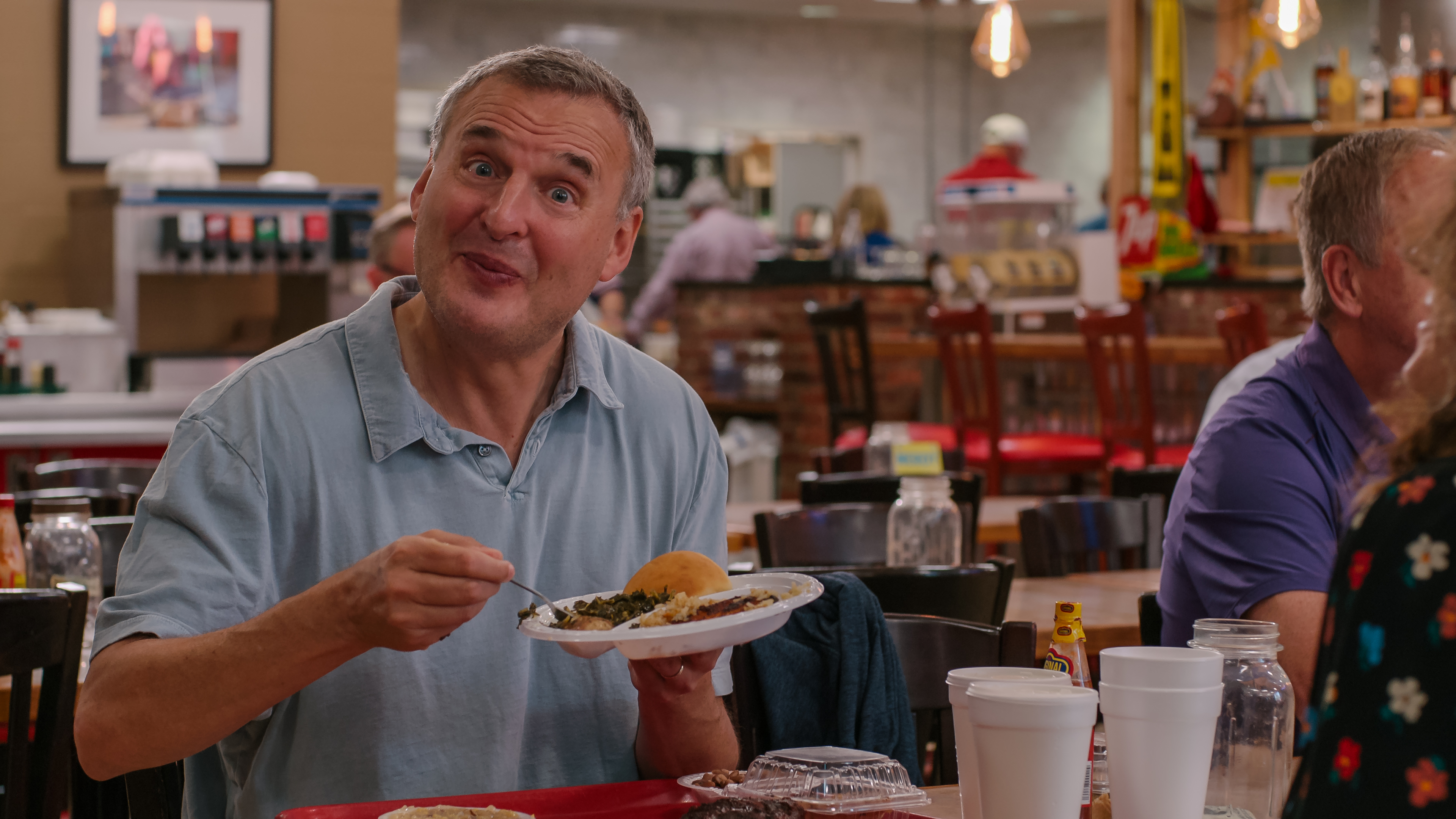 Is there a food out there that's very popular that you just can't seem to get behind? Obviously, on your show, you don't show when you don't like something, because that would be really rude to your guests and that's not your vibe.
Yes.
But what's a really popular food that everybody loves and you just for some reason can't get behind? Does such a food exist for you?
It does exist. I'm not crazy about black licorice, for example. The world seems to enjoy it.
Same.
Also, in my hometown, I can't understand why the Dodger Dog is popular.
I come from New York and I love hot dogs around the world. In Chicago, they make great hotdogs. And a lot of great hotdogs here in LA. And there are great hotdogs in Copenhagen. Right? This is my comfort food, from when I'm a child. The Dodger Dog is antithetical to all these things. I have no idea why it's popular. But I understand that if your dad took you to a Dodger game when you were five and you had this hotdog, you love it.
Is there anywhere that you haven't gone yet that you're dying to go to?
Yes, India. And I haven't been to Greece yet or Turkey.
Really? You haven't been to Greece?
I have not. No, I haven't. I haven't been to New Zealand yet. These are all places I want to go. I haven't been to a lot of Spain yet. I haven't been to Sicily yet.
Oh, wow.
I know. The White Lotus killed me. I can't wait to go.
Are there any other shows, like White Lotus, out there that you watch where you think, "Oh, I got to try the food." Even if it's not explicitly about food?
Every single Anthony Bourdain show that he ever did. He was on for 18 years. He was on so long that he went back to places multiple times. I dream of that.
How do you see your show continuing to evolve as it goes on in the years? Would you like to do what Bourdain did and re-explore places you've already been to? Or are there just so many places still that you have yet to go to that you'll always have content?
Well, you'll never run out of content. Because not only is the world gigantic, it's 194 countries. I've done 32 shows, right? So I haven't even hit every country. I don't think it's possible to do it, let alone the cities in those countries. There are places in the United States I've never been.
So yes, the answer is yes and yes. I want to go hit all the places I've never been to and revisit them. By the time I've done that, it's time to revisit other places. Places change, especially giant cities like New York and Tokyo and London and Paris and Rome. I mean, it's a big world out there. Somebody's got to eat it.
Do you have a favorite American city for food?
Los Angeles.
And why is that, is it the variety?
Yes, yes. The variety is amazing! We have this great diversity. We have the largest populations of people outside their native homelands in, I think, the world. So there are more Chinese people in the San Gabriel Valley than anywhere else on earth outside of China. You can visit the different provinces of China just by going to the different neighborhoods in the San Gabriel Valley here. And we have the most Mexican people, the most Korean people. I could go on and on. Your chances of hitting a great meal are exponentially greater because of this diversity, because of the number of people.
What are some of your favorite places right now in Los Angeles to grab a bite?
Oh my God.
It doesn't have to be a hard favorite, just whatever comes to your mind right now.
Off the top of my head, I think République is amazing, I think for breakfast, lunch, and dinner. I love Sonoratown.
Me too!
View this post on Instagram
Oh my God, it's great. I love Sea Harbour for dim sum in the valley, in the San Gabriel Valley. I love Mozza for Italian food and Antico Nuovo for Italian food. There are so many. I mean, name a cuisine. There are so many great places. That's just off the top of my head right now.
We're pretty spoiled when it comes to food for sure.
I love Angry Egret downtown. None of this stuff needs to be fancy. In fact, I prefer places that aren't fancy. I want great food. I don't care about the setting, really.
You were just in the UK, right?
We did the book tour there. I couldn't believe how many international fans we have, and it's so nice. We're selling out these 1500-seat theaters all over the place. I was in Amsterdam, in Paris, had two sold-out shows in London, and Glasgow and Belfast and Dublin.
It was so much fun. And I'm on the road now around the United States too, because I'm trying to promote the book because proceeds from my share of the book are going to, iamals.org and ALS is what my mom passed away from, so this is a labor of love for me to go. And I have to be honest, I've been having such a good time meeting all the people. They're so beautiful and great to me. Who wouldn't love this?
As a final question, do you have any favorite fast food brands?
There's this chain called Nando's that's popular in England. I think there's one in Chicago. Do you know it? It's a chicken place. It's fantastic. I love it. It's just great.
But other than that, you're just kind of sticking to the local places. You're not hitting up a Wendy's?
Not really. No. There are too many great places. You can eat just as well. I mean, you can eat just as reasonably cheaply at a mom-and-pop place. My favorite thing in America is diners. I think we're losing our diners, and it's my dream to open one. I would love to open one in my neighborhood.
What's going on your diner menu? Just the kind of classic greasy spoon stuff?
Classic. If you saw our Maine episode, there's a place called the Palace Diner, which is in an old railroad car, and it's just like this. All this comfort food that's been idealized by great chefs without making it fancy. They just used amazing ingredients to elevate a tuna sandwich, a burger, an omelet, French toast, and pancakes. Just the best of those you ever had. And I realized, "Oh, this is my favorite thing in life, is this food."
PART II — The Recipe: Braciola all'Arturo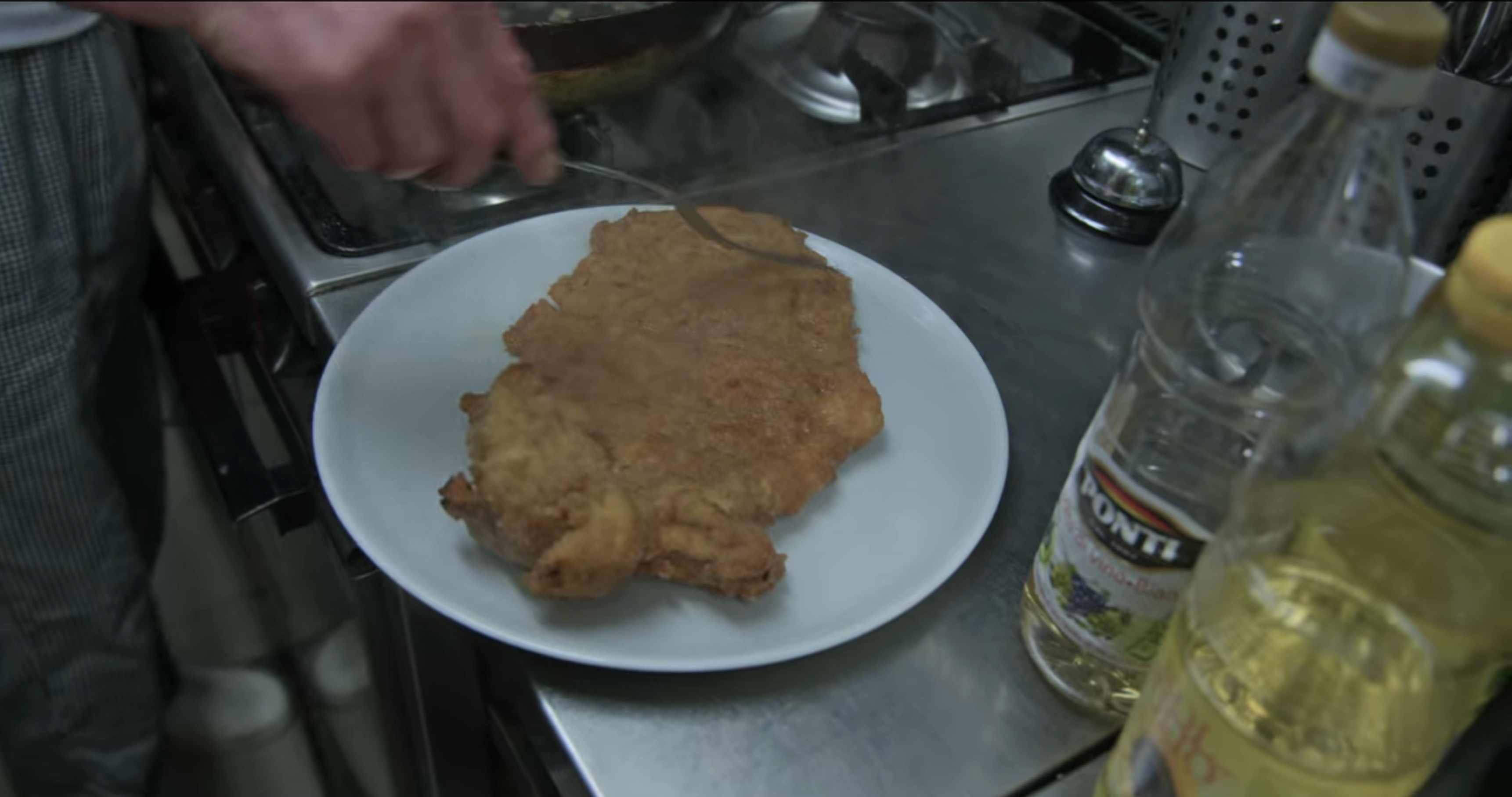 Serves 2 (1 for today, 1 for tomorrow)
When I opened this restaurant in 1968, people said I was crazy in Venice to have only meat, no fish. This is one of our most popular dishes. You need to pound the pork chop very thin. –Ernesto Ballarin
8- to 10-ounce (225 to 280g) pork chops, preferably bone-in
1/2 cup (60g) all-purpose flour
11/2 cups (165g) fine bread crumbs
large eggs, lightly beaten Fine sea salt
Vegetable oil, for frying
1 cup (240ml) white wine vinegar, divided
Use the smooth side of a meat mallet to pound the pork chops as thin as possible without tearing the meat (about 1/4 inch/6mm thick). If using pork chops with the bone, pound the meat up to the bone but leave the bone in place. Put the pork chops on a sheet pan, sprinkle the flour evenly over both, and toss the pork chops in the flour until well coated.
Put the bread crumbs in a mound on another sheet pan and put the eggs in a large bowl.
Dip 1 floured pork chop into the eggs, shake off the excess, then lay the pork chop on top of the bread crumbs and flip the pork chop in the bread crumbs until evenly coated. Dip the pork chop again in the eggs, coat it a second time in the bread crumbs, and sprinkle both sides with the salt, to taste. Bread the remaining pork chop the same way.
Heat about 1 inch (2.5cm) of oil over medium-high heat in a large cast iron skillet or sauté pan (large enough for 1 pork chop to lay flat) until very hot. Test the oil by adding a few bread crumbs; they should sizzle. Add 1 pork chop to the skillet and fry until golden brown, 2 to 3 minutes, flip, then brown the other side, about 2 minutes longer. Transfer the pork chop to a plate.
Carefully pour the hot oil from the skillet into a saucepan or metal bowl (save the oil for the second pork chop).
Return the pork chop to the skillet, pour 1/2 cup (120ml) of the vinegar evenly over the surface of the meat, and cook over medium heat, flipping the pork chop occasionally, until the vinegar has mostly evaporated, about 5 minutes. Transfer the pork chop to a plate, let rest for 5 minutes and serve.
When ready to cook the second chop, pat the skillet dry with paper towels, pour the reserved oil through a strainer into the skillet, and add more vegetable oil, if needed, to fill the skillet by about 1 inch (2.5cm). Fry the remaining pork chop the same way, let cool completely, cover, and refrigerate overnight. Serve the second pork chop at room temperature.
*Tip Use the smooth side of a meat mallet, not the textured (tenderizer) side to pound the pork chops to avoid tearing the meat.