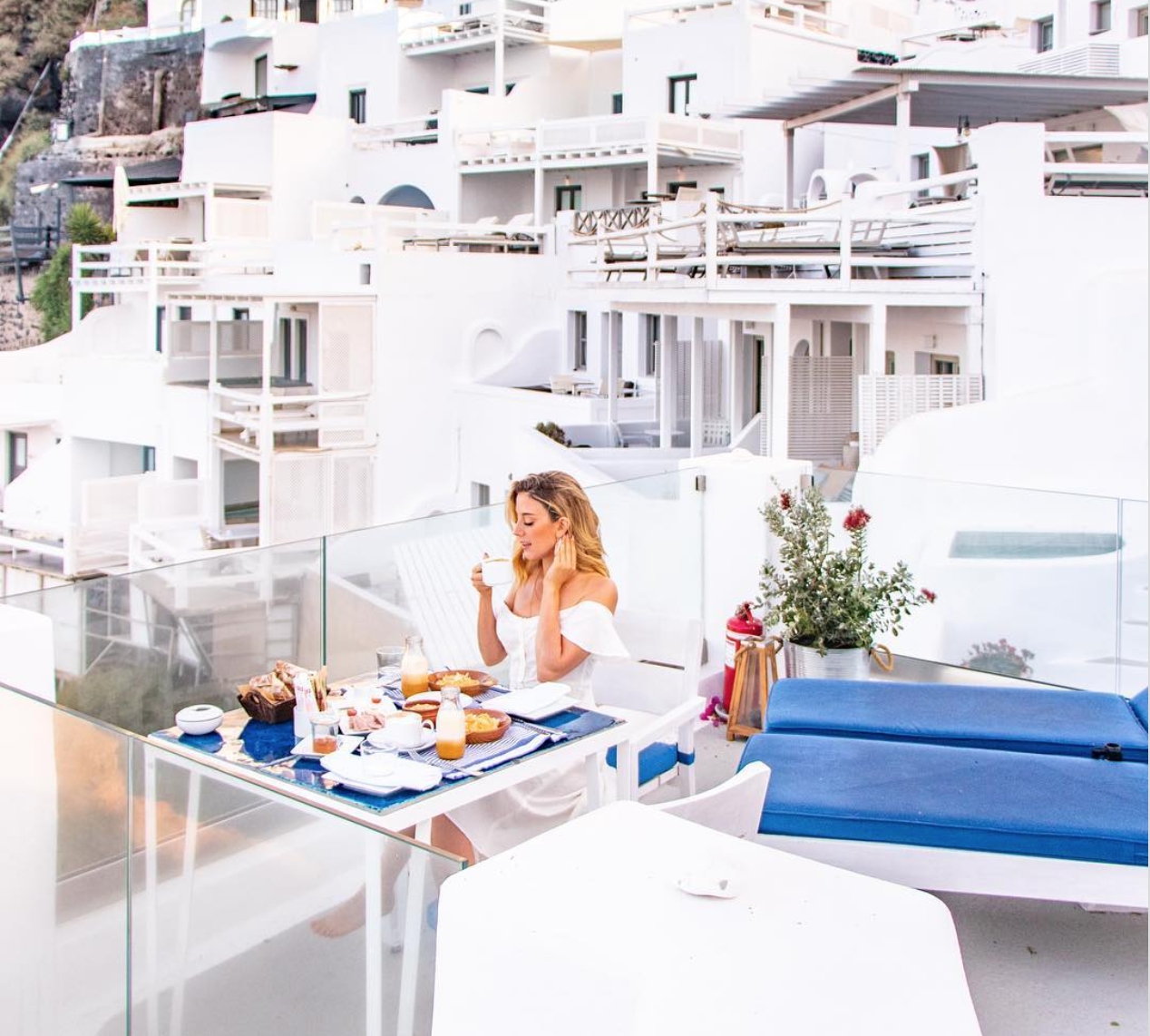 Being a savvy traveler is definitely a good skill to have. Unless you're a one percenter, budgets matter. It's why we're always trying to find you the sweetest deals and the best-value options. Sometimes, however, there are destinations so magical that in order to be done right you'll straight up need to splurge. Destinations like the Greek islands.


When I was setting out to plan a trip to Greece, last spring, I knew it was going to be expensive. Not just because of flights and the exchange rate from Canada (where I live), but also because the best time to go to Santorini is right in the thick of their peak travel months. If I wanted an epic trip full of Caldera cliff views, it was going to cost me. In the end, I had to bite the bullet.
Why are Caldera views so important? Santorini is actually situated on the side of the mouth of an underwater volcano. The original eruption created dramatic cliffs with over 1000 foot drops at their highest point. These volcanic cliffs offer beautiful views of the Aegean Sea from cascading white hotels which, if you search Instagram for #Santorini, is pretty much all that you'll see. The island is made up of three main towns (Fira, Imerovigli, and Oia) all of which are located on the caldera edges and provide those picturesque, camera-ready scenes.
Although this trip was expensive, I have absolutely no regrets about any credit card debt I may have collected along the way. It was the trip that made my year and I'm more than happy to reminisce while sharing my favorite spots.
What to Do:
https://www.instagram.com/p/BmTw_DZhdCC/?taken-at=218214254
Go watch the sunset in Oia – One of the most picturesque and Instagramable towns in Santorini, Oia is known for being the best place on the island to watch the sunset. However, it also attracts busloads of tourists during dinner/sunset hours which can make it a fun place to visit, but not the ideal place to stay. With that being said it is still a pretty memorable time to be amongst the large crowd, enjoying a beer, and watching the sunset.
Visit Eros and Perivolos Beach – Eros beach is a 'new' beach but the drive in is incredible. It reminded me of the scene from Star Wars where young Anakin is racing in the rock canyon. So cool! Perivolos beach is where all the beach clubs are and offers a completely different perspective of the island – a cool spot to hang out and a change from the caldera landscape. 


There are tons of restaurants and bars along the Perivolos beach strip making it a great place to spend an entire afternoon.
Go sailing! One of the best activities I did while on Santorini was a sailing tour around the island. During our walk one evening into Fira we booked a 5-hour sail on a catamaran with Santorini Sailing, and it was hands down the best decision I ever made. It was incredible to experience the island from the water. Lunch and alcoholic drinks were provided while on board making it totally worth the 95 euro per person price tag.

Where to Stay:
Iconic Santorini – A Boutique Cave Hotel is located in the village of Imerovigli – a small town on the tallest cliffs of the island. A short 15 minute downhill walk will bring you into Fira (the largest town on the island), making Imerovigli the perfect place to provide seclusion from the busy tourist sections of the island while also being close enough to visit at your leisure. This also means that the hotel has the highest and, in my opinion, the best views of all the towns along the caldera making it a perfect perch for the Insta-set. 


The tranquil, 19 room boutique hotel that cascades over the cliffs. The rooms consist of beautiful, inviting, and cozy cave style chambers that are carved into the mountainside. Each room has been decorated with a natural, comfortable, Greek influence in mind and comes with its own private patio area. Further, each patio has both a breakfast table and a set of sun chairs so you never have to share. Breakfast is included with the stay and is brought to your private patio at your leisure – all you gotta do is call!
Again, caldera accommodations are expensive but that doesn't mean you can't find a cheap place to stay. A quick search led me to accommodations starting around $250 US a night.
Where to Eat:
https://www.instagram.com/p/BlN1n_UD1XD/?taken-at=1404082056369044
Ammoudi Tavern in Oia – If you like traditional Greek cuisine and want to eat some seafood in a beautiful cove below the city of Oia while watching the boats pull in after sunset, this is the place. The food here is exceptional and totally worthy of an Instagram post that will make your friends back home drool.
Argo in Fira – Located a stone's throw from Tango Bar (the best club in Fira), Argo is superb. Their second level deck offers a nice view of the towns that line the caldera as well as acts as a perch for people watching. The food here is splendid. We ordered a large seafood platter and it was the best meal of the trip.
To Psaraki – A favorite amongst the locals and situated by the marina, Psaraki offers great traditional seafood dishes at a very reasonable price. It's also smack in the middle of Eros beach and Perivolos beach making it a perfect spot to stop for a bite on the way.

Where to Party!
Tango Bar in Fira – This spot honestly feels more like a club and drinks will run you about $20 US a pop, but it's definitely a fun place to people watch, dance, and ball out. It's also situated right on the side of the caldera so again, you get those jaw-dropping views.
Tropical Bar in Fira – Also located in Fira, Tropical Bar is a more casual alternative to Tango Bar. Numerous different locals recommended it to me as a great place to grab a drink at the beginning of the night because the drinks are cheaper, the crowd is younger, girls can get up and dance on the bar, and people get rowdy.
Unlike Tango bar, there isn't a DJ but that didn't seem to stop everyone from singing along to all the classic 'Top 40' hits. They also have a small balcony area where you can sit, smoke, cool off from the sweaty dance floor, and enjoy a drink.
Uproxx was hosted for this trip. You can read our policy on press trips here.