System of a Down isn't the first band that comes to mind when you think "weed." "Aerials," doesn't make you want to light up the same way… just about any Snoop track does, B.Y.O.B. (that's bombs, not beers) can't exactly be described as chill, and "Chop Suey," beautiful and transcendent as that breakdown sounds when you're stoned out of your mind, doesn't have any explicit lines about weed. It's certainly not overt, in the way Bieber's "Peaches" is. So we don't blame you if you weren't on pins and needles just waiting to find out more about System of a Down bassist Shavo Odadjian's weed brand.
That said… maybe you should have been. Because Odadjian's cannabis brand, 22Red, is more than a cheesy vanity project or a celebrity gash grab — something the weed space is flush with. There's actual passion behind this company and the quality of bud proves that.
22Red (which is available at select dispensaries in CA, AZ, and Nevada) takes Odadjian out of the picture. He's not on the packaging, he didn't personally design the jar a la Seth Rogen, his name isn't anywhere in sight. There is no mention of System of a Down or a strain called "Chop Suey." Everything is focused on just the important stuff, the bud.
According to the website, the brand sees itself as a "boutique quality cannabis brand" and the frosty nugs from the brand's stock — which are sourced from a variety of master growers in California and hand-selected by Shavo — illustrate that. The brand's seemingly obscure name was inspired by Shavo's love of numerology and synesthesia, according to the brand's website the number 22 "possesses the energies of your biggest dreams," so if there was ever a doubt in your mind whether Shavo actually smoked weed… we can confidently say he does.
But how does his weed smoke? We found out by sampling three of the brand's strains. Here are our stoned thoughts.
22Red — Strangelove
Price: $50
The Strain: Hybrid
Tasting Notes & Experience
First up is Strangelove, a hybrid strain with Gelato 33 and Kush Mints genetics and a high 30% THC potency. The buds feature a deep green color with a powerful pine smell. Burned in a bong, it produces a thick milky smoke with sweetened citrus flavors with a floral mint finish.
The high comes on quickly and hit me with a soothing buzzing feeling at my brow that gently settled across my body, inducing a bit of euphoria and a sense of well-being. This is definitely something you want to smoke when you're setting out to relax and take in your surroundings.
The Bottom Line:
Smoke this before chilling at the beach and taking in the waves, or when you've reached your hiking destination. It produces a euphoric high that heightens your visual senses.
22Red — Butter Crunch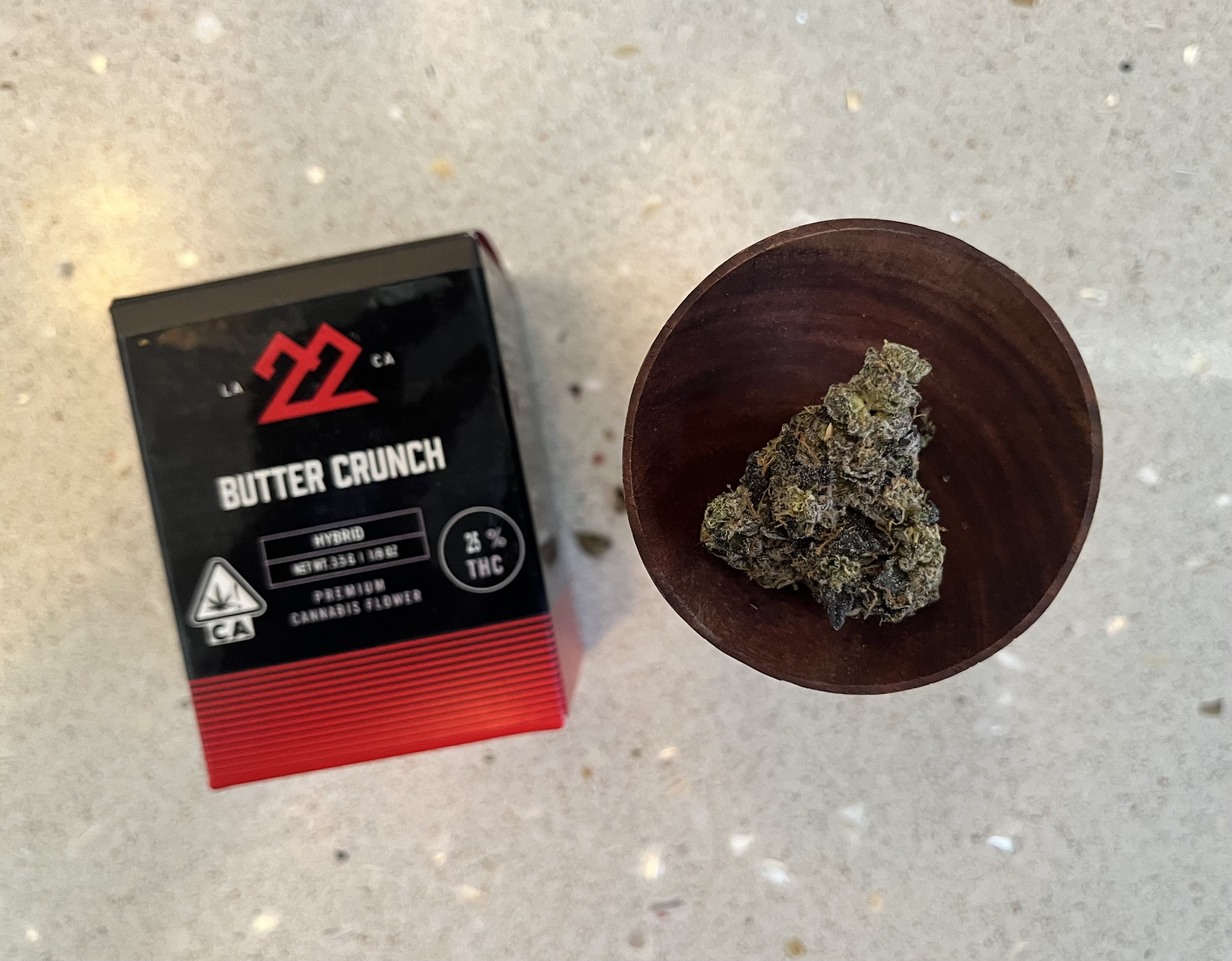 Price: $50
The Strain: Hybrid
Tasting Notes & Experience
Another hybrid strain, Butter Crunch is much more Indica leaning than Strangelove, with a slightly more manageable THC content of 25%. This results in a much less blissed-out high, but is equally relaxing. So far it seems like 22Red's vibe is geared toward relaxing and checking out mentally, so if you're about those mind trip highs, this is definitely your brand.
The Butter Crunch has a sweet earthy and buttery flavor, worthy of its name, and produces a gooey full-body high that will want to make you lay down, listen to your favorite music, and do little else.
The Bottom Line:
If you're looking for a cheap, relaxing, body buzzing vacation, smoke some Buttercrunch and it'll get you there.
22Red — Angry Apple
Price: $50
The Strain: Hybrid
Tasting Notes & Experience
Yet another hybrid strain from 22Red and you know what? I don't hate it. Bring on the hybrid — strains have always been more complicated than 'indica' and 'sativa' so we're happy to take on attributes from both strains. It's all about the terpenes anyway.
Judging by Angry Apple's sweet tropical punch flavor, we're going to guess the dominant ones involved here are myrcene, known for its relaxing sedative qualities, and limonene, known for its mood-boosting, anxiety-melting benefits.
We don't know that for sure, 22Red sadly doesn't list terpene information on their packaging or website, but the flavors here and the feelings of well-being brought on by the strain strongly suggest it. With a high 27% THC content, Angry Apple is going to blow your mind, with a high that isn't quite as heavy as the Butter Crunch or intense as the Strangelove, and instead expresses itself cerebrally.
It's the only one out of the three strains that I can imagine smoking outdoors or while hanging out with friends.
The Bottom Line:
This strain is slightly geared more towards those who like to be active while stoned, with a sweet and fruity flavor that tastes best in a bong or vape.
Final Thoughts On The Brand:
We're digging on 22Red. The quality of the bud is top-notch, and the experience given by the curated cannabis matches the best of celebrity brands, like Houseplant, at a more affordable price.
Find a dispensary holding 22Red near you here.