Easily the biggest cannabis brand launch of 2021 so far and another sign of its founder's unstoppable productivity, was the Seth Rogen and Evan Goldberg collaboration: Houseplant. It isn't often that a weed drop breaks the internet (or at least its own homepage), but when news of the release went live this past March the site froze and glitched like Rogen on an edible at the Golden Globes with Bryan Cranston.
Well… we have underestimated you once again. Due to insane traffic we took the Houseplant site down temporarily while I learn to write code. I'm very sorry if you've been waiting. There's still a lot of products available! I will let you know as soon as it's up again.

— Seth Rogen (@Sethrogen) March 11, 2021
The flood of interest came after Rogen announced the brand's long-anticipated United States launch (the company has been operational in Canada for the past two years). Since that initial news, Houseplant has expanded out of Los Angeles — where it was exclusively sold for about a month and a half — and can now be found in dispensaries throughout California.
Houseplant's now smooth-running site features a cannabis line made up of three different strains and a variety of very stylish home products, including pottery by Rogen. Seriously, dude's future in housewares is legit. He's capturing the early 70s zeitgeist perfectly with these pieces — everything looks like it should be in Megan Draper's Laurel Canyon bungalow during the last season of Mad Men.
But admiring Rogen's design aesthetic isn't why you're here. On to the weed!
The Weed
Houseplant has kept tight-lipped (almost as tight as those tin lids, but we'll get to that!) about who or what company, exactly, is growing Rogen's sought-after buds. After comparing a variety of Certificates of Analysis (COAs) — which are thorough testing result documents available at any dispensary for any product being sold in-store — the grower can be revealed as Los Angeles-based THC Design.
This is a smart pick by Rogen and Goldberg. THC Designs is a high-quality indoor grow house that also provides white-labeled cannabis for Method Man's Tical and Presidential, as well as its own line. Though Houseplant says its three strains — Diablo Wind, Pancake Ice, and Pink Moon — are proprietary to the brand, the COAs indicate that, at present, they are close cousins to three THC Design Strains: XJ-13, Crescendo, and 24-K.
Does that mean that the weed is any less potent? Nope — in fact, Rogen's versions of the strains are all slightly more potent. Is it necessarily a bad thing? Not at all. Should global movie star, director, writer, potter, and Ted Cruz troller Seth Rogen have to set up his own goddamn grow house from scratch just to enter the weed game? Certainly not.
The idea of white labeling simply implies that customers may pay a premium to get Houseplant compared with their THC Design analogs. In San Diego, for example, an eighth of XJ-13 costs $39; an eighth of Diablo Wind costs $69. Where you land on whether or not you want to pay that premium is, obviously, up to you.
Here are the front pages of the COAs for Rogen's Diablo Wind compared to THC Design's XJ-13, in case you want to see how we drew this conclusion. Please note that these certificates are readily available at every dispensary — we're not putting anyone on blast or sharing industry secrets.
Diablo Wind COA: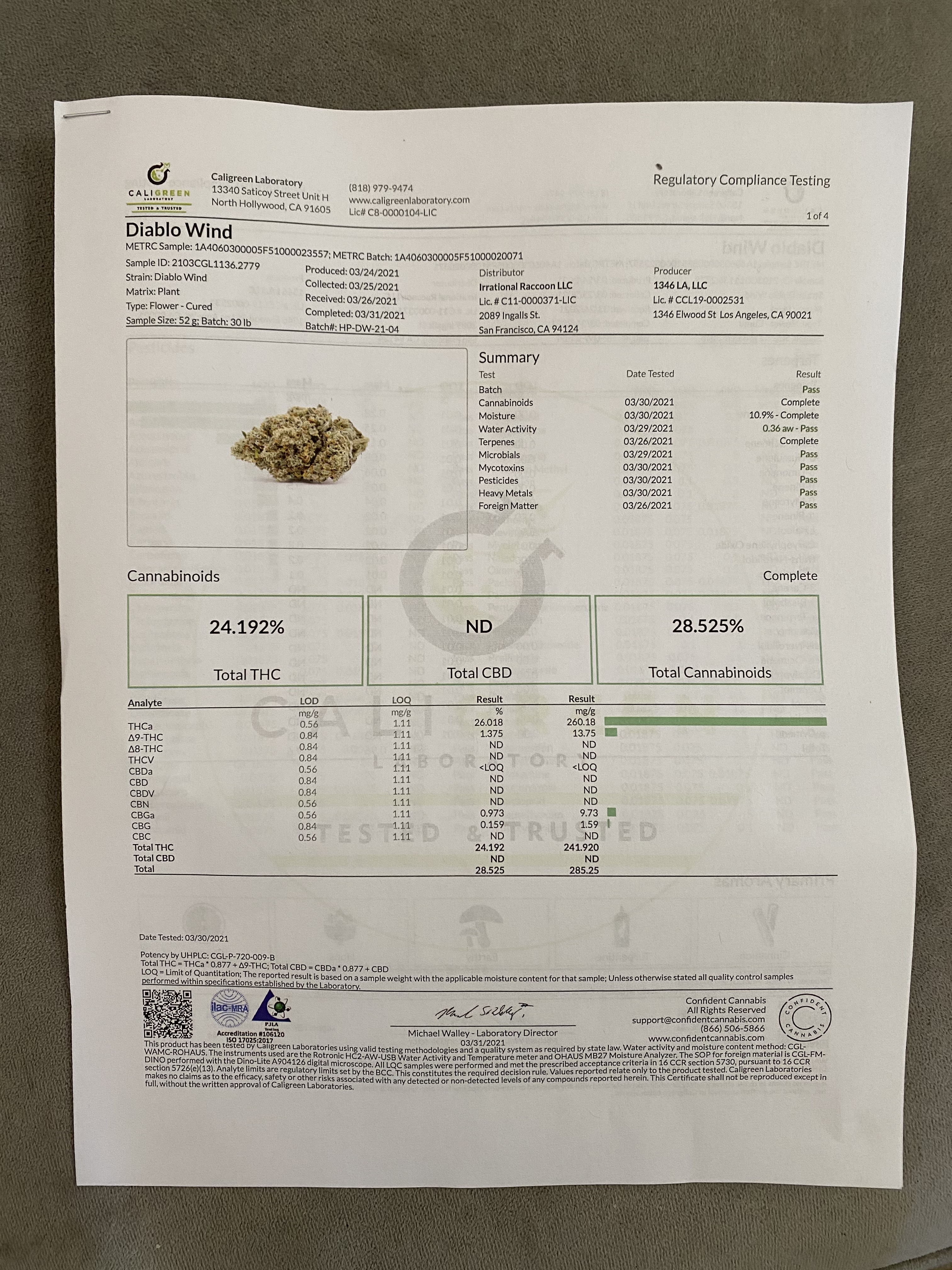 XJ-13 COA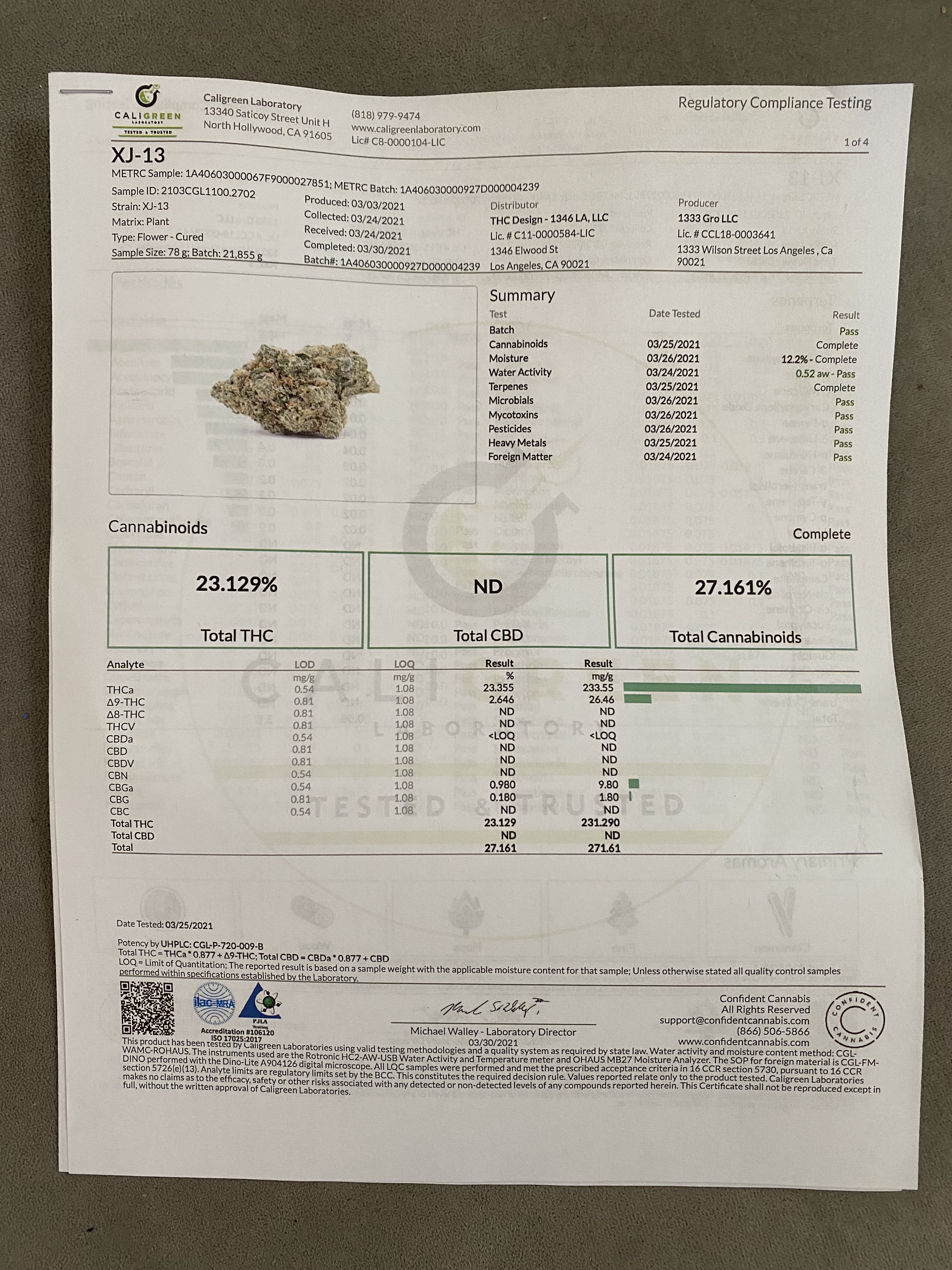 If you're curious about the two addresses listed on those COAs, they're in the same grow compound. The address on the Diablo Wind certificate is registered to THC Design. As far as the actual strains, you'll note that the total cannabinoids and the distribution of those cannabinoids match closely, so you can reasonably expect the two strains to react quite similarly with your own biochemistry. If this intrigues you endlessly, enlarge the QR codes on the two documents pictured and dig in.
Otherwise… we'll shut up about the origins of the herb.
The Experience
Anyone who buys this weed is getting some of the best legal indoor cannabis on the market. THC Design is one of the best in the game and Rogen clearly took this collaboration very seriously. When he says he tested and picked strains with great care, there's no reason in the world not to believe him. You may have heard, the man likes to get high.
Before we get to the actual weed, a quick aside about the packaging. It's stylish! But also a little cumbersome. Each strain comes in an individual tin with two plastic teeth on either side and a top hat lid. California, like most states with legal cannabis, has strict packaging laws that require a high degree of child-proofing. For packaging to stand out, product designers need to be creative. While Houseplant's tins are no doubt pretty to look at, they are incredibly hard to open and definitely require two hands.
To be fair, most packaging in California is impossible to open, regardless of design, so this isn't a knock. Just check out the video of Rogen showing you how to open it above and understand that his designers were certainly limited by the state they operate in.
Now let's get to the smoke! Across the board, all three strains are stinky and tasty — two of the surest signs of high quality. Even just fiddling with the tins as you attempt to open them will release a potent whiff of what's to come and is sure to delight any cannabis enthusiast. Each strain comes with an info card that details the cannabinoid levels, terpenes found in the weed (which will give smokers distinct tastes and smells), and ideas for how and when to smoke it. They also come with a word of caution from Houseplant: "It's strong!"
They're right. Diablo Wind is a Sativa-dominant strain high in Terpinolene and Caryophyllene terpenes, clocking in at 24.192% THC, according to this specific batch's COA. A cross between Jack Herer and G13 Haze, its pine and citrus notes, redolent of its Jack Herer lineage, display heavily both upfront in the smell and in taste. It's an upper, through-and-through, with a refreshing and heady high that almost seems to give the smoker a brain cleanse — as if to jump-start synapses for any kind of activity. It might be a little too strong for daytime smoking for the average toker, but if one were to choose a Houseplant strain to move through the day's activities with, it should be this one.
Gas lovers will dig Pancake Ice, which is another Sativa cultivar with 33.2% THC. It's a cross between Chem Dawg and Mandarin Cookies with Limonene, Humulene, and Caryophyllene terpenes. This high is a bit more mellow than Houseplant's other Sativa-dominant counterpart, while still being uplifting. This is a good smoke for anything outdoors, like hiking or swimming, as the mellow aspect means senses aren't likely to get too overloaded. Diesel and dirt dominate these smells and flavors.
Pink Moon is the brand's only Indica at present, though they have said they will be releasing more in short order. It's a cross of Tangie and Kosher Kush with dark buds at 26.45% THC, boasting Limonene, Caryophyllene, and Linalool terpenes. Mind and muscle-melt are the themes with this strain: this is couch weed. Smokers aren't going to be able to move for a while after a few hits of this, which is exactly the point. The taste is sweet citrus, more candy than fruit with earthy undertones. That's the Kush talking.
Bottom Line:
Overall, Houseplant's weed is really quite good. When it comes to getting stoned, it'll get the job done and then some. Plus, it's always a bonus getting smelly, tasty, and squishy nugs on the legal market — sometimes dispensary weed is really old and the terpenes have totally disappeared by the time the product reaches you. This is not the case with Houseplant. Not even close. We bought our sample retail and it was impeccably fresh.
For some, knowing where it comes from may soften the magic a bit. For others, the cool tin and the Rogen stamp of approval will be worth the price difference. Like with anything celebrity-owned, you are going to pay something for the very famous person at the center of it. Certainly, a Houseplant tin on the shelf is more of a talking point than the THC Design versions. But if you're just smoking to get high, well… you could save yourself a few bucks.