Jack in the Box, with its Munchie meals, Sriracha Curly Fry burgers, and weird-ass tacos, has always been the go-to fast food spot for hungry stoners and late-night partiers in need of a big greasy meal to cap off the night. I mean, the chain even has a section on its menu called "Late Night" — it knows its audience and it caters to them well. But Jack better watch the throne because someone is coming for his stoner crown and that someone is… an inanimate bell.
It's Taco Bell. We're talking about Taco Bell.
The Bell might not have anything on its menu as insane as Jack in the Box's Chick-N-Tater Melt Munchie Meal, which features a croissant topped with bacon, hashbrowns, and fried chicken smothered in three kinds of cheese and ranch sauce (ranch on a croissant, let that set in) served alongside two tacos and curly fries, but they've come pretty close. Aside from the Mexican Pizza, which has stoner written all over it, Taco Bell has given us several different iterations of Nacho Fries, turned a chicken patty into a taco shell, and has given us two different Doritos-flavored tacos. So while few of those enjoy permanent menu status, Taco Bell is certainly pulling its weight with the stoner snack food-loving community.
I should know — I'm part of it!
This is why I'm so psyched that Taco Bell is finally dipping back into the snack pantry for inspiration with its new Cheez-It Tostada and Crunchwrap. Like the Doritos Locos Taco, the concept here is simple: two beloved Taco Bell classics rebuilt with a giant Cheez-it in place of a fried tortilla. The Cheez-It has been specially made for Taco Bell and, according to the press release, is approximately 16 times the standard size.
The experimental tostada and Crunchwrap will only be available at a single Taco Bell in Irvine, California and only for two weeks, so if you don't live in SoCal you're going to have to wait a bit. Luckily, we've picked up both for a full review. This way when the Cheez-It Tostada and Crunchwrap do eventually hit Taco Bells nationwide (and let's face it, it will, the Doritos Locos Tacos are a best seller) you'll know whether it's worth the pickup.
Let's eat, starting with the lesser of the two.
Taco Bell Cheez-It Tostada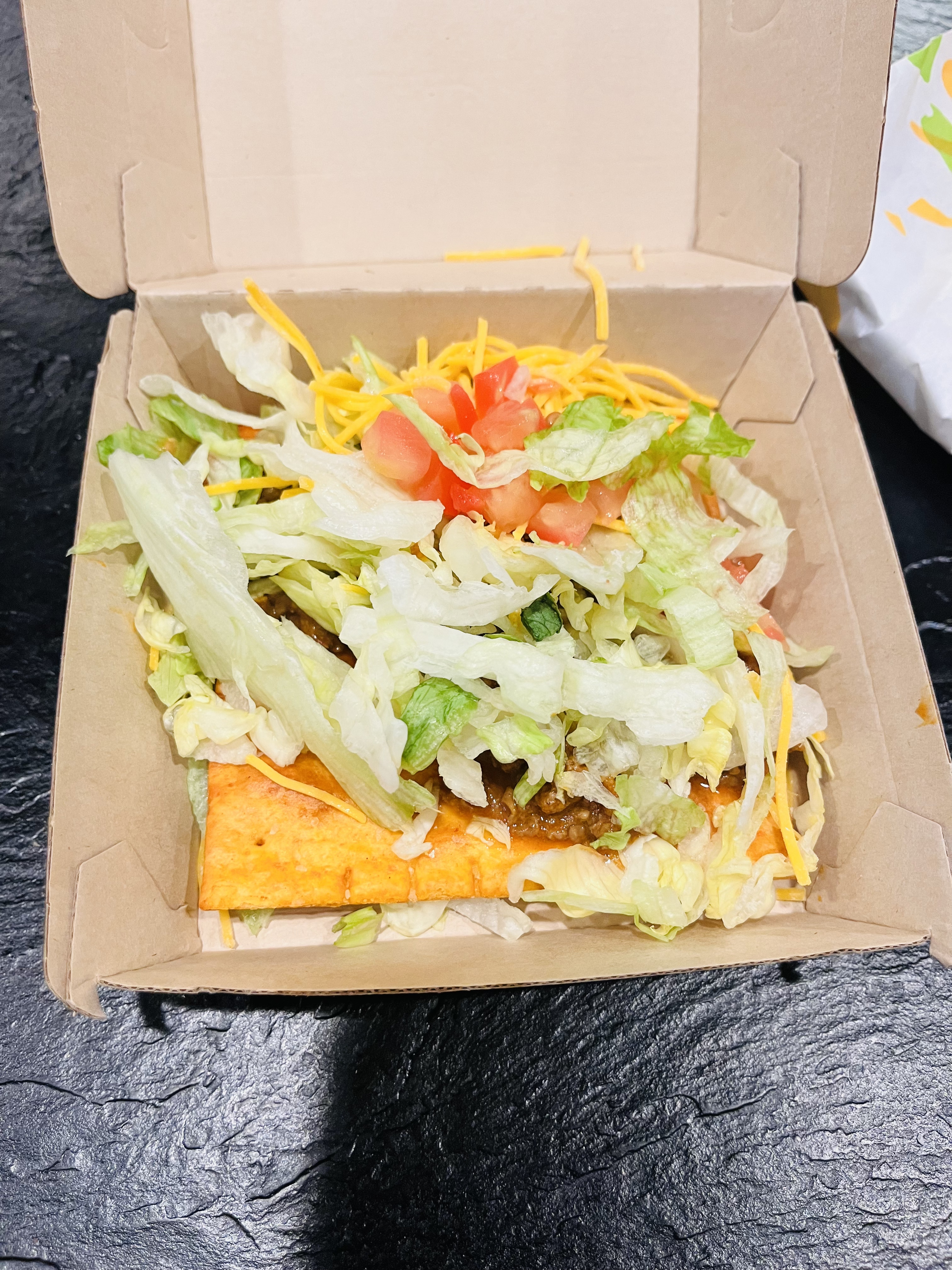 The Taco Bell Cheez-It Tostada is big but it's not big enough. I don't expect fast food to look even half as good as the promotional photos, but there is something sadly underwhelming about imagining you're going to eat something like the press photo at the top of this article, and then opening up a box and seeing… this thing.
The lack of a visual appeal is a minor gripe though because what it lacks in looks, it makes up for in toppings. This thing is fully loaded. The build features a layer of ground beef topped with sour cream, diced tomatoes, shredded lettuce, and shredded cheddar cheese on top of a very big and very thick Cheez-It.
The Cheez-It itself tastes exactly like you'd expect, like a cheddar Cheez-It, sharp and toasty, it doesn't taste like any corners were cut here, Taco Bell advertised a tostada on a Cheez-It and that's exactly what they've given us. What's surprising is how well the flavors of the Cheez-it pair with the familiar flavors of Taco Bell. That toasty sharp cheddar quality results in something that manages to taste familiar but new, which is rare for Taco Bell considering most of their menu is a shuffling of ingredients over or wrapped in corn or flour tortillas.
The biggest issue with this dish is that the Cheez-It isn't as structurally sound as a fried tortilla, the weight of the ingredients is enough to crack the cracker, most of it I had to eat in small bites and I was never able to hold the entire tostada up to take a bite. Not a big issue, but it makes for a messy meal.
Taco Bell Cheez-It Crunchwrap Supreme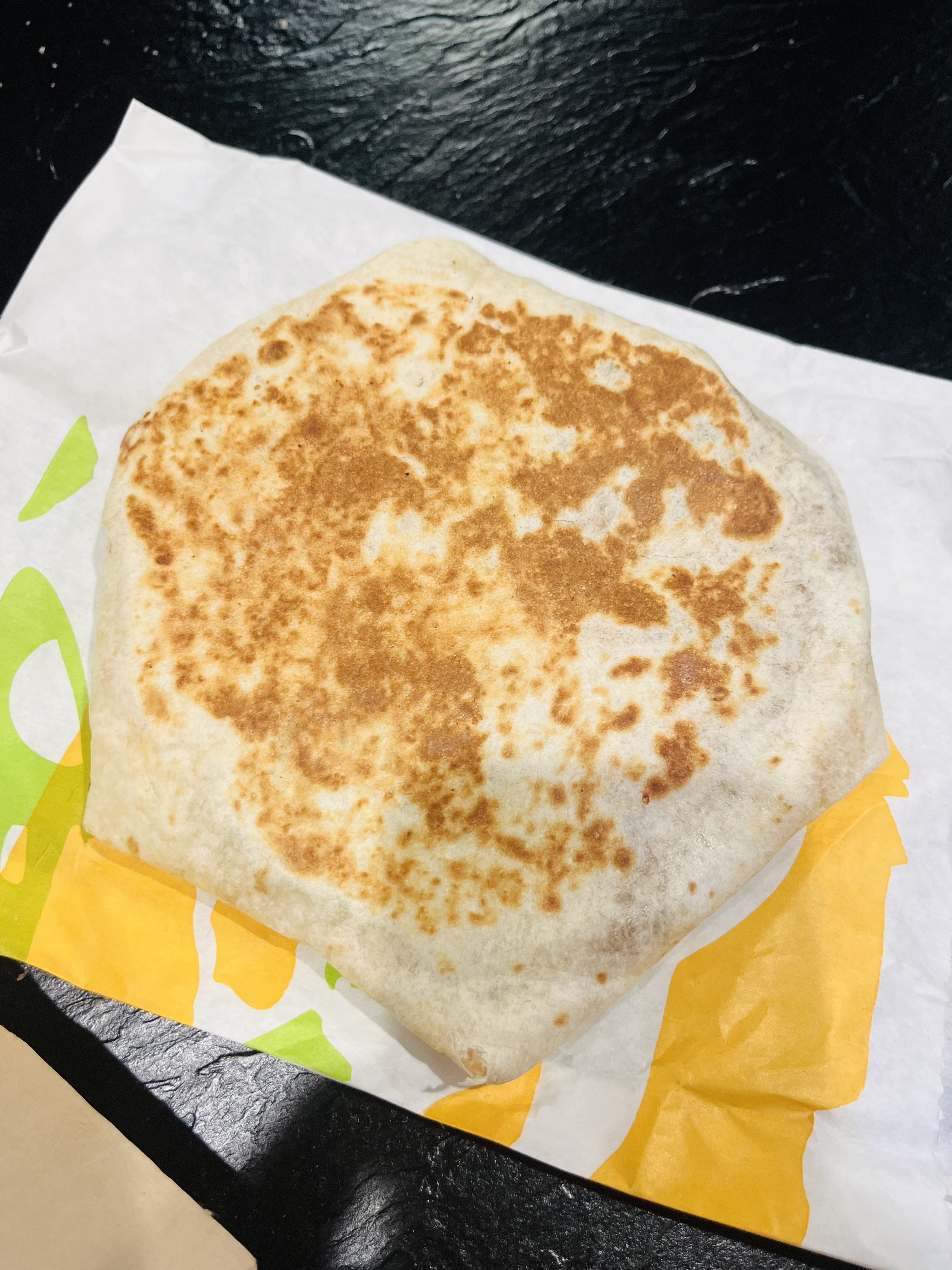 The Cheez-It Crunchwrap Supreme is very similar in build to the tostada, only you get more of everything and it's better for it. The big Cheez-It is wrapped inside a giant grilled tortilla with ground beef, nacho cheese sauce, lettuce, tomatoes, and sour cream and while the ingredients are almost all the same, the form factor and layering make the experience very different.
With the Crunchwrap you have that grilled tortilla wrapping, which makes each bite heartier and more substantial, with the cracker inside acting as a crunchy separator between the soft veggie and meat ingredients.
This causes the flavors to come in waves, first, you taste grilled tortilla, then salty and cheesy meat, followed by a toasted cheesy crunch, and then a fresh vegetal palate cleanser at the finish, prepping you for the next bite. Each bite follows that same experience: salty and savory, cheesy and toasty, with a salad-esque finish.
But our favorite part of the Crunchwrap is the way the salty cheese sauce absorbs into the Cheez-It, infusing it with even more flavor. That's something the OG Crunchwrap, with its tortilla core, could never do and it serves the dish much better than the shredded cheese served the tostada. It also serves the crumbling problem of the tostada, because it's housed in a tortilla, it doesn't matter how many times the cracker crumbles.
The Bottom Line:
Toasty, cheesy, sharp, salty, both taste great, and exactly like you'd expect them to, and yet, refreshingly new compared to everything else Taco Bell has to offer. The one that truly feels essential and like it has the potential to be as big a hit as the Doritos Locos Taco is the Cheez-It Crunchwrap Supreme. But Taco Bell, think even bigger — give us a Cheez-It Mexican Pizza!