As women, travel hasn't always been as accessible to us as it's been to men. Society has historically taught us to "stay home" rather than to wander freely around the globe (f*ck that, amirite?). While there are still some limitations and risks that come with female travel, much of that age-old stigma is changing as more women are taking their life experiences, and their passports, into their own hands — whether someone joins them or not.
These wanderlust-fueled women are also building growing communities of like-minded travelers and inspiring even more women to embark on exciting new journeys of their own. So, if you're a woman looking for her next big adventure, consider the travel experiences below. From writing retreats to luxury girls' trips to sustainable tourism immersions, these will motivate you to finally buy that plane ticket without hesitation.
ALSO READ:

Gals Abroad Getaways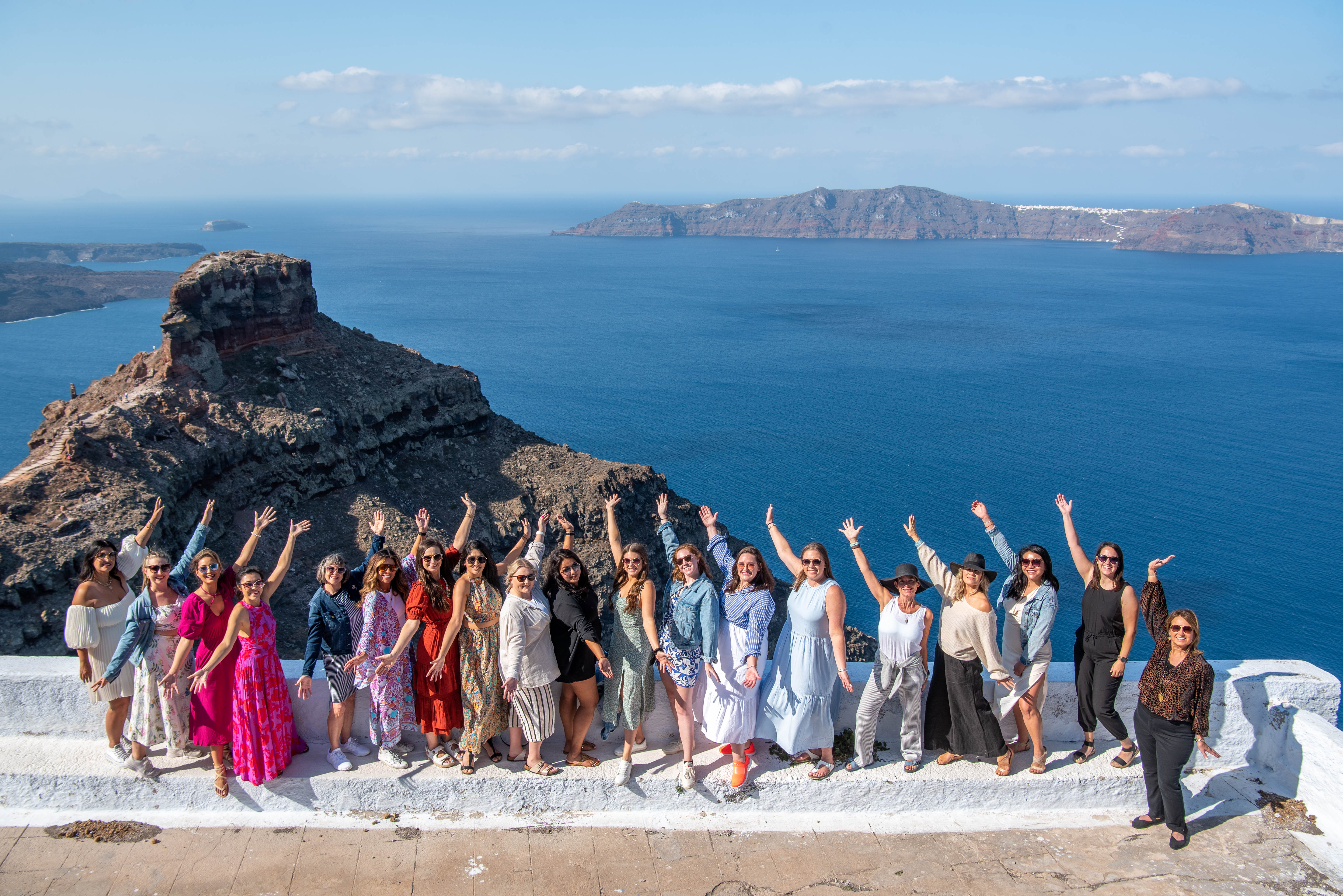 If you've been dreaming about your bucket list vacation but haven't been able to convince your crew to come with you, look no further than Gals Abroad Getaways. Founded by travel blogger Alle Pierce, the bespoke group trips business (run by Pierce and her luxury travel advisor mom) is made for, "luxury-loving, independent women seeking a blend of immersive cultural experiences, meaningful connections, and fabulous accommodations in some of the most dazzling destinations around the world," says Pierce.
"I founded Gals Abroad Getaways because I was tired of waiting for my friends to finally commit to taking that group trip that we talked about for years but never actually took. Turns out that thousands of other women are in a similar situation," she continues. "My mom and I have traveled to more than 100 countries and worked in the travel industry for more than 15 years. These trips are a culmination of the years we've spent traveling the world, immersing ourselves in new cultures, and creating lifelong friendships with our partners who help bring our bespoke itineraries to life."
It's not just another gimmicky tour group, either. Gals Abroad Getaways emphasizes cultivating intimate groups of like-minded women. Not only does that create a safe and inclusive space for all travelers, but it makes it all the more fun!
There are still spots left for a getaway to Athens and the Greek Isles this September. Book your next trip with Gals Abroad Getaways here.
El Camino Travel
El Camino Travel is a woman-founded company designed for the bold woman traveler. It offers "group trips for solo travelers" that are especially ideal for the digital nomad or solo wanderer who might be craving connection with like-minded people. What makes El Camino Travel stand out, though, is the type of trips it curates. The brand brings sustainability, immersive cultural experiences, and supporting local businesses to the forefront of its group trip itineraries.
You can choose from a range of themed categories depending on what kind of travel experience you're looking for — such as beach, relaxation, design, street food tour, and dancing — in destinations like Bolivia, Cuba, Egypt, Greece, Morocco, and more. If you're not sure exactly what you're looking for, you can take a survey and get matched to your perfect trip. Basically, El Camino Travel takes all the work out of vacation planning for you, even picking the destination.
All you have to do is pack!
Book your next big adventure with El Camino Travel here.
Amansala Signature Retreats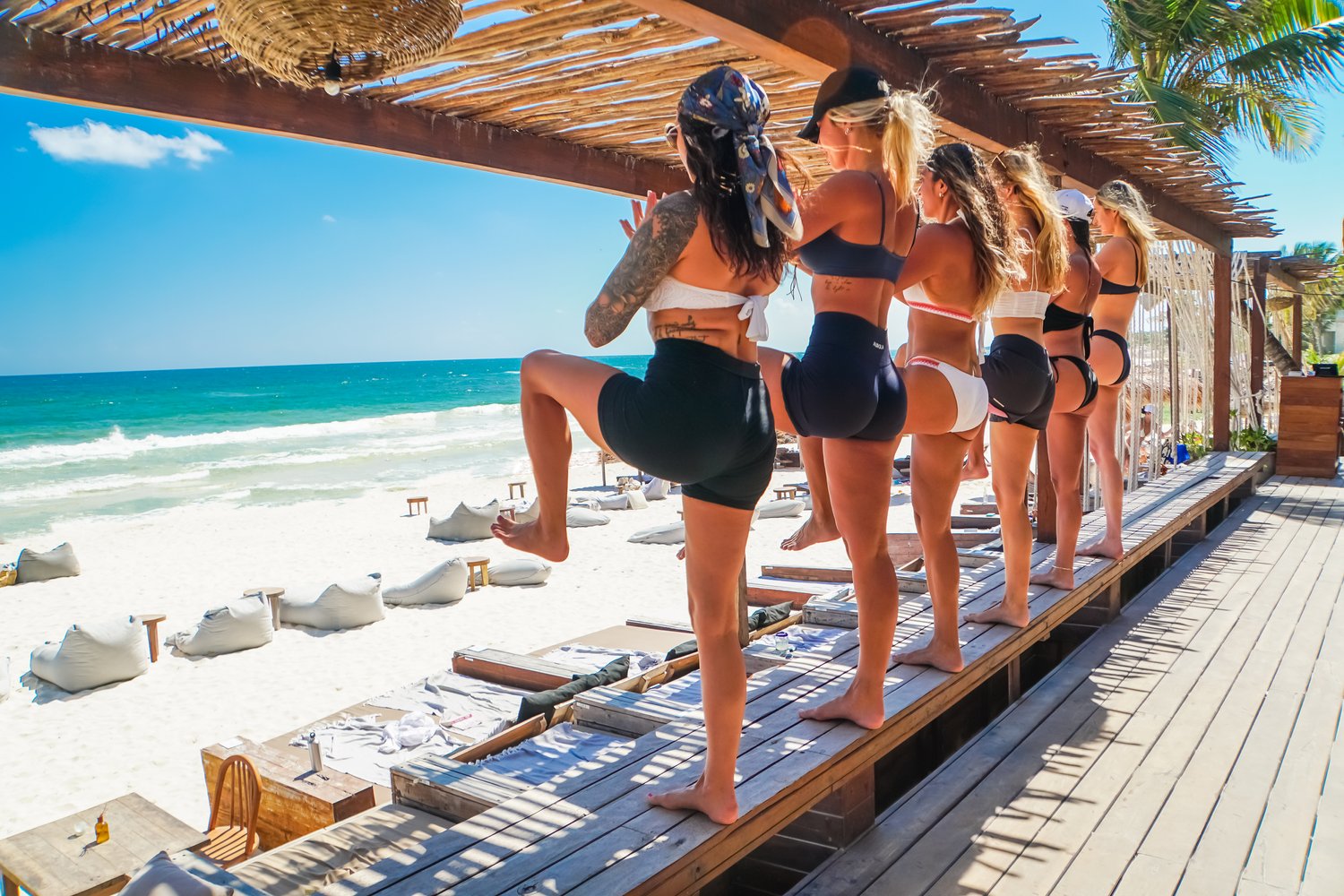 Yogis, fitness aficionados, and wellness junkies alike will love the six-day signature retreats offered at the Amansala Resort and Spa, an eco-conscious property in Tulum, Mexico. There are two all-inclusive retreats to choose from: Bikini Bootcamp and Restore 'n' Renew. Both offer a mix of curated beach walks, yoga classes, pampering, and healthy eating.
Of course, you'll also have plenty of time to relax on Tulum's famously stunning beaches.
Bikini Bootcamp is a high-energy retreat that includes more fitness, strength, and toning classes, while the Restore 'n' Renew option focuses more heavily on mindfulness through beach walks, journaling, and meditation. Whichever you choose, you're sure to return home feeling like a new person in the best way possible. While these retreats are available to all travelers, women are the most common attendees.
Sign up for an Amansala Signature Retreat here.
Trust & Travel
Calling all creatives! For both working and aspiring writers, Trust & Travel offers immersive writing retreats set around the world — as well as online writing workshops. Founded by Uproxx contributors Erin Rose Belair and Jade Moyano, Trust & Travel retreats are, "designed with the intention to foster authentic expression, confidence, and creative breakthroughs."
Retreats take place in destinations like Sicily, Nicaragua, Tuscany, and Costa Rica, where travelers are immersed in nature, culture, and community. If you're in search of creative inspiration and a community of equally passionate artists, Trust & Travel is for you.
Learn more about Trust & Travel and its creative travel experiences here.
Trafalgar Women's Only Travel Tours
Well-known and award-winning travel brand, Trafalgar, offers a variety of women's only tours around the world led by an all-women team of travel directors. This is an excellent route to take if you don't have a ton of travel already under your belt, as the group leaders will be by your side every step of the way to guide you through it. It's also great for both solo travelers and group trippers who want an already organized itinerary. You'll meet like-minded women in a classic tour group setting that gives you ample opportunity to connect with your fellow travelers and the destination you're visiting.
Whether you choose to embark on an 11-day getaway through Italy, attend a history-filled experience in Jordan, or go sightseeing in Greece, Trafalgar is your one-stop shop for a dream vacation.
Book your next girls' trip with Trafalgar here.