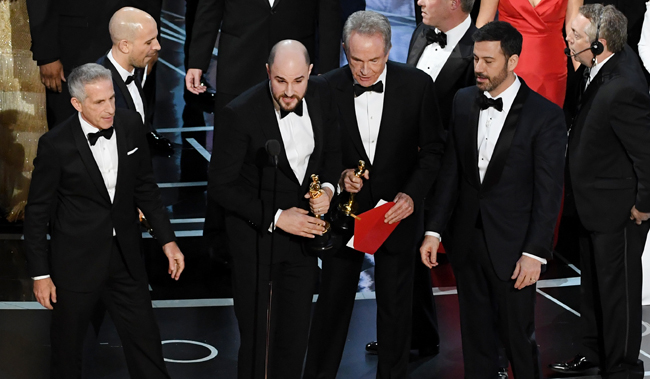 Nobody is going to be able to tell you that they saw the ending of the 2017 Oscars coming. In what is possibly the most embarrassing moment in television history, Warren Beatty and Faye Dunaway ended up with the wrong envelope when presenting the award for Best Picture and ended up naming La La Land the winner. Once all the film's producers and talent took the stage, the shock of the happened when it was revealed that Moonlight was the actual Best Picture Oscar winner.
For an awards show that many thought was going to be predictable from the very start, it turned out to be the most unpredictable show it could've been. And with that, many people were quick with their reactions and plenty of jokes, reminding many of Steve Harvey's Miss Universe flub from 2015. It would seem he's off the hook a bit, even if people are still going to make jokes. Most people were just shocked that the mistake happened in the first place:
Others used to offer a little criticism to the show itself:
And then there was the gang that decided to use the moment to make jokes and comments about the election:
Luckily there were a lot of other people willing to just have fun and do what the internet does best: make silly jokes in reaction to live events
And at the end of it, when folks were ready to accept La La Land as the victor, something like this happened:
It's a beautiful thing.