Chris Farley was a comedy giant gone too soon, leaving behind a promising career and a number of "what ifs" that fans still obsess over to this day, like his missed Shrek opportunity. With the recent release of I Am Chris Farley, a documentary about his life, Farley is back in the forefront of public discussion once again. Despite his death in 1997, Farley continues to be a comedy favorite, thanks to iconic skits from Saturday Night Live and films like Tommy Boy and Black Sheep.
While it is clear that Farley had his fair share of demons and insecurities that bled over into his personal and professional life, fans instead choose to remember him at his best… earnestly making people laugh. Let's take a look at some other interesting things about Farley's life to get a better picture of the man behind the legend.
He idolized John Belushi.
Considering how similar their career trajectories ended up being, it is sad and a little eerie that John Belushi was a personal hero of Farley's. Obsessed with him since watching Animal House for the first time, Farley modeled much of his delivery and comedic sensibilities on the late Belushi. While he followed Belushi's path of using Saturday Night Live as a springboard into feature films, Farley unfortunately also dealt with similar health issues and drug addiction.
His parents own an oil company.
Farley's father owns an oil company, Scotch Oil Co., in Madison, Wis. After graduating from Marquette University with a degree in communications, Farley worked at his father's oil company, while also getting involved with Second City in Chicago. It was at Second City that Farley met Saturday Night Live's Lorne Michaels.
He was fired from SNL.
It is surprising to think that two of SNL's most popular cast members of all-time were fired from the show, but it's true. Farley and Adam Sandler were both fired from the cast in 1995. Sandler spoke about the instance on The Tonight Show with Conan O'Brien in 2010:
"I did get fired also. Back in the day," he revealed. "Nobody wanted to tell me the truth that I was getting fired… And then, all of a sudden, Farley ran into my office and is like, 'We're getting fired!' Me and him got fired. That's when my manager at the time came up with, 'NBC: Nothing But C*nts!' "
He received a posthumous star on the Hollywood Walk of Fame.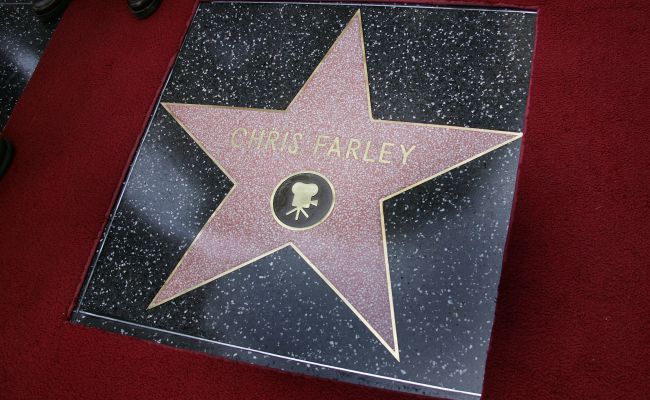 In August of 2005, Farley received a posthumous star on the Hollywood Walk of Fame for his contributions to television and film. His SNL castmates Sandler, Chris Rock and David Spade all attended the ceremony. Spade, who was closest to Farley, shared some touching words on the day:
"I think it's sweet that everyone still has a real nice place in their hearts for him. They still remember him. He goes down as one of the greats. And I still think about him every day," Spade said.
He coined Tommy Boy's iconic catchphrase himself.
"Holy Schnikes!" is one of the most quotable lines in Tommy Boy, as Farley bellows it at multiple points in the film. According to director Peter Segal, Farley used that phrase as a kid to get around his parents' strict rules about swearing.
He left behind several interesting projects after his death.
You surely saw the just-released test animation footage of Farley's voice work in a preliminary version of Shrek, giving fans a taste of what his version of the hit animated film would have been like. However, that isn't the only role that Farley could have played. Shortly before his death, Farley had been cast as Ignatius J. Reilly in an adaptation of A Confederacy of Dunces (a long cursed production) and as Roscoe "Fatty" Arbuckle in a biopic of the silent film actor.

(Via New York Post, E!, Today, Mental Floss, Splitsider)