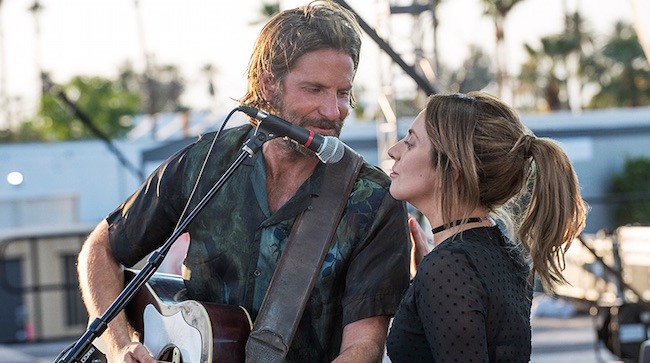 [Mild spoilers about A Star Is Born follow]
On Monday, culture writer Alison Willmore asked the kind of question that could shape your entire perception of a film. "Okay: Where do Ally and her dad live in A STAR IS BORN? Please cite evidence," she tweeted, leading to over 100 replies ranging from a multi-part explanation straight out of "The Californians" to New Jersey (?) to Jackson, Maine, to naturally, The Shallow.
I saw this tweet before watching A Star Is Born, and the loose geography is all I could think about when Lady Gaga and Lady Gaga's Gay Best Friend flew from California to… somewhere else in California? That's not my biggest (and admittedly pedantic) gripe, though. It also has nothing to do with the film's crusty distaste of pop music, or how Charlie's dog got from inside the living room to outside the garage. No, my issue lies with Saturday Night Live.
Ally, played by Lady Gaga, becomes internet-famous and scores a record deal following a viral performance of "Shallow" with Jackson (Bradley Cooper), her frozen peas champion-turned-husband. Before winning Best New Artist at the Grammys, she's asked to perform "Why Did You Do That?" (much to Jackson's drunken disgust) during the season finale of SNL, where she's introduced by host Alec Baldwin. About that: Ally is a rising pop star when she gets the SNL gig, which makes sense! In the movie's fuzzy timeline, she hasn't been a solo act for long. She at least appears to be moderately popular, probably more so than Maren Morris, Sturgill Simpson, and Alessia Cara, all of whom performed on the sketch show last season. But this isn't a normal episode of SNL: it's the season finale. And the pairing of Ally with Alec Baldwin makes no sense.
Here's every host/musical guest pairing on SNL's season finale since 2008:
Steve Carell/Usher
Will Ferrell/Green Day
Alec Baldwin/Tom Petty and the Heartbreakers
Justin Timberlake/Lady Gaga
Mick Jagger/Mick Jagger with Arcade Fire, Foo Fighters, Jeff Beck
Ben Affleck/Kanye West
Andy Samberg/St. Vincent
Louis C.K./Rihanna
Fred Armisen/Courtney Barnett
Dwayne Johnson/Katy Perry
The hosts can be divided into huge stars or returning cast members, while the musical guests are either major mainstream artists or popular indie acts. Ally doesn't comfortably fit into either category. (I think? Again, it's hard to get a sense of her popularity. She's not selling out stadiums, but she has a prominent Los Angeles billboard and was nominated for three Grammys. I'm tempted to say she's Lady Gaga-circa-The Fame big, but not Lady Gaga-circa-The Fame Monster huge, but that doesn't feel right. She's not Fame-ous enough (sorry). Also, "Why Did You Do That?", while catchy, has nothing on "Poker Face.")
Alec Baldwin doesn't really count, either. When he hosted in 2010, 30 Rock was still on the air; assuming A Star Is Born takes place in a universe similar to ours, minus people recognizing Bradley Cooper and Lady Gaga as Jackson and Ally (you guys really missed out on the meat dress), Baldwin is less famous now and already on SNL, but not a returning cast member. He's a mid-season host.
In interviews, Cooper revealed that he filmed in Studio 8H, where SNL is shot, rather than a duplicate set because "Saturday Night Live is the only place you can go when someone has arrived to a new spot [in their career]. There is nothing else." But the only act listed above who played the SNL finale following their debut album is Courtney Barnett, but she's a favorite among critics (unlike Ally, I imagine) coupled with a musically-inclined host who was on the show for 11 seasons. Meanwhile, Alec Baldwin recently dropped out of the Joker movie.
My question, teased in the headline: is Alec/Ally the worst SNL season finale pairing ever? (Remember, this is Ally, not Lady Gaga, who makes everything she's involved with better, including American Horror Story. It's still too soon to know whether Ally will dominate all of pop culture.) Her involvement is more exciting than his, but I'm not sure if the movie wants us to think that; there are constant references to Ally selling out and not being her true self, and how Jackson is a tried-and-true rockist. Of the finales above, Baldwin/Tom Petty is superior to Baldwin/Ally, because Jack Donaghy is superior to "Donald Trump," while Barnett's Sometimes I Sit and Think, and Sometimes I Just Sit is a better listen than Ally. (Ally seems like someone with a self-titled debut album.)
Other iffy finales: Kevin Spacey/Nelly Furtado in 2006 (oops), Mary-Kate and Ashley Olsen and J-Kwon in 2004 and Judge Reinhold and 10,000 Maniacs in 1988 (these at least both have the WTF factor, which I'd take any day over Baldwin/Ally), Howard Cosell and Greg Kihn in 1985 (an artifact to a different time), Ed Koch and Dexys Midnight Runners in 1983, and the no-host episode with Jr. Walker & the All-Stars in 1981. Okay, so maybe it's not the worst finale pairing — that's on you, comedy legend Ed Koch — but it's up there.
I realize this is a dumb thing for you to think about (I, however, spend most of my time wondering how random celebrity pairings would sound coming out of Don Pardo's mouth). But some people can't suspend disbelief about geography; others think too intently about how lame Alec and Ally's "this week on SNL" promos would be. Don't even get me started about the SNL finale, which airs in May, being before the Grammys, which are in February…
I'm off the deep end.