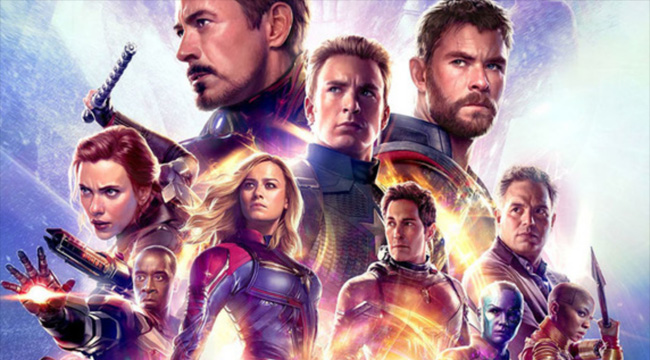 When you've been writing box-office reports for as many years I have, you start looking for ways to generate some excitement in an era in which box-office records are often out of reach for most films. We often resort to something like, "The 12th movie in The Conjuring universe just broke the single-day record in March for an R-rated sequel on a Thursday." None of those qualifiers are necessary this weekend.
Avengers: Endgame broke all the records. On Thursday, Endgame broke the Thursday preview record with $60 million, besting Star Wars: A Force Awakens $57 million record. On Friday, Endgame broke the single-day record with $156 million, besting The Force Awakens by over $35 million. The estimated $350 million it earned stateside over the weekend breaks the weekend record set by Avengers: Infinity War by nearly $100 million.
Meanwhile, by Saturday, Endgame had already taken the title for biggest IMAX weekend globally. By the end of day Friday, Endgame had already broke the record for biggest global weekend ever, with two days to go. By Friday, it had also surpassed The Fate of the Furious ($443 million) for biggest international opening. It opened with $300 million in China, breaking the weekend record there. Avengers: Endgame took in $1.2 billion in its first three days. In other words, after one weekend, it has already bested Captain Marvel's entire global box office and has broken into the top 20 box office hits of all time worldwide, essentially equalling the entire run of Iron Man 3. In three days. In addition, it's also the highest grossing 3D opening of all-time worldwide, with approximately 45% of the film's estimated $1.2 billion ($540 million) opening coming from the 3D format. It's poised to almost certainly break $2 billion before the end of its run — one of only four movies ever to do so — and Avatar's $2.7 billion global box-office record is not out of reach.

For the record, not that Avengers: Endgame isn't completely critic-proof, but the critics still loved it, giving it a 96 percent on the Tomatometer, while moviegoers gave it a rare A+ Cinemascore. And to think, it did all of this despite its three-hour runtime.
Of course, with a hit that huge, it also meant great things for the box-office overall, as it was also the single biggest weekend overall at the box office ever. In fact, Endgame all by itself beat the previous biggest weekend of all time, which was last year when Infinity War led the box office to a $313 million weekend overall. Granted, there wasn't a ton of money earned by the other movies in release. In fact, Captain Marvel — in its eighth week — jumped to number two, thanks to those who wanted to catch up on the MCU before catching Endgame. Marvel earned $8.3 million to bring its domestic total to $413 million, surpassing Iron Man 3 to become the fifth highest grossing MCU movie ever (a title it will only hold for a few more days before Endgame knocks it down to sixth).
The Curse of La Llorona took the third spot with $7.8 million to bring its 10-day total to $41 million. Breakthrough earned $7.2 million and has now earned $27 million after two weekends at the box office. Shazam! came in at number five with $5.5 million and $131 million overall, an impressive number that still looks puny in light of the performance of Endgame.
The bottom five all fed on Endgame's scraps. Little earned $3.55 million and has now made $36 million. Dumbo sits at $107 million after a $3.3 million weekend. Pet Sematary eked out another $1.25 million to bring its total to $52.5 million. With $1.22 million, Us has $172 million, while Disney's Penguins broke into the top 10 with $1.1 million and $5.7 million overall.
Believe it or not, there are four new wide releases next weekend attempting to take on Endgame, and while they will all come up woefully short, UglyDolls should grab some business from the youngsters, while Seth Rogen's Long Shot will try to counter-program with comedy. The Intruder with Dennis Quaid is not likely to drum up much business, nor would I expect much from the Latino action film El Chicano.
Source: Deadline, Box Office Mojo