Last Updated: November 7th
Ah, the '90s. A glorious time. A simpler time. A time filled with Miramax blockbusters and coming-of-age rom-coms and sci-fi action flicks with Sylvester Stallone and Sandra Bullock. Those were the days, and Hulu is helping us to relive them with a line-up of films that'll have you all up in your nostalgia feels. Here are the 15 best '90s movies on the streaming platform right now.
The Talented Mr. Ripley (1999)
Run Time: 139 min | IMDb: 7.4/10
Matt Damon, Gwyneth Paltrow, and Jude Law star in this mind-bending thriller about a con-man who weasels his way into an inheritance through deception, manipulation, and, of course, murder. Damon plays the young criminal, Tom Ripley, a forger and impersonator struggling to make it in '50s era New York. He nabs a job from a wealthy shipping magnate, retrieving the man's son from Italy in exchange for a cash reward. While there, he befriends the heir (Law) and his fiance (Paltrow), imitating his mannerisms, wearing his clothes, and running in his elite circles before his con is discovered, and he's forced to take drastic measures to secure the future he wants for himself.
Boyz n the Hood (1991)
Run Time: 112 min | IMDb: 7.7/10
John Singleton's directorial debut is this dramatic masterpiece about life in the gang-ridden hood of Crenshaw and how one young man hopes to escape the endless cycle of violence that surrounds him. Cuba Gooding Jr. plays Tre, a smart, capable kid who struggles to stay clear of gang wars and his criminal friends while working towards his dreams of college. His buddies – gang members, former inmates, track stars – all navigate the bloodshed on the streets of their hood with varying results but when a tragedy brings them together, Tre's forced to make a choice between the life he wants and the one he's stuck in.
Days Of Thunder (1990)
Run Time: 107 min | IMDb: 6/10
Tom Cruise still has the need for speed in this sports drama from director Tony Scott. Cruise plays promising rookie race Cole Trickle, who makes his way to the big leagues of NASCAR by posting some impressive times and winning over a Chevrolet dealership tycoon. Cole enlists the help of a gruff former crew chief named Harry (Robert Duvall) to teach him the ropes as he competes against bitter rivals, faces debilitating setbacks, and tries to win the Daytona 500.
Basic Instinct (1992)
Run Time: 127 min | IMDb: 6.9/10
The '90s had a few defining films and this one, a thriller starring Michael Douglas and Sharon Stone, certainly feels like one of them. It's a charged who-dunnit, with Douglas playing a violent police detective obsessed with solving a gruesome murder and Stone playing the seductive authoress who may be involved. Both actors give their all, though Stone comes out on top, delivering an iconic performance as a villainous woman who has no qualms about being bad (and flashing police during heated interrogation scenes).
Total Recall (1990)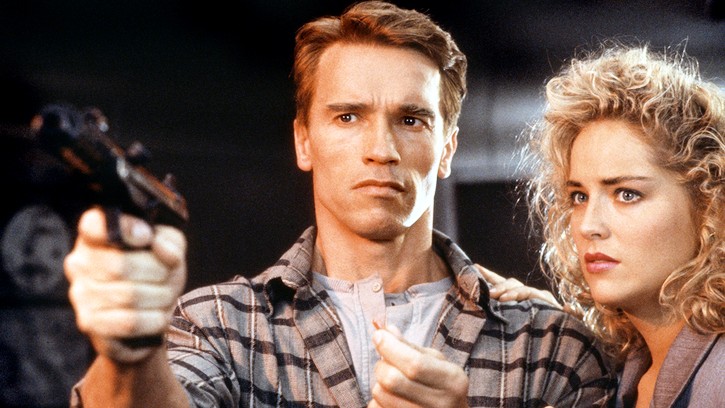 Run Time: 113 min | IMDb: 7.5/10
Arnold Schwarzenegger and Sharon Stone star in this 90s sci-fi flick set in 2084 that follows a construction worker named Quaid (Schwarzenegger) who begins having disturbing, memory-like dreams of an alternate life in which he was a spy sent to retrieve a dangerous weapon from colonized Mars. Stone plays Lori, his "wife" who reveals herself to be an agent as well, sent to monitor Quaid who purposefully wiped his memories of the mission to protect the planet's people. There's plenty of space travel, explosion, and twisted mind games in this one, but good luck figuring out if it's all real or just Quaid's imagination.
Interview With The Vampire (1994)
Run Time: 123 min | IMDb: 7.6/10
Sitting down to interview a vampire, even one as fangishly handsome as Brad Pitt, is a horrifying experience. At least, that's what we took away from director Neil Jordan's Anne Rice adaptation. Because this is a film about bloodsucking beings, there's plenty of grisly murder, lurking in the shadows, and fanged-smiles to fuel your nightmares but the scariest part of this nosferatu epic is watching a baby Kirsten Dunst feast on living human beings and demand more blood.
Patriot Games (1992)
Run Time: 117 min | IMDb: 6.9/10
Harrison Ford plays another iconic action hero in this Tom Clancy adaptation. Jack Ryan has retired from the CIA and is living a quiet life with his pregnant wife but when he inadvertently saves Lord William Holmes, Minister of State for Northern Ireland, on vacation, he's thrust into a politically-charged war between IRA fighters and the government. After killing one IRA rebel, he and his family are hunted by the group, spurring him to return to active duty to catch the criminals.
Election (1999)
Run Time: 103 min | IMDb: 7.3/10
Matthew Broderick plays a depressed high school teacher, who tries to manage his imploding marriage while facing off against a determined and cunning student in this dark comedy that features Reese Witherspoon in one of the best performances of her career. Witherspoon plays Tracy Flick, an overachieving student with dreams (of becoming the student body president) that are quickly dashed by the school's popular jock. Tracy's willing to go to extreme lengths to win the race, but when Broderick's Mr. McAllister thinks to intervene, his own failing personal life is put on display.
The Firm (1993)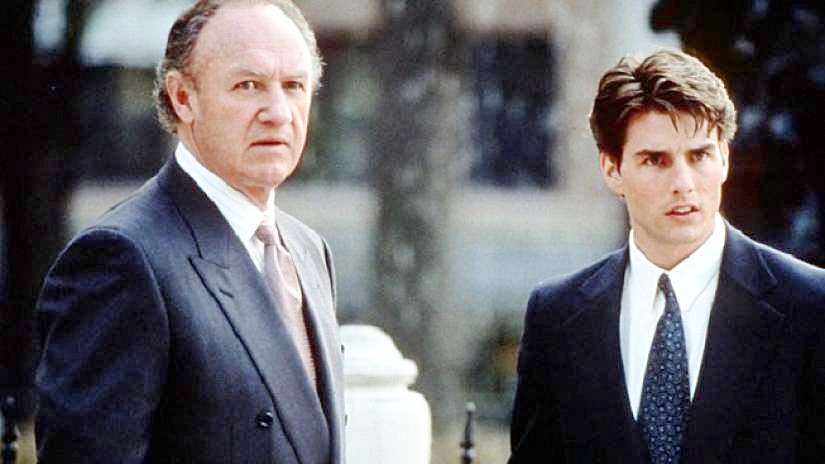 Run Time: 154 min | IMDb: 6.8/10
Based on a John Grisham novel, this Sydney Pollack-helmed thriller stars Tom Cruise as a promising young lawyer named Mitch who is groomed by a sinister law firm in Memphis, and a charismatic mentor in Gene Hackman, to cover up illegal activities of its senior partners and their less-than-savory clients. After enjoying the perks of working for the corrupt firm, Mitch's life begins to implode. His wife leaves him, he discovers the truth about his clientele, and the feds close in, all forcing him to choose between going undercover to bring the bad guys in or working against the law to save himself.
Double Jeopardy (1999)
Run Time: 105 min | IMDb: 6.5/10
Ashley Judd and Tommy Lee Jones share the screen in this heart-pumping thriller about a woman, wrongfully convicted for the murder of her husband, who vows revenge. Judd plays Libby, a mom and wife who goes on a sailing trip with her husband, wakes up covered in his blood with him missing and is charged with his murder. While behind bars, she discovers her husband faked his death and framed her to get the insurance money, so she spends the rest of her sentence preparing to kill him once she's released as she cannot be tried for the same crime twice. Her hunt for her husband takes up most of the film, with Jones playing her tough parole officer who follows her down to New Orleans and eventually believes her story as the two team up to prove her innocence and mete out some deserved justice.
Rounders (1998) (Requires Showtime)
Run Time: 121 min | IMDb: 7.3/10
Matt Damon and Edward Norton star in this forgotten '90s crime drama about a reformed gambler who returns to the table to pay off a large debt while trying to juggle a new relationship and law school. Damon plays the talented card-shark and Norton plays his fresh-out-of-prison bestie who upends his life and gets him back in the game. The two outrun mobsters and lawmen, getting into dangerous situations and ruining their respective lives along the way. It's a hell of a fun watch.
Hackers (1995)
Run Time: 105 min | IMDb: 6.2/10
Hackers has become a kind of cult thriller over the years. The film, which stars Angelina Jolie and Johnny Lee Miller as two high school hackers who team up to save their friend from becoming the victim of a corporate cover-up. Miller plays Dade, a prolific hacker with a serious record who finds a new group of computer-savvy criminals to hang out with including Jolie's Kate, a young woman whose talent rivals his own. When one of the group accidentally stumbles upon a bit of corporate espionage during a prank hacking, the team must work together to expose the corruption before they go down for the crime.
Get Shorty (1995)
Run Time: 105 min | IMDb: 6.9/10
This 90s gangster comedy starring John Travolta, Danny DeVito, Rene Russo and Gene Hackman follows a loan shark named Chili (Travolta) who has dreams of making it in Hollywood. After taking on a couple of jobs from his boss, Chili makes his way to Vegas, then L.A., selling a script loosely based on his life, collecting debts, and falling for a struggling actress. To get his movie made, he has to square off against mobsters, DEA agents, and demanding actors – the most terrifying of all.
Kingpin (1996)
Run Time: 114 min | IMDb: 6.9/10
Kingpin is the kind of movie that could only be made in the '90s. The absurdist comedy stars Woody Harrelson as a washed-up pro-bowler who lost his arm in a fight. Years later, he's given the chance to face off against his nemesis by coaching a talented Amish kid who happens to be a bowling prodigy. The two have to navigate crime bosses and groupies with ulterior motives to compete in a tournament with a cash prize of $1 million. Harrelson is terrific as always but just check your brain at the door with this one.
Demolition Man (1993)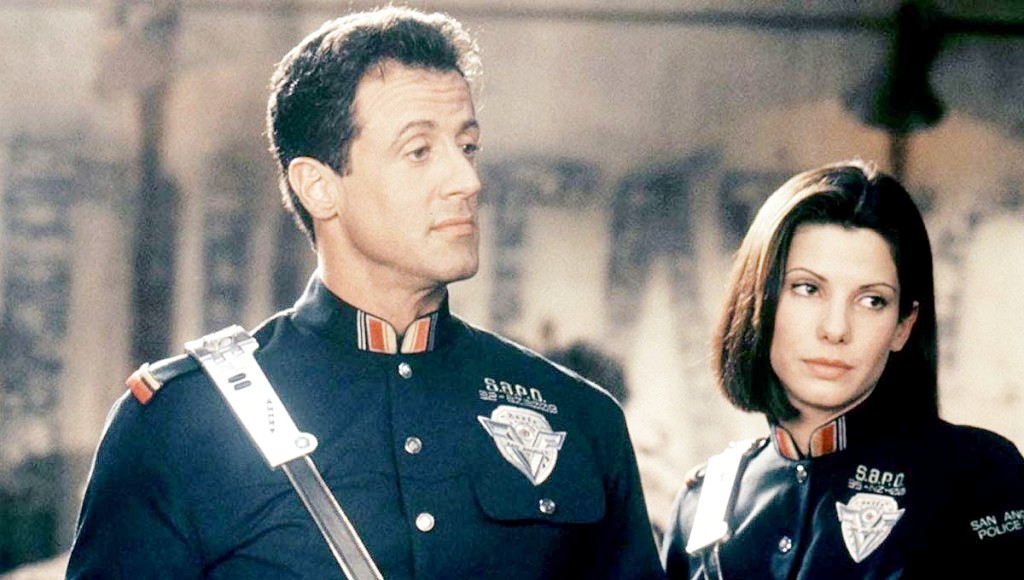 Run Time: 115 min | IMDb: 6.7/10
Sylvester Stallone and Wesley Snipes star in this sci-fi action epic about two men whose feud lasts decades. Stallone plays a risk-taking police detective, and Snipes plays the psychotic criminal he's constantly chasing. Both are cryogenically frozen in 1996 and awakened in 2032 to a society free of crime. Snipes' character quickly changes that and Stallone picks up the hunt, one that leads him to uncover corruption within the force, again.