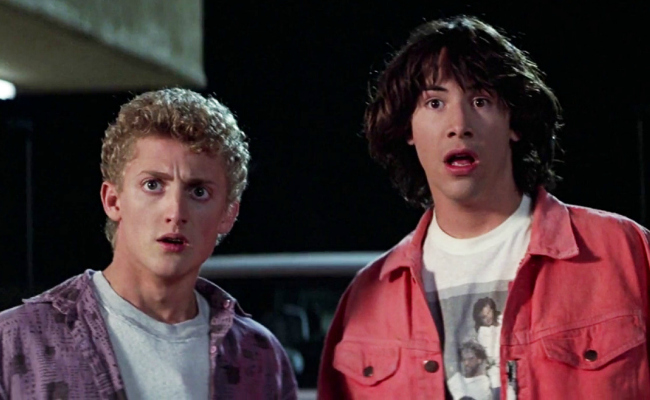 In our last update on Bill and Ted 3, we learned it had an official title, Face the Music (described as "A Christmas Carol meets Bill and Ted"), and that "we've never been closer" to it coming out. There's still no release date, but it was announced today that Keanu Reeves and Alex Winter — the Wyld Stallyns themselves — have officially signed up to complete this most excellent trilogy.
Original writers Chris Matheson and Ed Solomon have penned the script, while the film is being directed by Dean Parisot (Galaxy Quest, Red 2, Fun with Dick and Jane). Steven Soderbergh, of all people, is an executive producer.
In Face the Music, Bill and Ted are now middle-aged dads (the horror) and the "responsibilities of family have caught up with these two best friends who have not yet fulfilled their destiny," according to a press release. And about that destiny:
They've written thousands of tunes, but they have yet to write a good one, much less the greatest song ever written. With the fabric of time and space tearing around them, a visitor from the future warns our heroes that only their song can save life as we know it. Out of luck and fresh out of inspiration, Bill and Ted set out on a time travel adventure to seek the song that will set their world right and bring harmony in the universe as we know it. Together with the aid of their daughters, a new crop of historical figures, and some sympathetic music legends, Bill and Ted find much, much more than just a song.
Didn't they already find this song, and isn't it called "Every Rose Has Its Thorn"?