Black Panther is officially a juggernaut. After debuting with the fifth best opening weekend of all-time, Black Panther managed to outdo itself in its second weekend. According to industry estimates, it's on pace for a $108 million second weekend, which would make it the second best second weekend of all time, besting Jurassic World and The Avengers and trailing only The Force Awakens. That's also $18 million more than the second weekend for Beauty and the Beast, which had previously held the record for second-best weekend outside of the summer season.
Black Panther is monstrous. In fact, after 10 days, it is on the precipice of the $400 million mark domestic ($396 million). It's the 29th biggest film of all time after just 10 days, behind Frozen. It's also the fastest Marvel movie to $300 million ever, and while international numbers aren't yet in, it's a shoo-in for $700 million worldwide after just 10 days. It's well on its way to $1 billion. This is not just a huge box-office hit for February, it has a very good shot at holding on to the title of biggest box office hit of 2018, Solo and Infinity War notwithstanding.
Meanwhile, there wasn't a ton of oxygen left at the box office for the weekend's other new releases. The Jason Bateman/Rachel McAdams comedy Game Night came in at number two with a decent $16.7 million, to go along with strong reviews (82 percent on Rotten Tomatoes) and decent word of mouth (B+ on Cinemascore). That number puts it in the ballpark of many of the other more recent R-rated comedies (save for the massive sleeper hit, Girls Trip) which means it should end its domestic run at about a break-even $50 million and turn a profit on digital downloads and international box office.
Peter Rabbit held tight at third place, and as with a lot of kids fare, it is holding very well despite its mediocre opening weekend. With $12.4 million, it has crossed the $70 million mark after three weeks. With little competition in that market until March 23rd's Sherlock Gnomes, it may just stick around until Easter and crack $90-$100 million.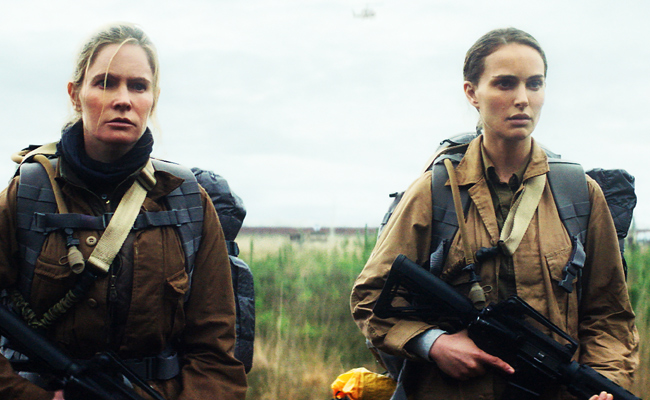 Alex Garland's Annihilation grabbed the fourth spot with around $10.7 million, at the lower end of expectations. Paramount assumed that Annihilation would be too cerebral for a lot of audiences, and that assumption was right. It's connecting with a lot of critics (87 percent on Rotten Tomatoes), but it is striking out with audiences, which is giving it a C Cinemascore. This is what Paramount predicted when it sold international distribution rights to Netflix, so good call, Paramount.
Most of the rest of the top ten this week were holdovers, save for Every Day, which came in at number 9 with $3 million. Those aren't great numbers for the film adapted from a David Levithan YA novel, but the movie only cost $5 million to make, so profitability is not out of the question.