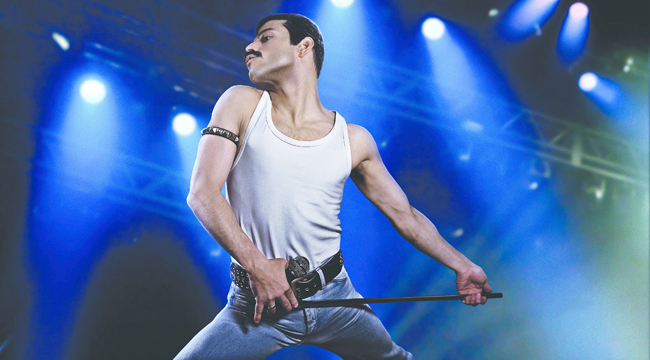 This past weekend at the box-office, Thanksgiving leftovers like Creed 2 and Ralph Wrecks The Internet ruled the stateside roost, but not-so-quietly in the background, Bohemian Rhapsody continued to crank out the hits, worldwide. The film, which was the second-highest grossing music biopic as of last week, has now topped the U.S. charts in that regard.
According to Box Office Mojo, the Rami Malek-starring crowd pleaser has raked in $164 million domestically as of this past weekend. That's enough to squeak past Straight Outta Compton, the N.W.A. biopic that pulled in $161 million in 2015. And if there's any question lingering in folks' minds regarding slight inflation that could make those figures too close for comfort, that concern should fully disappear over the next week. Not only that, but globally, the film has scored $540 million and counting.
Oscar prospects for Malek should also give the movie even more of a boost over the holiday season, regardless of the controversy that still swirls regarding whether the film glossed a little too much over Mercury's private life or tweaked the timeline of his illness too much. The surviving members of Queen, however, are feeling fantastic about the movie's success — good enough, in fact, that they've announced they're hitting the road again.
Per the band's official Twitter account, guitarist Brian May and drummer Roger Taylor will be teaming up with Adam Lambert again (as they did in 2014) for a Bohemian Rhapsody-themed tour. No word yet on who'll be pinch-hitting on bass, given that John Deacon has retired from public life, but the others will play 23 North American dates in summer 2019.