One of the best Clickhole headlines ever — "I Don't Let My Kids Watch Winnie The Pooh Because I Don't Want Them Idolizing A Fat Virgin" — is still more believable than what's happening in Asia. Disney's Christopher Robin, which stars Ewan McGregor and (based on reviews) your tears, has reportedly been banned in China as part of the country's crackdown on images of Pooh.
Chinese authorities began censoring images of that lovable honey-loving bear last year because "the character has become a symbol of the resistance in China with foes of the ruling Communist Party, namely Chinese leader Xi Jinping," according to The Hollywood Reporter. "Bloggers have drawn comparisons between the pudgy bear and Xi, which has put the country's censors in overdrive." The ban extended to HBO's Last Week Tonight, where host John Oliver noted the physical similarities between Xi and Pooh.
I mean, if the shoe (or honey pot) fits…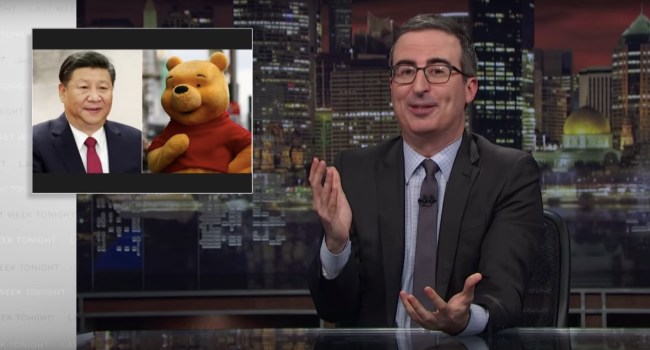 However, the Reporter spoke to another "insider" who claims that the ban has nothing to do with the Hundred Acre Wood or a perceived dislike of McGregor because, c'mon, who could hate this guy? Rather, "the decision likely has to do with the size and scope of the film given the foreign film quota and the fact that there are several new Hollywood tentpoles in the Chinese market right now," including Skyscraper. That's more plausible, but nah, let's blame the Fat Virgin.
(Via The Hollywood Reporter)