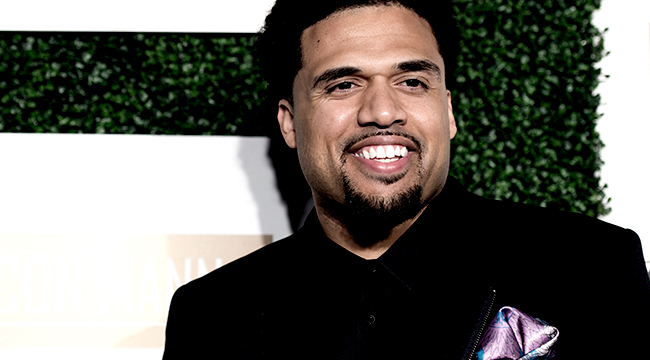 Look, by now everyone knows that Ryan Coogler's Creed is amazing and it's pretty impossible to top. But, what Steven Caple Jr. has done with Creed II is legitimately remarkable in its own right. Have you seen Rocky IV lately? Yeah, it's a lot of fun, but it's also ridiculous. Rocky IV has a surprisingly short running time of 90 minutes. so there's not a lot of room for new character development beyond the nonstop montages. So, what Caple had to do here was take characters from a movie that's almost a cartoon, and then adapt them for a Creed sequel that fits the tone of the first Creed movie. And, yet, here's Creed II, a movie that features the return of Ivan Drago and it somehow works.
We'll have more with Caple, later in the week after Creed II is released in theaters for a more spoiler-y discussion about the events of the film. But, in the meantime, Caple has dreams of future Creed stories. And, no joke, he's been considering the return of Mr. T's Clubber Lang.
I've read you had to be talked into directing this movie. I'm glad they convinced you. People like it.
People do like it, man. Yeah, obviously that's gratifying. I mean, I'm assuming you like the franchise?
Except Rocky V. I do not like Rocky V.
It was crazy, that's the first one I saw.
What? Oh, no.
But I was a kid, so I didn't have the same reaction as critics necessarily. I thought it was like a cool flick at five years old. Even with Rocky V just because it is a chapter in his life I can learn to appreciate it just because I'm just a Rocky fan I guess. You know, you just worry when you hear sequels and stuff like that, and I was. Is this just a money grab situation where the first one did so well? Are we just going to toss out a second one just for the hell of it? I really want to treat it with care, you know what I mean? And they allowed me to and that was refreshing.
Before you were even attached, I remember Stallone saying, "Oh, the next one Drago is back," and I remembered thinking of all the ways that could be bad. Because how do you combine Rocky IV and Creed? You somehow did that.
Exactly. How do you tap for that huge commercial appeal where everything is kind of over the top and the story is very surface? It's very much good guy, bad guy, nothing else. The movie has probably like five montages. Granted, it's still one of my favorites, because Apollo dies in it and it's like come on, let's go get revenge. Again, as a fanatic. But when you hear that you're like, "Wow, but Creed did something in 2015 was it that felt different." And you didn't want to lose that groundedness. So with the Dragos, as soon as I got the script, I started tackling that. How the hell do we make the Dragos different in 2018?
That was the first thing as soon as I got the script. That and Adonis Creed's journey, making sure it just wasn't about revenge. I didn't want him to be that cliché. And he's a black character, too, so I didn't really want a character on screen that just felt like that super bold and flashy guy who has a new house now and he's so stubborn. We were totally trying to gear and steer away from that and make it a little bit more deeper on both sides.
The Rocky movies had Rocky III as a buffer between a grounded movie and an absurd movie.
Hulk Hogan is in it.
But this one is coming straight from Creed and you have to keep that tone, but take all the stuff from Rocky IV.
Yeah, and I pulled a lot of stuff from Rocky II as well, like a lot a lot of the outside the ring drama. It's very similar to Rocky II. There's a lot of nuggets that pay back. There is some formula that we use in the sense of taking from Rocky II. Small little nuggets.
Thankfully you didn't use the "Adrian is in a coma" storyline. Tessa Thompson brought that up when I spoke to her.
She would say that all the time on set! "Thank god I'm not in a coma." And at one point though she started looking at the pregnancy as if it was a coma. I'm like, "Look, you're not just going to be pregnant in the background. I promise."
She brought that up, too.
You can take her character in Creed III and IV and go to places. You have this full-on arc for her, which I love. Adrian, you couldn't do that. Adrian didn't have much outside of Rocky's boxing. Tessa would joke around all the time. Every time she would get Mike mad or something like that she was like, "Great, that means you guys are going to put me in a coma in Creed III?"
Does Mr. T's Clubber Lang have a kid somewhere for the next movie?
I'm not going to lie. There was a moment where I got pretty stingy and was thinking about Clubber Lang. I was like, "Dang, wouldn't it be cool if we brought in Clubber Lang?"
Oh, man.
And I think there was a version of this where Mike was also talking about it too. Like him having a daughter or something like that out in the West or New Mexico. We were playing with a lot of different ideas. But no, I don't know if Clubber Lang will come back.
I do love Clubber Lang.
I do, too. He's an interesting character. And just to see where he'd be at now, where they try make him grounded and seeing where Mr. T is at. Again, nostalgia and just finding a way to bring back characters, but in 2018 and 2019 they have a more modern day level and will always be interesting. You know what I mean? I love challenges like that. Trying to make Drago human. How to make Clubber Lang human. Like, where is he at today? Those are the interesting routes to go in developing characters. That's my favorite part of character development. But to answer your question, sorry, I'm getting off topic…
No, this is fantastic.
I think there's definitely a strong possibility. I think depending on this weekend, if it does well. Obviously, there's that, but two, there are so many unlocked boxes. Everything with Bianca. Where's Creed at? Is Baby Drago coming back? What's going on with the baby? I mean, I would actually like to come back at a certain point. Maybe not for III, coming back for IV or V or however you want to go, but I think it's just a cool franchise. You know what I mean? It feels like something special is there.
So how about in Creed III Clubber Lang has a daughter who is a recording artist and Bianca has to compete with her in a singing competition?
I think Tessa will like that. No, I think Tessa wants to fight, man. Tessa's like, "I want to train and box!" So many places to go with it.
Well, we saw her fight in Thor. I think people would like that, too.
I think people would, man. Or at least have one showdown. People would go ballistic. See, now we're sitting her developing the next Creed. That's my job.
You can contact Mike Ryan directly on Twitter.