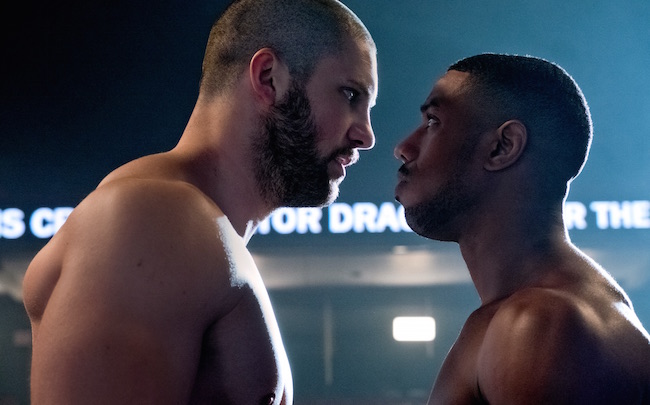 (Warning: this post contains spoilers for Creed II. If you don't want to read spoilers for Creed II, do not read this post.)
As you know if you've seen it, Creed II features the return of Ivan Drago, so for the first time since 1985, we see Rocky Balboa and Ivan Drago on screen together as Adonis Creed and Viktor Drago fight in the ring, twice, over the course of Creed 2. But what we see in the final movie isn't exactly what Sylvester Stallone had first written. Stallone wanted to focus the Dragos' arc more on steroid use, but director Steven Caple Jr. told us that he didn't love this plot point and removed that aspect completely, changing the course of the film and setting up what we'd eventually see in the final fight between Creed and young Drago.
What this also does is make Viktor more sympathetic. Instead of a fighter fueled by synthetic means, he's one driven by his father, Ivan – who, himself, is driven by the thought of regaining respect in Russia after his loss 33 years ago and wanting to win back the heart of his ex-wife, Ludmilla, played by Brigitte Nielsen.
It was Caple's idea to bring Nielsen back in this film, but he had one problem, he had to tell Stallone, who was married to Nielson in the mid-1980s and had no idea how that conversation would go. He tells us how that all went ahead.
The way the fight with Drago ends is surprising.
Yeah, that was changed. I changed that later. Sly had a different version. He was paying more homage to Rocky IV.
What originally was supposed to happen?
It was the whole was he on steroids thing. He would bring up these questions about how far was his dad willing to go. So, Sly was still playing with the depths of the darkness of Drago and how far he's willing to push his ceiling, but it felt like it was a cheap shot. It felt like the steroid route, it didn't feel like two titans were fighting.
I didn't want it to feel like Drago just won because he was on steroids. I wanted to feel like he's a monster. He can fight. He's a brawler. So I changed it up with a technicality, but the only way the technicality would work – and this what wasn't there before – was the whole plot with Brigitte Nielsen and Russia wasn't with him. And that's kind of about where the backstory comes into play. It just felt like an organic way to kind of keep this story going. Both guys now have something to prove. You know what I mean? Not just one.
As a viewer, you start feeling a little bit of empathy towards Viktor Drago. And if he's on steroids it ruins that.
It ruins it all. But the two fights, obviously, were two ways that have never ended any Rocky movies, or Creed at that. So when I went back and looked at all my research again I'm like, "They never ended the fight these two ways." You've seen knockouts before. You've seen where he loses the last big fight. So this one I was like, how do we play with the different? And everyone kept talking about throwing in the towel. It was every movie. Every Rocky film ever, every corner moment was about throwing in the towel. No one has ever done it.
And I just flipped out and I was like, "We have to do it!" But with that, now when the Dragos do it, that's the last person you expect in the whole entire film to do it. Just the callback, honestly, it felt good. I'm glad people are responding to it. That makes me feel good, because with a movie on it's eighth film of the franchise, to still hear that I feel like it was an accomplishment.
So did you have to tell Stallone, "Hey, I think we need your ex-wife (Brigitte Nielsen) in this movie"? Was that a weird conversation?
Yeah.
Okay.
Oh, it was completely weird. It was weird for me because I was nervous about asking him, obviously. I was kind of like, damn, I'm about to ask this dude to put Brigitte Nielsen in the film. And he was totally cool about it, to be honest. It was my nerves kicking in. I was in the office of MGM and I was talking with Juel Taylor, who's also a co-writer in this because we developed the script. We kind of did a rewrite on the whole film and that's when the idea came about. Before we had even written anything I wanted to flesh out her exact scenes and arc, and then I'm going to ask Sly before we take it any further. It was the same day that me, Sly, and Florian Munteanu [Viktor] had just met in real life in person. So Flo was there. We say, "What's up?" to Flo, and then Flo leaves the room and I'm all like, "Here goes the perfect time to ask."
We're already talking about the Dragos. I was like, "Hey, man. I got this idea, something's missing from the story." I was like, "I want to cast Brigitte." He was cool with it. He was like, "I think the fans are going to love it." I don't know. He gave the respect to me during the process and for the fact that I cared about the series so much that I would bring back characters, or that I was thinking this way. Again, it feels like this is Creed II, so you want to stay away from as many Rocky characters as possible and start to go the Creed direction. But I tried to pay homage to the old Rocky and bring these moments back without losing the fact that it is a Creed movie.
People started clapping when she showed up.
Yeah, when we did a preview, it was one of those scenarios where it's is she working or not? I'm so close to the film, I literally had to wait for a preview to see if Brigitte was working. Then when we played the film, our first preview, that was one of our biggest reactions. Everyone turned to each other and you heard gossiping and a few claps like you said. We heard gasps. People were like, "What? No way." And we were like, "Boom! We have to keep her in the film. She works. This is amazing."
You can contact Mike Ryan directly on Twitter.