Back in 2000, director Ang Lee managed to combine operatic drama with stunning, elaborate martial-arts fight scenes in Crouching Tiger, Hidden Dragon. Adapted from the novel of the same name, the film won multiple awards and helped legitimize the martial-arts genre for mainstream audiences in the West. With the sequel, Crouching Tiger, Hidden Dragon: Sword of Destiny, set to hit Netflix Friday, February 26, here's a look back at some surprising facts from the ambitious, visionary movie that started it all.
The movie's source material was adapted out of order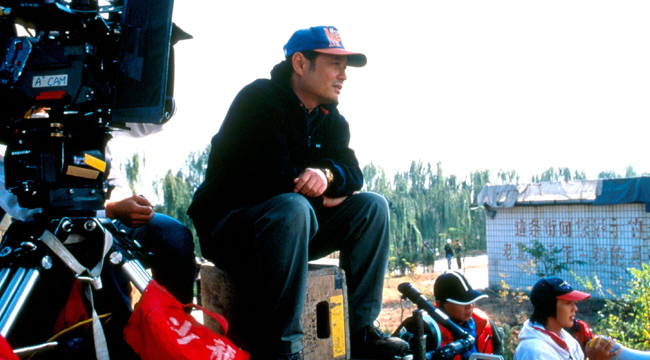 While the film borrows elements from earlier parts in the series, Crouching Tiger Hidden Dragon is based on the fourth book in the five-part Crane-Iron pentalogy, written by Chinese novelist Wang Dulu and released between 1938 and 1942. A resident of Beijing, Dulu began writing mystery novels in the early 1930s, eventually having more than 50 books published before quitting writing to become a school teacher in 1949. Outside of a comic-book adaptation, as well as a handful of online summaries — including one on actress Michelle Yeoh's website, there are no official English translations of the Crane-Iron books.
It's also worth noting that Sword of Destiny is both a sequel to the 2000 film as well as an adaptation of Dulu's novel Iron Knight, Silver Vase, the fifth book in the series.
It achieved a few movie milestones
Among its many achievements, Crouching Tiger, Hidden Dragon was the first martial-arts film to be nominated for Best Picture, and ended up scoring a total of 10 Academy Award nominations and four wins that year, including Best Foreign Language Film. Speaking of, it's also the first foreign-language film to gross more than $100 million in the U.S., where it's still the highest-grossing foreign-language film of all time. Interestingly enough, Ang Lee had considered shooting an English-language version of the film at first, but later told The Guardian that doing so would've been a "waste of time."
Jet Li was set to star at one point
The actor was originally considered the top choice for the role of Li Mu Bai, given that he was the first name you thought of when making a martial-arts film at the time. Li opted to make Romeo Must Die instead, and it was then offered to Korean actor Leon Lai, who also turned it down. Only then did they offer the role to Chow Yun-Fat, an unconventional choice, considering he had never done a period piece or so much as held a sword before.
Chow Yun-Fat had difficulty with his character's dialect
All four principle actors spoke Mandarin in the film, but each had distinctly different accents. Chow Yun-Fat, in particular, had difficulty with the language thanks to his Cantonese dialect. This clashed with Ang Lee's famous perfectionism and Chow's first scene required a whopping 28 takes, with Chow calling the whole experience "awful." In the end, he re-recorded his dialogue in post-production in order to better focus on his accent.
Michelle Yeoh took her preparation very seriously
After Lee pitched the film to actress Michelle Yeoh as "Sense and Sensibility with martial arts," (Lee directed a movie adaptation of Austen's novel in 1995), she took a year off to prepare, undergoing intense physical training while also learning to speak Mandarin. For the latter, the script had to be presented to her phonetically by native speakers on the crew. When it came to her character's personality, she based it on the director's wife, Yu Shu Lien.
The film's martial arts style reflected Zhang Ziyi's background
While Zhang Ziyi's character, Jen Yu, was extremely proficient in martial arts, Zhang herself never had any training of the sort. Instead, she used her background as a dancer when filming the fight scenes, opting to learn the specifics on the spot. Given the film's delicate choreography, she helped allow those scenes to feel more like fluid dances than conventional kung-fu sparring. Zhang did spend a great deal of time learning calligraphy for her role, however — a skill she'd later put to use use in 2004's Hero.
Despite her inexperience and lack of training, Lee deciding to cast her despite not watching the only film she had done previously, the 1999 drama The Road Home. Lee has said that he might not have considered her for the role if he had, finding her performance too nervous for his liking.
There was tremendous freedom in terms of fight choreography
When co-screenwriter James Schamus was penning the script, the fight scenes would be written in with ambitious little notes like "the greatest fight scenes ever written in cinema history." To match this expectation, legendary fight choreographer Woo-Ping Yuen was brought in. Yuen started his career with old kung fu films from the 1970s like The Bloody Fist and Drunken Master before his work on American action yarns like Lethal Weapon 4 and The Matrix. Lee later told IndieWire that he was grateful that Yuen, saying he "let him into his world of filmmaking and it was a blessing."
The famous tree-top scene was done in-camera with real actors
The scene that's most often associated with Crouching Tiger, Hidden Dragon was something Lee had imagined doing since he was a child, and he was adamant about pulling it off for his cinematic ode to a past that "probably never existed." Still, no one thought a scene like that could be done, with Yuen advising strongly against it, citing not only the technical limitations but also his personal preference of ground-fighting over wire-work.
Still, Lee kept insisting, and after his crew spent days preparing for the shot, and several more filming take after take, he got what he was looking for. There's a striking authenticity to the scene, with the frequent close-ups not allowing much room for stunt doubles. As a result, actors Chow Yun-Fat and Zhang Ziyi were suspended 40-feet on top of a forest filming an elaborately choreographed swordfight for several days, and the results are absolutely worth it.