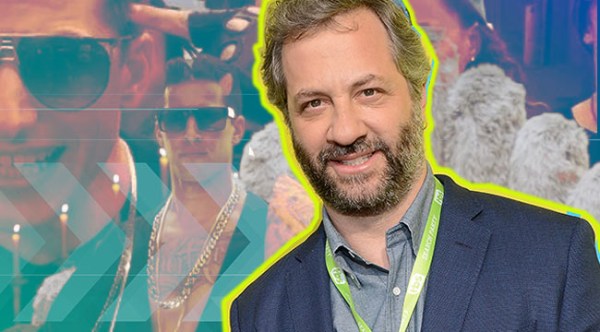 There's a scene near the end of 1996's The Cable Guy – the third movie Judd Apatow ever produced and one discussed in this interview – that predicts our future. Twenty years ago, Jim Carrey's Chip Douglas (or Larry Tate; Carrey's character used names from old sitcoms as aliases) stood on a satellite dish and told us that our television and our computers and our phones and our video games would all be connected – and there was something very ominous about the way Carrey delivered the line. Twenty years later and filmmakers are being harassed online about a Ghostbusters movie.
Apatow's latest production is Popstar: Never Stop Never Stopping, which explores what a pop singer will do in 2016 to stay relevant. After Conner4real (Andy Samberg) leaves the other members of his boy band (Samberg's fellow Lonely Islanders Jorma Taccone and Akiva Schaffer, who also direct), he faces adversity when his new album is met with critical scorn. This movie is very funny. The only shame is we will have to wait for the Blu-ray release to see the clips from Ringo Starr lamenting the breakup of The Beatles that Apatow describes below.
There was something comforting about listening to Apatow talk about what's happening with Ghostbusters, as he also does below. (Apatow worked with Kristen Wiig and director Paul Feig on 2011's Bridesmaids.) Even as he's drawing a line between the people angry about the movie and Donald Trump supporters, he's also telling us that everything will be okay — and that maybe we are paying a bit too much attention to the trolls.
Is Popstar a hard movie to promote? It's very funny, but it's the kind of movie that's hard to convey that in a short clip.
Well, I think with all these movies, at the very last minute, the world is basically told if it is funny or not. Most trailers are pretty funny, but just due to all the social media, there's just a big wind at the end that either lifts you up or pulls you down. And this movie is very hilarious, so I'm hoping the general buzz will reach everybody?
Did you notice that on Trainwreck?
I've noticed it the last few years. It used to be if there was some good buzz you could ride that for a while. But now, it almost feels like the entire attitude about your movie can change the day of release. People just get a whiff of it and there's just a buzz in the air. Or, "don't bother." It helps good movies for sure, but if you're in the middle it can hurt you.