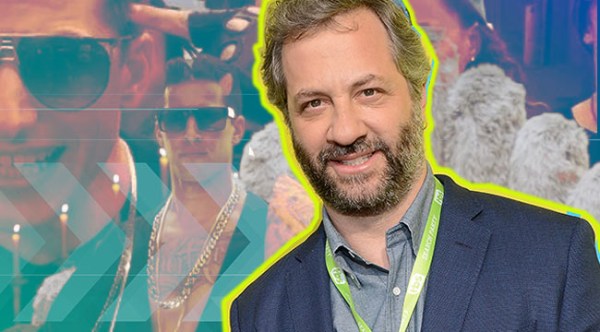 There's a scene near the end of 1996's The Cable Guy – the third movie Judd Apatow ever produced and one discussed in this interview – that predicts our future. Twenty years ago, Jim Carrey's Chip Douglas (or Larry Tate; Carrey's character used names from old sitcoms as aliases) stood on a satellite dish and told us that our television and our computers and our phones and our video games would all be connected – and there was something very ominous about the way Carrey delivered the line. Twenty years later and filmmakers are being harassed online about a Ghostbusters movie.
Apatow's latest production is Popstar: Never Stop Never Stopping, which explores what a pop singer will do in 2016 to stay relevant. After Conner4real (Andy Samberg) leaves the other members of his boy band (Samberg's fellow Lonely Islanders Jorma Taccone and Akiva Schaffer, who also direct), he faces adversity when his new album is met with critical scorn. This movie is very funny. The only shame is we will have to wait for the Blu-ray release to see the clips from Ringo Starr lamenting the breakup of The Beatles that Apatow describes below.
There was something comforting about listening to Apatow talk about what's happening with Ghostbusters, as he also does below. (Apatow worked with Kristen Wiig and director Paul Feig on 2011's Bridesmaids.) Even as he's drawing a line between the people angry about the movie and Donald Trump supporters, he's also telling us that everything will be okay — and that maybe we are paying a bit too much attention to the trolls.
Is Popstar a hard movie to promote? It's very funny, but it's the kind of movie that's hard to convey that in a short clip.
Well, I think with all these movies, at the very last minute, the world is basically told if it is funny or not. Most trailers are pretty funny, but just due to all the social media, there's just a big wind at the end that either lifts you up or pulls you down. And this movie is very hilarious, so I'm hoping the general buzz will reach everybody?
Did you notice that on Trainwreck?
I've noticed it the last few years. It used to be if there was some good buzz you could ride that for a while. But now, it almost feels like the entire attitude about your movie can change the day of release. People just get a whiff of it and there's just a buzz in the air. Or, "don't bother." It helps good movies for sure, but if you're in the middle it can hurt you.
This is a movie featuring a lot of songs that are entertaining, yet are perceived by the characters as "bad" because the album is getting bad reviews.
You know, that part for me isn't that hard because most modern music isn't great. But you can try to write a great modern music song – and if you do a good job, it's probably bad. But what we were more interested in was the desperation of modern pop stars to stay current and always be able to grab attention. The movie does capture everything modern pop stars have to deal with: They have to be political, but they still have to be cool.
Then Ringo Starr shows up with a killer line.
It's funny, when we did the interview with Ringo Starr, he knows it's a joke for a movie, but at the same time we are doing a real interview with Ringo Starr for about 45 minutes – to take little clips from and put throughout the movie. While we were talking to him, we were just asking him questions about his life and career and he's telling us all these stories about The Beatles. So in a way, we got to do this amazing Beatles interview with him as well as have him say all these ridiculous things. It was a great line that didn't make it in the movie from Ringo that made me laugh. He was talking about Conner4real's pet turtle, so he started going on about how he had an octopus for real and that's where the song came from. But also that the octopus had killed someone.
I wish that were true.
No, it was a joke.
I would never listen to "Octopus's Garden" the same way.
But we were trying to get him to talk about how, sometimes, when bands break up it's good because different members get to be really creative and have more control over what they do. And I said, " 'Did you ever feel that way?' " And he said, " 'No, The Beatles breaking up was a huge mistake. We never should have done it!' "

What's your plan for your next movie? You seem to take these long breaks between directing gigs. I have no idea what you're doing next.
You know, I don't either. I'm not sure. I got sucked into the whirlpool of modern television. There's so many people who need so much content that, suddenly, there's a lot of freedom on television you don't even get in the movies. You know, when you make a movie it has to be satisfying and check all the boxes. Where, when you do a TV show, something like Love or Girls, you can tell a story where something terrible happens and then it's over. That being said, I'm always trying to figure out what the next movie I'll direct will be. I haven't really landed on something. I'm kind of hopeful I can shoot something next summer.
I don't want to insinuate you are not busy. I like your movies.
Oh no, it's just tricky to have time to think about it. I'm sure it will happen at some point. I'm trying not to feel like it has to work in any timetable.
What's your opinion of the Internet's reaction to the new Ghostbusters movie?
I would assume there's a very large crossover of people who are doubtful Ghostbusters will be great and people excited about the Donald Trump candidacy. I would assume they are the exact same people. That movie is made by the great Paul Feig and stars the funniest people on Earth, so I couldn't be more excited. I think people have paid too much attention to just some angry trolls. And it will be judged on its own greatness. I don't think anything really matters the way you think it does. The movie comes out, and it will be great, and people will just be happy to have it. It's not like anybody really cares about a couple of idiots who hold onto the idea that things never evolve. I always think, you know, we have our past and if you can come up with a new, cool way to do something, then that's exciting and hopefully it will make a lot of people happy.
The Cable Guy was on TV the other night. I caught the scene when Jim Carrey is giving the speech at the end on the dish about what the future will be like…
[Laughs.] Yes! Exactly! And it's only gotten worse.
Chip Douglas nailed it.
It predicted our future. That one day we would combine our television, phone and computer and we'll be able to play video games with our friends in Vietnam.
When you were making this movie, were you thinking "I believe this will actually happen," or was that just an exaggerated guess that came true?
We talked a lot about television as a distraction – about how we spent so many hours in front of it.
Which seems funny now.
Yeah! It's so much worse now. Your television is with you at all times. When we made that movie, I think maybe some people had pagers? There were some mobile phones. I remember going to a Red Sox game in 1995 and making a call on my mobile phone and everyone in the place looked at me like I was an alien and everybody was screaming at me like I was the biggest asshole in the world because no one had mobile phones back then. I'm glad the movie holds up.
It literally predicted the future.
It was always kind of a unique movie and we had the great time making it.
It has to be satisfying that people like it today, as opposed to the heat it got back then.
Well, I think the heat was just based on that there was an expectation of what a Jim Carrey movie would be. And Jim decided to say he was going to be experimental and do all sorts of movies, not just make a certain kind of hard comedy. I'll also do The Truman Show and Eternal Sunshine of the Spotless Mind, but The Cable Guy was the first time Jim made that statement. In the same way Steve Martin decided he was also going to make Pennies From Heaven. And that's what all of these people should do. That's why Sandler made Punch-Drunk Love and we're lucky to have these other movies that aren't necessarily in the main genre they work in.
Funny People fits into that with him.
Yeah, I mean, we want people to take chances and stretch. And The Cable Guy really makes me laugh. It's super weird on a lot of levels. When we were making it, we were thinking about movies like Hand That Rocks the Cradle, only, "What if it was Jim?" And that was the fun of it.
Mike Ryan lives in New York City and has written for The Huffington Post, Wired, Vanity Fair and New York magazine. He is senior entertainment writer at Uproxx. You can contact him directly on Twitter.