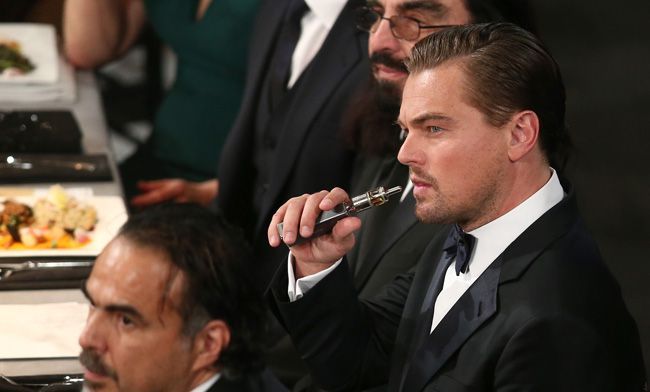 Leonardo DiCaprio made the stuffy awards season a blast with a couple of constants. For one, he gamely endured terrible bear jokes while supporting The Revenant, and DiCaprio also dragged his vape pen everywhere. He even vaped like a pro at the Screen Actors Guild awards. He inspired vaping memes and vaped in the face of nerdy doctors who discourage vaping.
Unfortunately, the Academy stole Dicaprio's fun by banning vaping, and he had to leave his beloved pen alone during the ceremony. So, it comes as no surprise that Leo's first move outside the door was not to pluck up his trusty Victoria's Secret catalog. After winning Best Actor, Leo hugged on Kate Winslet, threw down an unexpected speech, and proudly got his Oscar engraved. Then Leo stepped outside and really got down to business. TMZ reveals that his post-Oscars celebration included cocktails and a whole lot of vaping. Indeed, their paparazzi captured Leo vaping in more than one location while bobbing his head around in an awkward manner.

Leo has proven that dancing and vaping do not mix, and one shall sacrifice itself for the good of the other. This TMZ video shall stand as proof.