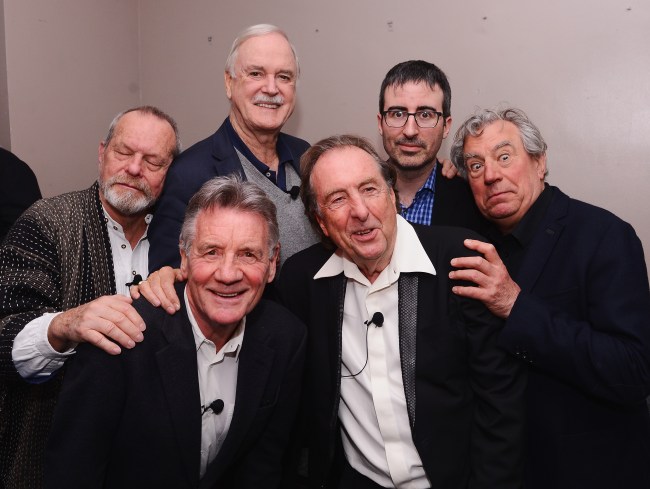 On Friday night at the Beacon Theater on New York City's Upper West Side, the Tribeca Film Festival hosted a screening of Monty Python and the Holy Grail in celebration of the film's 40th anniversary. In attendance were the five surviving members of Monty Python – John Cleese, Eric Idle, Terry Gilliam, Terry Jones, and Michael Palin (Graham Chapman passed away in 1989) – and John Oliver, who hosted a quite rowdy Q&A after the screening.
First of all, I hadn't seen Monty Python and the Holy Grail in its entirety in a very long time. I just remembered that, in junior high, I loved that movie. You know how it is, you see bits and pieces here and there over the years, but I hadn't taken the effort to just watch the movie in an embarrassingly long time. Good grief, that movie is still so hilarious. And what a treat it was to watch it in a huge theater with a packed crowd. When certain scenes started — say, for instance, the sword fight between Arthur and the Black Knight — they would get applause just from the anticipation of knowing what was coming.
After the film, John Oliver hosted a Q&A and it was kind of like watching a grade school teacher trying to maintain order in a class full of children high on Fun Dip and Mello Yello. The Pythons found it difficult to stay in their seats, often switching seats or just leaving the stage altogether before eventually returning. If I can sum up the nonsense with one picture, it's this one I took with my phone from the audience (that's Oliver on the right with his back turned).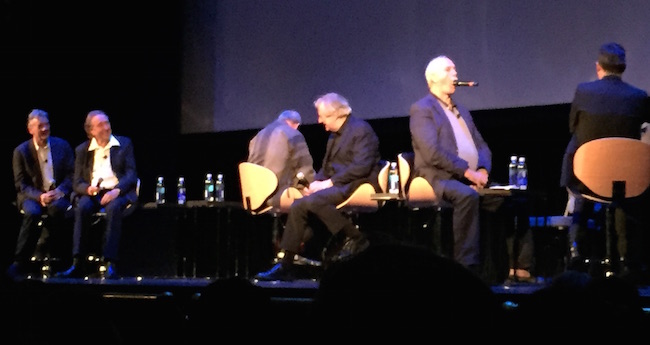 But, through the rambunctiousness, some interesting things were said. Here are some highlights:
– When Oliver asked Michael Palin why Monty Python and the Holy Grail still holds up after all these years, Palin answered that it's because it's, "just fucking great."
– Eric Idle remembered that when the film came out in New York City, they offered the first 1,000 customers free coconuts.
– John Oliver was not a fan of the questions that were submitted by the audience. One read, "Which one of you is Michael Palin?" – a question Oliver lambasted as only Oliver can. Eventually, Oliver gave up, jumped off the stage and ran up and down the aisles looking for good questions. He did not succeed.
– The members of Monty Python still love making fart noises into the microphone.
– Michael Palin said the "ni" noise from the Knights Who Say Ni in the film was taken from a former teacher of his that would make that noise after locating a book in the library.
– John Cleese addressed today's outage culture by saying that if you want to do a bit about a man who eats his dead mother that 99 percent of the people will think is funny, you should do it – even though one percent won't think it's funny because of course there are people whose mothers had just died the night before. But, as Cleese adds, there's not that many.
– Eric Idle shared a story about their first trip as a group to America. They were supposed to do 30 minutes on The Tonight Show with guest host Joey Bishop. It failed so miserably, they finished 30 minutes of material in 15 minutes and left the audience in silence with their mouths agape.
– An audience member asked Michael Palin if a different ending to Holy Grail had been discussed, Palin answered that the movie already has seven in there currently.
– Asked what American comedies they like today, it turns out that Terry Jones likes Veep and Eric Idle is a big fan of Silicon Valley.
– John Cleese was miserable while shooting this film. As Cleese went on an on about the working conditions, Terry Gilliam made exaggerated yawning motions and then joked (I think) that this is why he hates everyone else in the cast.
Mike Ryan has written for The Huffington Post, Wired, Vanity Fair and New York. He is senior entertainment writer at Uproxx. You can contact him directly on Twitter.