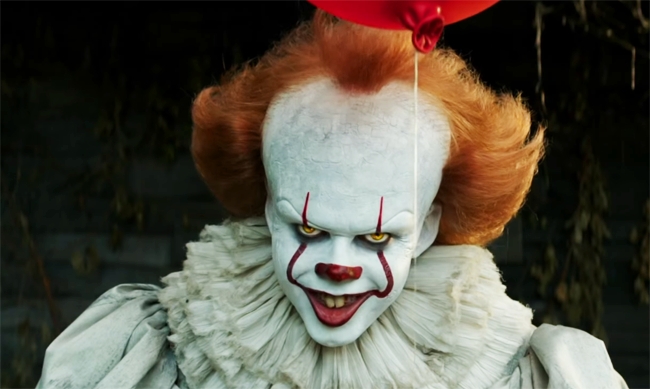 It: Chapter Two is still a year away (clowns are so 2017 and 2019; 2018 is all about demonic nuns), but production on the sequel to the highest-grossing horror film ever is currently underway. In fact, if you were recently in Port Hope, Ontario, where parts of the film are being shot, you might have caught a glance of Pennywise the Dancing Clown… perched on a statue of Paul Bunyan?
It's a scene straight out of Stephen King's 1986 novel of the same name: Pennywise possesses the giant lumberjack statue and nearly kills Richie (played by Finn Wolfhard as a kid, and Bill Hader as an adult). The recreation of the moment was captured in an on-set photo (as seen here), and while it looks super goofy out of context, so did Pennywise peeking out of the underground pipe from the original It, and that movie turned out just fine.
Here's another up-close look at Pennywise Bunyan.
Meanwhile, Jessica Chastain, who plays grown-up Beverley (just as the prophecy foretold), recently wrapped filming, with returning director Andy Muschietti writing on Instagram, "Ch-ch-ch-ch chastain, and face the strange… she's soooo happy when she can smear her fake blood on me." It: Chapter Two — which also stars James McAvoy and Jaeden Lieberher as Bill, Jay Ryan and Jeremy Ray Taylor as Ben, Isaiah Mustafa and Chosen Jacobs as Mike, James Ransone and Jack Dylan Grazer as Eddie, Andy Bean and Wyatt Oleff as Stanley, and Teach Grant as Henry Bowers — opens on September 6, 2019.
(Via Northumberland News)