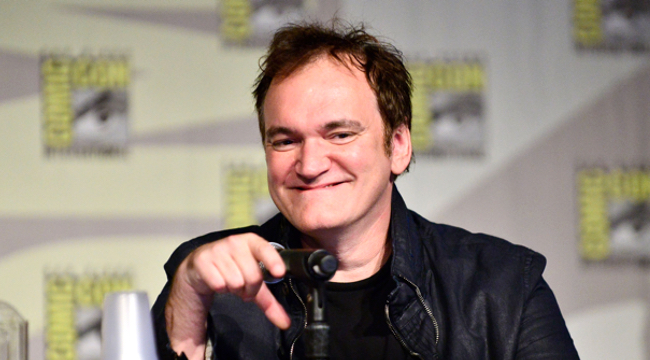 Quentin Tarantino stands less than five months away from the release of his eighth film, The Hateful Eight, which recently presented a glorious trailer. The man sat down for a tremendous interview with Vulture, where he reveals he's finished an hour of the film. QT hopes the story, which takes place in the Civil War's aftermath, will contribute to the current dialogue about institutional racism. Also, The Hateful Eight couldn't sustain a marquee-star name like Brad Pitt or Leonardo DiCaprio. Instead, the film is a true ensemble work "where nobody is more important than anybody else."
This interview covers an enormous amount of ground. Tarantino admits audiences are becoming more sophisticated, so people aren't scratching their heads like they were with Pulp Fiction. He feels his more recent works are more readily understood by people, who are "not befuddled" because "they get it." Well, all except for Grindhouse, which Tarantino admits taught him a huge lesson after he became too comfy with "having the audience come along." He touches upon his continued use of the n-word, and then this happens.
Quentin reveals that — gasp — he hasn't been to the movies this year because he's been so busy with work. Then the journo asks which TV shows Quentin loves to watch:
"The last two shows that I watched all the way were Justified and How I Met Your Mother. I already knew [Walton Goggins] from The Shield. You know, literally watching him for six years do faux-Quentin dialogue let me know that he's got the right kind of tongue."
Justified doesn't come as a surprise because of the Elmore Leonard connection. The HIMYM obsession, well, that is really something. But what does Tarantino think of True Detective?
"I tried to watch the first episode of season one, and I didn't get into it at all. I thought it was really boring. And season two looks awful. Just the trailer — all these handsome actors trying to not be handsome and walking around looking like the weight of the world is on their shoulders. It's so serious, and they're so tortured, trying to look miserable with their mustaches and grungy clothes."
There you have it, folks. Tarantino was frustrated with True Detective long before the internet changed its mind. The man remains on the cutting edge of coolness.
For all the Tarantino fans out there, the full piece is well worth reading, for Quentin goes off on several riveting tangents. He refuses to stream movies, won't stop reading print newspapers, and still writes scripts with paper and pen. The interview ends with Quentin promising that Kill Bill 3 is "not off the table." Boom.
(Via Vulture)