Rampage — starring Dwayne "The Rock" Johnson as a primatologist with an albino gorilla best friend (what a delightful phrase) — recently moved its release date one week sooner after Avengers: Infinity War shifted release dates. Rampage's new release date is on Friday the 13th in April, and they don't seem to have any qualms about a Friday the 13th opening, nor do they have any qualms about poking fun at their own bonkers premise, as demonstrated by the new promo video above.
The Rock introduces the promo like he's making another Instagram video, and it cuts back to him critiquing the footage throughout, in case there was any doubt they didn't know they were making something ridiculous and embracing the absurdity of it all, as any best worst movie should. It's also oddly reassuring to see the Rock cutting a promo and talking directly into camera, as if he's about to shout "it doesn't matter" at any second and clothesline somebody. Oh man, I hope he clotheslines that flying wolf midair. Smell what he's cooking, you hollow-boned canine kaiju bastard.
Two new posters for the film are also out now, with the second one giving a closer look at the three giant rampaging animals: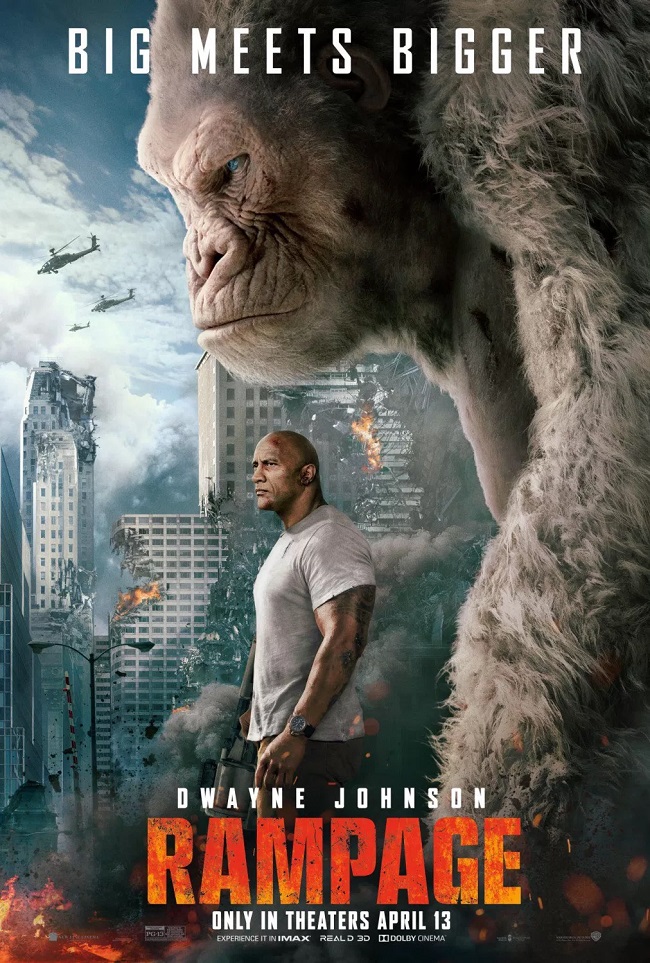 The Rock and Rampage will welcome us to the jungle this April 13th.
(Via Warner Bros. Pictures, Bloody Disgusting, and Dwayne Johnson)