Most residents of Austin, Texas (like myself), have a complicated relationship with South by Southwest. Thousands of strangers invade our city, eat our tacos, drink our Shiner, and explain their marketplace-disrupting apps using terms "pivot" and "curation." That's the bad. The good? The movies (and the music, but that requires a lot of standing). Now a quarter-century old, the SXSW Film Festival had a solid slate of titles this year, with a mix of studio-backed blockbusters (Ready Player One) and low-budget indies (like The Unicorn and Blindspotting, both of which you should see!). Here are six of the best SXSW films we saw (in 250 words or less, in honor of the festival turning 25).
A Quiet Place
Directed by John Krasinski, A Quiet Place is a B-movie produced by Transformers maestro Michael Bay and starring one of our generation's finest actresses, Emily Blunt. That's a compelling mishmash of low- and highbrow movie-making — can you imagine Julie "OG Mary Poppins" Andrews in a mid-budget horror flick? — but A Quiet Place wisely (and mostly successfully) sticks to its B-movie roots. The plot is straight out of an old-fashioned creature feature: a family — mother Blunt, father John Krasinski (in full survivalist beard mode), and three kids, including a hearing-impaired daughter (played by deaf actress Millicent Simmonds) — lives in the woods, where they can't make a sound because monsters, or something wicked in the woods, will eat them.
The tight and tense premise and whispered dialogue naturally convey tension (there are maybe 50 clearly audible words the entire movie), so it's a shame that A Quiet Place so often relies on easy jump scares. But otherwise, Krasinski, who had no genre experience prior to the film, sees A Quiet Place as a family drama first and horror movie second, which may frustrate some fright fans (as will the occasional logistical flaws in all-silent world and unintentional visual "homages" to Signs and — of all movies — The Lost World: Jurassic Park), but he, and screenwriters Bryan Woods and Scott Beck, rightly realize there's nothing more terrifying than your loved ones being in mortal peril.
Blockers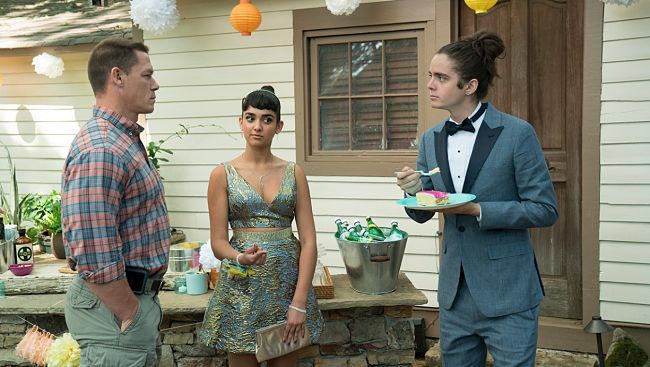 Yeah, I'm shocked, too.
I didn't expect much from a studio comedy that promotes itself with a picture of a rooster and the word "blockers" (as in, c*ckblockers), was written by the same person behind the increasingly aggravating Pitch Perfect series, and stars Fred: The Movie's John Cena, but Blockers is a funny exploration of the dynamics between sexually adventurous teenagers and their repressed parents. It takes a tired trope — high school students (Kathryn Newton, Gideon Adlon, and breakout Geraldine Viswanathan) try to get laid on prom night without their moms and dads, including Cena, Leslie Mann, and Ike Barinholtz, finding out — and twists it around by having the horny teens be played by women, including one who identifies as gay but isn't defined by her sexual preferences. (It's refreshing to have a comedy led by women that doesn't have them squabbling at any point.) Blockers isn't trying to lead the #MeToo movement, though; this is a raunchy sex comedy, through and through, that prioritizes horny over heartfelt (although it's that, too). Eggplant emoji OK hand emoji peach emoji. There's butt chugging (you've seen the bad trailer), but there's also Thoroughly Modern Millie references. Never judge a Blockers by its cover, or jean shorts.
Eighth Grade
Eighth Grade is maybe the most "OMG, that was so me" movie ever. It's, as the title suggests, set in the eighth grade, where everything is awful; your body is actively revolting against you; your parents are, like, super annoying; and why won't the popular kids hang out with me? Sorry, I was briefly channeling my own middle school experience, but that's the relatable power Eighth Grade will have over you. It's not a documentary, but it feels like one.
Comedian Bo Burnham's directorial debut (he also wrote the screenplay) follows Kayla (an award-worthy Elsie Fisher), your typical smartphone-obsessed teenager during her last not-so-precious month of classes before moving up to high school. But before she can get there, there are miserable pool parties to attend, school shooting drills to ignore, and YouTube videos to record… that no one will watch. So far, I've made Eighth Grade sound like a horror movie — it's not, although some scenes, particularly one in the backseat of a car, could be — instead of the emphatic indie comedy it actually is. Burnham's script is tight (there's a speech Kayla's father gives to his daughter that reduced me to Call Me By Your Name-esque tears), but with room for the actors to embed their performances with realistic stammers. Eighth Grade is hilarious, endearing, and delightful. It's everything the real eighth grade isn't.
Hereditary
The buzz out of Sundance called Hereditary the "most traumatically terrifying horror movie in ages," a modern masterpiece in suspense. That's a lot of heavy expectations for one film to meet — especially from a director, Ari Arster, in his feature debut — but, spoiler alert, expectations: met. That's the only spoiler I'll give, though; it's best to go into Hereditary stone cold.
Here's what I can say, though: Toni Collette gives a forceful performance, but Alex Wolff (as in, The Naked Brothers Band's Alex Wolff), as her stressed-out son, might be even better; Arcade Fire collaborator Colin Stetson's score sounds like the way spiders crawling up your back feels; and nearly every shot is filled with creeping dread, the sense that if you look hard enough at the corner of the screen, you'll discover something unsettling, sometimes literally. Hereditary (which unsurprisingly comes from the same distribution company as It Comes at Night, Ex Machina, and The Witch) is a stunning accomplishment in foreboding that will stick with you long after you've left the theater. Don't watch the trailer. Do watch the movie.
Science Fair
There are two kinds of documentaries: ones that make you feel good about the world, and ones that make you feel bad about the world. Science Fair is the former. Students from around the globe compete to win $75,000 and the adoration of thousands of fellow brainiacs at, well, a science fair. But not just any science fair, though: it's the Intel International Science and Engineering Fair. (If you've heard it, this is the movie for you; if you haven't, prepare to get way too invested.) Cristina Costantini and Darren Foster's documentary follows a few of the contestants, including a first-generation young Muslim woman from South Dakota; an aviation sunglasses-wearing German teenager; and Myllena and Gabriel, two Brazilian friends who see winning the contest as a way to escape the poverty they grew up in. There are spare references to the world at large, particularly America's increasing disinterest in what science can teach us, but Science Fair is smartly contained to its teenage subjects (and one dedicated teacher who gave up her social life for her students), all of whom have distinct personalities, and the time and research that goes into their projects. Like with all contests, there are winners and losers (I won't spoil the result, but I will say I'm #TeamKashfia), but Science Fair is a first-place joy.

The New Romantic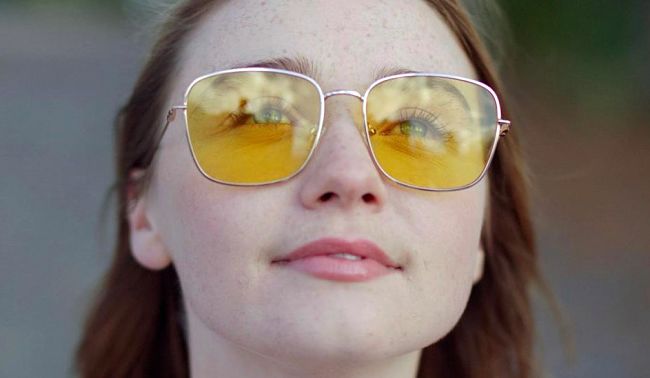 This list was originally going to be five movies long (25 years… five years — it somehow made sense), but there's one film that I would have felt too guilty leaving off. The New Romantic (which, for better or worse, has nothing to do with Taylor Swift) stars The End of the F***ing World breakout Jessica Barden as Blake, a college journalist who writes the world's worst sex column, due to her lack of, well, sex. To spice things up, she becomes a sugar baby. Blake's not in it for the financial benefit, though — she prefers the experience, which will help her win a prestigious writing award. The entire young cast is solid (including both Veronica and Josie from Riverdale!), but Barden's performance, in particular, is so good that you won't mind the occasionally scattershot writing from this enjoyable (and non-judgmental) indie romantic-comedy.