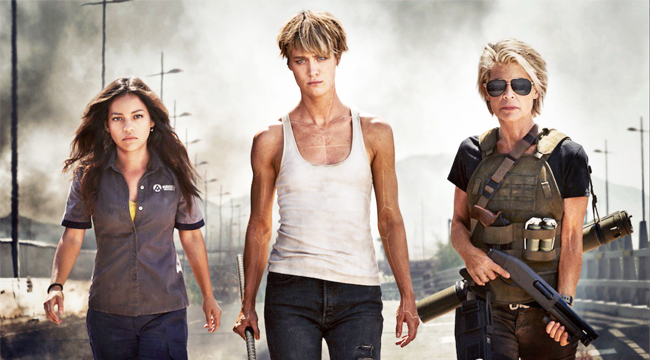 Paramount Pictures tweeted the above image on Wednesday morning to let audiences know that, nope, this is not a drill … Terminator 6 is really happening. That is to say, actresses Natalia Reyes and Mackenzie Davis are indeed taking a post-apocalpytic stride alongside Linda Hamilton, who's back as Sarah Connor despite producers apparently deciding to hide her lethal biceps and deltoids in favor of highlighting her literal arsenal.
Not too terribly much is known about the film's plot so far, but some tidbits have leaked out about the unofficially named sequel. Here's the lowdown:
Why A Sixth Film? It may seem difficult to believe that the sixth installment of the time-traveling saga, which began in 1984 with Kyle Reese giving everything up to save John Connor's life, is at hand, considering the poor critical reception of the last film. However, Terminator Genisys grossed nearly half a billion dollars globally, thereby proving there's enough juice to continue. So, James Cameron has returned to produce alongside David Ellison, and the film is being directed by Deadpool helmer Tim Miller. From the looks of the chosen image released by Paramount, the future largely sits in the hands of women.
The Cast: Davis plays a key role, Grace, and she bears distinctive skin markings that could indicate an android status, and she's certainly appearing cyborg-y. Reyes steps in as a character named Dani Ramos, wearing a mechanics shirt complete with logo. Sarah Connor looks as badass as could be expected, and although she's not appeared since Terminator 2, she's surely tired of this genodical robot nonsense by now. Diego Boneta also features, and Gabriel Luna will star as the newest Terminator on a mission from Skynet.
Arnold Will Return Again: Although Arnold Schwarzenegger is 71 years old, he can't stop saying, "I'll be back" to one of his most iconic roles. Over the weekend, he posted the below video to explain why he wouldn't be attending a Climate Action Pacific Partnership (CAPP) event in Fiji. "Prime Minister Frank Bainimarama, I want to congratulate you for this great event and I'm sorry I cannot be with you, but I'm currently shooting Terminator 6," Schwarzenegger explained. "Otherwise, I would have been there, because this is a terrific event and you have shown terrific leadership."
A New Beginning, Sort Of: Tim Miller and the rest of the team hope to wipe the slate clean as far as the franchise's (considerable) missteps are concerned. In other words, Paramount is totally pulling a Halloween and pretending that Terminator 2: Judgment Day was the last peep uttered about Skynet and friends. Previously, James Cameron explained that he considers Terminator 3: Rise of the Machines, Terminator Salvation, and Terminator Genisys to be a "bad dream" that only exists within "an alternate timeline, which is permissible in our multi-verse." No arguments here.
Terminator 6 is currently scheduled for a November 2019 release.