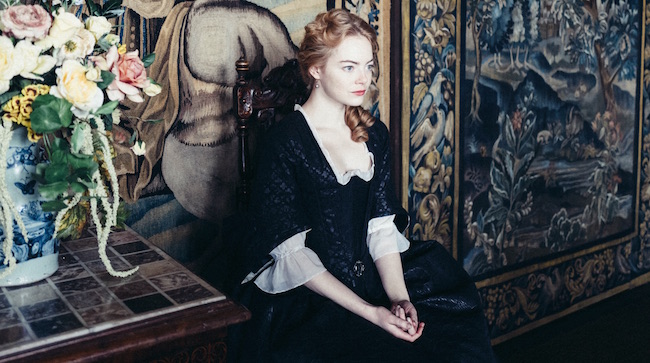 Yorgos Lanthimos' last two films – The Lobster and The Killing of a Sacred Dear – both begin with an absurdity that leaned on humor, then both end with an absurdity that relied on the macabre. They are both strange movies that I adore. While watching, it's interesting to pinpoint the moment your conscious stops processing the images as humor and, instead, begins to be sickened. What's fascinating is there's no true dividing line between the two. It's like faucet water ever so slowly becoming warmer, but all you realize is that at one point it used to be cold, then, before you know it, it's hot.
The Favourite (which kicks off the New York Film Festival on Friday) plays along those same rules, but maybe not quite as extreme. (Which, in essence, makes The Favourite more of a mainstream film than The Lobster and The Killing of a Sacred Dear.) Written by Deborah Davis and Tony McNamara, it's Lanthimos' first film that he doesn't also share a writing credit, which shocked me because it feels so much like his writing structure. (Though, I suppose it's less shocking then that he read this script and decided, "I like this and I will direct this.").
The Favourite stars Emma Stone as Abigail Masham, a servant turned influencer in Queen Anne's court, all loosely based on real-life events. Queen Anne — played by Olivia Coleman, who will no doubt get an Oscar nomination — is frail, often sick, a little weird, and frankly just wants to hang out with her pet rabbits. (After seeing The Favourite, you might talk yourself into wanting a rabbit as a pet. They are cute! As someone who had a pet rabbit at one point in his life, I offer this: They do make good pets, but they have a surprising mean streak at times. They can be litter trained, but they really love chewing through electrical wires.)
Abigail shows up at Queen Anne's court a little down on her luck. She seeks a job from her cousin, Sarah Churchill, Duchess of Marlborough (Rachel Weisz), who, more importantly, is the Queen's most trusted ally and secret lover. Abigail eventually gains Sarah's trust, which in turn leads to Abigail gaining the Queen's trust. Eventually, the Queen doesn't even seem to need Sarah any longer because now she has Abigail, who is more than willing to be at the Queen's beck and call in exchange for the power that comes along with that. This leads to a back and forth chess game between Abigail and Sarah for the attention of the Queen.
Nicholas Hoult plays Robert Harley, 1st Earl of Oxford and Earl Mortimer, a conniving politician who is extremely observant of the situation between Abigail and Sarah and uses their rivalry to his advantage and for information that might help him as leader of the Queen's opposition party. Hoult plays Robert Harley as such a scamp! Always hiding beneath his wig, a pound of makeup, and a devilish grin, Hoult prances his way through this story sure of himself as the smartest person in the room. It's almost like they cast Hoult straight out of an Adam Ant video.
But what saves this from being, let's say, in the wrong hands, "tedious," is the offbeat style of Yorgos Lanthimos. If you've seen his last two films, it's not the same kind of rigid, almost matter of fact absurdity he uses in those films. In The Favourite, he opens up these characters more, yet still keeping the darker aspects of his techniques intact. In The Lobster and The Killing of a Sacred Dear, there's a supernatural element that drives the horror of those films. So, basically, that's gone here, which forces Lanthimos to rely more on his characters and the results are appealing.
I suspect, considering the cast, the Oscar buzz, and a big push from Fox Searchlight, The Favourite will wind up being Lanthimos' most financially successful film to date. (The Lobster made around $15 million. Also, I cannot recommend that movie enough.) And I am curious how mainstream audience will react to his style. Then again, compared to his last films, it's much more subdued, so maybe people won't even really notice. But for those of us who have followed his career, his signature traits are still there. And now a lot more people are about to have a look at them.
'The Favourite' is currently scheduled to be released on November 23rd. You can contact Mike Ryan directly on Twitter.