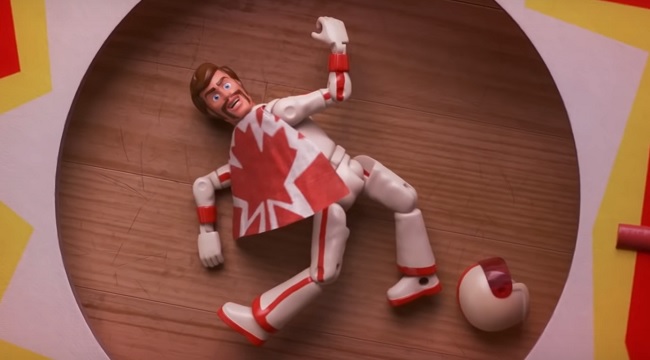 Whenever I attend the movies these days, odds are that I'm going to see a Disney movie, not by choice, but because it's what's available more often than not. It also means watching trailers for other Disney movies, which will be a large percentage of the choices in any given future month at this point. Three of the top ten movies this week are Disney movies. Four of the top 10 movies this year, so far, come from Disney. That honestly wouldn't be so bad if the most powerful movie studio on the planet didn't recycle the same characters and the same stories over and over. With Disney's existing catalog, 21st Century Fox's catalog, Marvel, and LucasFilm, Disney owns a large share of existing Intellectual Property, so they have little incentive to create anything new. While their films obviously do very well (again, four of the top ten films this year come from Disney), it also means that there's a certain quality of sameness to going to the movies these days. The movies may be good, but they won't be surprising or interesting. They'll be comfortable.
Enter Toy Story 4, the latest installment in a 24-year-old franchise. Personally, I wasn't that excited about going to see Toy Story 4 because I thought the franchise ended perfectly after the third film. But I have kids, so I knew attending would be inevitable. And the thing is: I ended up loving Toy Story 4, which is probably my second favorite of the franchise (after Toy Story 2). It's a fantastic film that introduces a number of clever new characters (Forky!) and cleverly trades on a lot of horror tropes before delivering a whopping emotional finale. I'm glad I saw it, despite my initial lack of enthusiasm.
However, I think it was that lack of enthusiasm among the general public that resulted in a somewhat disappointing $118 million opening. Granted, almost no one is going to argue with a $118 million, the third best opening ever for an animated film And yet, it's more than $60 million short of the opening of last year's Incredibles 2. It's also well short of the lofty $200 million opening that some were anticipating and much lower than the $150 million tracking for the film.

The $118 million figure is fine, and Toy Story 4 is expected to put up similar numbers overseas. With stellar reviews (98 percent on Rotten Tomatoes) and excellent word of mouth (an A Cinemascore) and no new competition in the kid market until Lion King on July 19th, Toy Story 4 is going to earn a profit, probably a very substantial one. It will probably end the year as one of the five highest grossing films of 2019. But I wonder how much better it'd do if moviegoers, in general, weren't a little bit exhausted with seeing the same characters every week at the multiplex? At the very least, at least the next two films from Pixar are not sequels, which I think is wise.
Meanwhile, Child's Play — a reboot of a 31-year-old film and the eighth film in the franchise — put up generally decent numbers, opening at number two this weekend with $14 million, which is a strong showing relative to its $10 million budget (and interestingly, almost the same as the opening for the original movie, back in 1988). The reboot received mixed reviews (59 percent on Rotten Tomatoes) and a C+Cinemascore, which is typical for horror films. It's not expected to light up the box office or be a sleeper hit of any sort, but it will probably coast to $30 million and eke out a profit
Disney's Aladdin comes in at number three. It continues to leg out solid numbers with another $13.8 million and $289 million overall, as it sails to $300 million stateside plus close to $500 million overseas. In its second weekend, Men in Black: International took a big 64 percent tumble, earning only $10.9 million and $52 million after 10 days. Fortunately for Sony, it's performing better overseas, but it's not exactly lighting it up in foreign territories, either. I would not expect a sequel, though fortunately Chris Hemsworth and Tessa Thompson can still fallback on their Marvel movies.

Secret Life of Pets 2 also continues to struggle, earning $10 million in its third weekend to bring its total to $117 million, which is only $14 million more than the first one made in its first three days. In its fourth week, the Elton John biopic Rocket Man has now earned $77 million after a $5.5 million weekend. Worldwide, it's earned $150 million on a $40 million budget. John Wick 3, the longest-running film in the top ten, earned $4.1 million to bring its total over $150 million ($156 million). Godzilla: King of the Monsters crossed the $100 million mark ($102 million) with another $3.7 million. It's been a disappointing run stateside, but it's cleared $250 million overseas. With $3.6 million, Dark Phoenix pulls up lame at number nine this week after only 3 weeks. It's earned a miserable $60 million, although it has performed better overseas, where it's already crossed $150 million.
Another debut this weekend, Luc Besson's Anna, did not come close to approaching the $43 million opening of Lucy back in 2014. This one opened in tenth place and only mustered $3.53 million on the back of poor reviews (24 percent on Rotten Tomatoes), although it did fetch a B+ Cinemascore. Moreover, given Summit Entertainment's efficient spend and deal structure on the title, the studio's financial exposure is minimal. The film will probably fare better in Besson's home country of France next weekend.
Finally, two films that debuted last week — Late Night and Shaft — have already fallen out of the top ten, scoring $2.5 million ($10 million total) and $3.5 million ($16 million total) respectively.
Next week sees two more wide releases ahead of the Fourth of July week. Danny Boyle's Yesterday opens on Friday and will compete against the Wednesday opener, Annabelle Comes Home, which is the third Annabelle movie and the sixth in The Conjuring franchise. In other words, sequels are not going away anytime soon.
Source: Box Office Mojo, Deadline