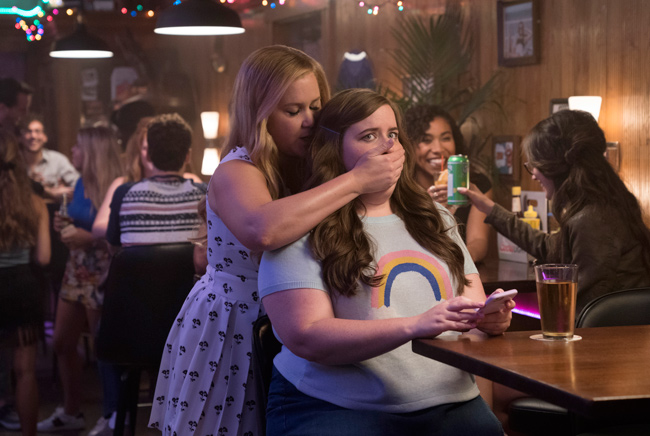 The weekend before the arrival of Avengers: Infinity War was considered by some to be a dumping grounds, but there was plenty of action at the box office ahead of what may be the biggest movie of 2018.
However, it is A Quiet Place, in its third weekend, which reclaimed the number one spot after losing it last weekend to Dwayne Johnson's Rampage (which fell to number two this weekend). The John Krasinski horror film logged $21.7 million in its third frame to bring its total up to $132 million domestic, which not only makes the $17 million budgeted film the year's second-highest grossing box-office hit, but a very profitable investment, especially when the extra $60 million from foreign territories is accounted for.
Meanwhile, Rampage continues to perform solidly, adding $20.1 million in its second weekend to bring its 10-day total to $66 million. The Dwayne Johnson flick, however, is designed to be a global hit, and it is more than holding its own around the world with what looks like more than $200 million internationally after two weekends on a $120 million price tag.
Amy Schumer's I Feel Pretty comes in at number three in its debut weekend with an OK $15.7 million. That's less than the $19 million earned by Schumer's pairing with Goldie Hawn, Snatched, and considerably less than the $35 million opening of her break-out hit, Trainwreck. I Feel Pretty is faring decently among audiences (a B+ Cinemacore), but critics have largely dismissed it (it sits at 35 percent on Rotten Tomatoes). The combination of bad reviews and lukewarm word of mouth — plus the arrival of Infinity War — will make it difficult for I Feel Pretty to climb to the $46 million earned by Snatched. However, with a relatively modest $32 million price tag, STX Entertainment may earn back its investment after Pretty is released on the home digital market, where comedies are performing better these days. It does not bode particularly well for Schumer's ability to carry a film on her own, however. (She'll have Steve Carell and Nicole Kidman alongside her in her next feature, Rebecca Miller's She Came to Me.
The real surprise this weekend, however, was the performance of Super Troopers 2, a sequel to a 17-year-old cult hit that earned nearly as much in its opening weekend ($14.8M million) as the original did in its entire domestic run ($18 million). In fact, the movie took the top spot on Friday, thanks to the 4/20 enthusiasm of its fans. The news is even better for the Broken Lizard gang because the movie was financed through crowdsourcing, which raised $4.6 million of the film's $5 million production budget, so most of its box-office is gravy after marketing costs. Critics were pretty down on the sequel (35 percent on Rotten Tomatoes), but it clearly gave audiences just want they wanted, and those audiences rewarded them with a solid opening weekend and an A- on Cinemascore. Perhaps 20th Century Fox can use some of those profits to fund another sequel with studio money this time.
Most of the rest of the weekend's top ten were holdovers, save for Paula Patton's Traffik, which came in at number nine with $3.8 million. That's not a great showing for a film that performed poorly with critics (24 percent on Rotten Tomatoes), but with a very small budget, it may still eke out a profit.
As for the holdovers, Blumhouse Pictures Truth or Dare dropped from third to fifth place with $8 million. With $31 million in the bank, Jason Blum has to be feeling good about a film that only cost $3.5 million to make. Spielberg's Ready Player One continues to perform fairly well, adding another $7.5 million to bring its domestic total to $126 million. It's made a fortune overseas, however. After a month, it's the fourth highest grossing film of the year globally with around $500 million.
The fantastic comedy Blockers, with another $7 million, has quietly nearly earned $50 million plus another $15 million overseas, meaning the $21 million film is doing just fine at the box office despite being overshadowed by A Quiet Place. Black Panther spends its 10th week in the top ten, and it's now scored $681 million domestically. If Infinity Wars doesn't take all of its theaters away next weekend, it may inspire some more repeat visits to Black Panther and maybe it can crawl its way to $700 million domestic. It's already the highest grossing film of the year, both domestic and international.
Finally, Wes Anderson's Isle of Dogs rounds out the top 10 with $3.3 million and $24 million, overall, which is already more than the $21 million earned by Anderson's last stop-motion feature, Fantastic Mr. Fox.
Next weekend, Avengers: Infinity War has the weekend all to itself. It's being released in 4200 theaters, so there is hardly room for anything else. Early projections suggest an opening between $190 million and $235 million with some suggesting it might break the all-time record for opening weekend currently held by Star Wars: The Force Awakens and its $247 million haul.
(Via Deadline / Box Office Mojo)