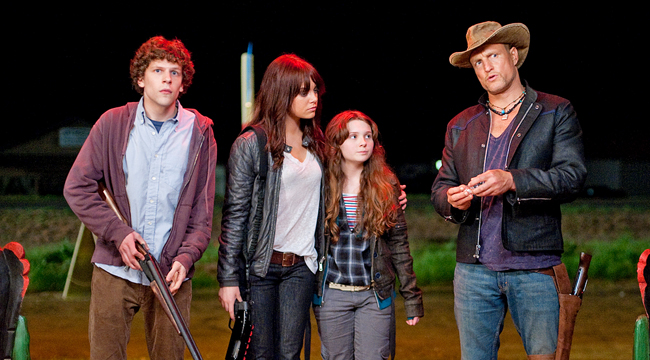 With the release of Deadpool 2, screenwriters Rhett Reese and Paul Wernick took a well-deserved victory lap. The duo, which kick-started their reputations by penning Zombieland, the 2009 post-apocalyptic horror-comedy sleeper hit, did the rounds with Wernick dropping massive suggestions that a sequel was soon on the way. Not only that, but Wernick believed that all four original leads would return. This seemed unlikely, considering that all four actors have since been nominated for Academy Awards, and logistics are tough, but it's on.
That is to say, Woody Harrelson (Tallahassee), Emma Stone (Wichita), Jesse Eisenberg (Columbus), and Abigail Breslin (Little Rock) are all on board for more zombie-evading and Twinkie-hunting, and the film will be released in October 2019, right on schedule for the first film's 10th anniversary. Original Zombieland director Ruben Fleischer (who's been hard at work on Venom) shall return, along with Wernick and Reese. And it seems that indeed, the whole family of actors was looking forward to a return, as Columbia Pictures President Sanford Panitch revealed in a statement:
"This is one of those projects that fans have wanted to see happen for a long time – and no one wanted to see it happen more than Emma, Woody, Jesse, and Abigail. These are some of the most in-demand actors and I think they are making this movie because they love these characters. We are thrilled Ruben was willing to come back to direct the sequel, as his work on Venom has been truly amazing."
The sequel will take the quartet out of the amusement park and toward the White House and the heartland, all while battling "evolved" zombies. And they will apparently take on new family members when discovering human survivors, which only means more competition for the rare Twinkies. Uh-oh.
Curiously, this news arrives on the same day that folks discovered that Bill Murray had started filming a Jim Jarmusch zombie flick (where Bill Murray does not play a zombie), but it's not as if Murray could re-cameo in Zombieland 2, considering what happened to his character. However, we're talking about the undead, so anything is possible. Especially since Woody and Emma are back.
(Via Hollywood Reporter)