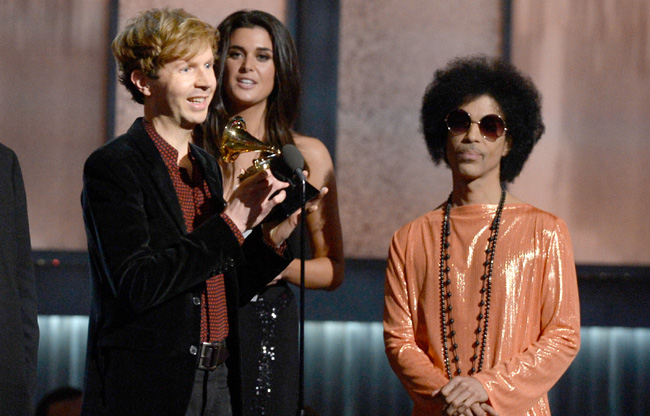 Last night we all patted Kanye West on the back for finally having reached some level of self awareness by "pretending" to crash Beck's acceptance speech for winning Album of the Year — for which Beck had beat out Beyonce. Look at Kanye poking fun at himself!
Well, not so much. Because shortly after the awards show ended, E! interviewed Kanye and his good lady wife — and NO, 'Ye actually was really pissed off about Beck winning Album of the Year. Going off on a typical Kanye West rant, he said told E!'s cameras that "if they want real artists to keep coming back, they need to stop playing with us," and that Beck should have given his award to Beyonce.
Oh.
So what does Beck think about all of this? Let's just say his attitude was decidedly less crappy. Via Us Weekly:
"I was just so excited he was coming up. He deserves to be on stage as much as anybody," Beck said when asked how he felt about West crashing the stage. "How many great records has he put out in the last five years right?"

Even though he said Beyonce should have won? "Absolutely," replied the humble musician. "I thought she was going to win. Come on, she's Beyonce!"

And what about his diss that Beyonce is true artistry, and you're not? "You can't please everybody, man," he replied. "I still love him and think he's genius. I aspire to do what he does."
Did Beyonce really deserve Album or the Year? Who knows. If there's one thing we can all agree on, it's that awards shows are generally a horsesh*t indication of nothing, and throwing a temper tantrum over results (other than when Breaking Bad doesn't win for something) is a waste of everyone's energy. Someone even defaced Beck's Wikipedia page to reflect that he "stole" the Grammy from Beyonce. It's just not worth it.
Speaking of which, Kim Kardashian took to Instagram during the ceremony last night to prove that she's every bit as classy as her husband: