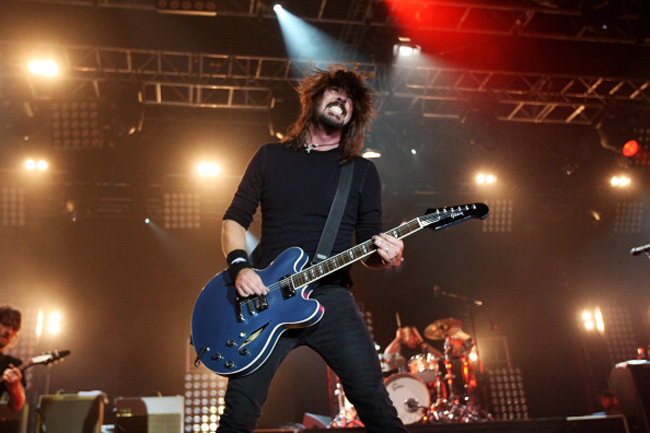 If you were fortunate enough to attend Dave's "Rock & Roll Club" birthday party — first off, I'm incredibly jealous. Second, how does Diamond David Lee Roth's shaved head look in person? Weird, right?
Since joining hardcore band Scream in the mid 1980s, and later Nirvana, Dave Grohl has been involved in around 100 other side projects — that's just my rough estimate, though. Running through the list of all those projects would be almost impossible since he'd probably have a new one going by the time you reached the end, but there are certainly a few standouts. To celebrate the birthday of the hardest working man in rock (he's turning 46) here are six projects outside of Nirvana and Foo Fighters that every Grohl fan should check out.
1. The Touch soundtrack
Touch was a 90s dramedy adapted from an Elmore Leonard novel starring Christopher Walken, Bridget Fonda, and Gina Gershon. It wasn't particularly memorable, but has a pretty cool soundtrack of driving riffs, haunting melodies, and the occasional acoustic ballad, all written and performed by team Grohl.
2. Probot
Dave Grohl knows that it's good to be him — REALLY good. And part of being Dave Grohl means that he's had the opportunity to get to know and collaborate with his childhood heroes on musical side projects simply for the fun of rocking out. Probot wasn't for mainstream rock radio airplay or the TRL crowd, it was a chance for Grohl and Lemmy to team up and do a music video unfit for the kids.
3. Sound City
I can't prove it, but I suspect Dave Grohl decided to make a documentary on legendary recording studio Sound City, because it meant he'd get to hang out with Stevie Nicks, Paul McCartney, and John Fogerty. That's just my suspicion, though. The famous L.A. studio is where Nirvana recorded Nevermind, and its list of artists that recorded there over the four decades it was open reads like a who's who of rock royalty.
4. Ghost B.C.'s covers EP
Between working with Queens of the Stone Age and promoting Sound City, Dave Grohl didn't sleep much in 2013, and somehow also found time to play with and produce spooky Swedish metal band Ghost B.C. Ghost told Loudwire that they ran into Dave at a music festival while he was on a break with the Foos and they both thought it would be fun to have Dave try on one of their trademark robes and play together. What followed was the EP, If You Have Ghost, with Dave playing on a cover of ABBA's "I'm a Marionette" and the Depeche Mode cover "Waiting for the Night."
5. Iommi
Somehow the recording studio didn't implode on itself from the wall of sound with the recording of Iommi, because when you have Dave Grohl, Brian May, and Tony Iommi in a room together, it's going to be loud. Grohl had already worked with Queen's Brian May on a cover of Pink Floyd's "Have a Cigar" back with the Foos in 2000, and joined May as a guest vocalist on the Black Sabbath guitarist's solo album. The entire album is rock solid all the way through with everyone from Billy Corgan to Serj Tankian contributing vocals, but Grohl's "Goodbye Lament" is a standout track.
6. Them Crooked Vultures
Yeah, I know this one is a bit obvious, but if we're looking at Dave Grohl's work outside of Nirvana and Foo Fighters, Them Crooked Vultures cannot be ignored. Grohl already had a long history with Queens of the Stone age when he introduced Josh Homme to Led Zep legend John Paul Jones, and the trio gave us one of the best hard rock albums of the decade with their only self-titled album. I'd suspect that Dave Grohl gets asked about a Vultures reunion about every five minutes, and as of November last year, it's definitely on his to-do list.
"I would love to make another Vultures record," he says. "I think our biggest hurdle is just a logistic one, that the three of us are all pretty busy."